New sizes for Amazon EC2 G4ad instances

george_watkins
Staff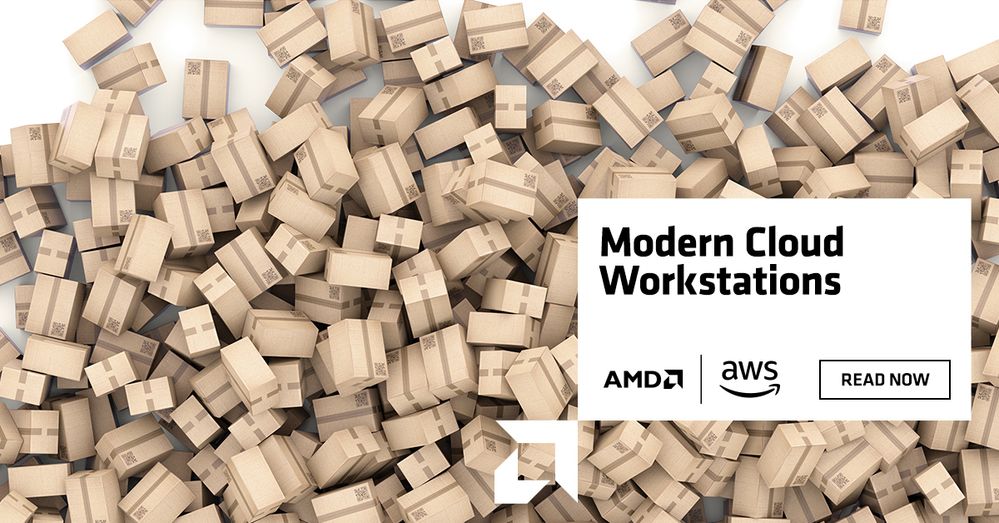 Over the last couple of years businesses and institutions have had to enable large numbers of their workforce to work remotely to continue critical business operations. As a result, many organizations confronted the urgent need to update and scale their IT infrastructure. However with demand for server expertise outstripping supply meant many businesses struggled to successfully implement their own virtualization environment.
Whether remote or in the office, the workflows of professional designers, game developers, engineers, and other skilled specialists require desktop and workstation-class performance to be productive. The latest generation of Virtual Machines (VMs) delivered from the cloud have proven to be a critical solution for many businesses. Services from cloud service providers like Amazon Web Services helps ensure workforces have the resources to be productive while working remotely.
Remote work has proven to be a viable alternative to the office for many roles. Now, as decisionmakers contemplate options for returning to the office, many contemplate a hybrid model that includes both on-premise and remote components. In response, Amazon is constantly delivering new services and tools to make cloud implementation easier and even more relevant to the changing nature of work.
Amazon EC2 G4ad instances
Last year, Amazon introduced G4ad, its latest graphics-accelerated instances for Amazon Elastic Compute Cloud (EC2). G4ad strikes an optimal balance between cost and no-compromise performance. Powered by 2nd Gen AMD EPYCTM CPUs and AMD RadeonTM Pro V520 GPUs built on the latest 7nm "Zen 2" and AMD RDNA™ architectures respectively, G4ad accelerates highly demanding applications and the latest game development engines in the cloud while offering a better price to performance.
New Amazon G4ad instance configuration options
Recently, Amazon announced two additional G4ad instance options to provide new cost-effective solutions for GPU-accelerated workloads that require fewer vCPU cores. These new sizes offer customers up to 25% lower cost than comparable GPU-based instances for their graphics applications1. Customers gain the flexibility to provision resources on demand, as needs dictate, rather than being limited to their inventory of physical, on-premise hardware.
| | | | | | | | |
| --- | --- | --- | --- | --- | --- | --- | --- |
| Instance Size | vCPUs | Memory (GB) | GPU | Storage (GB) | Network Bandwidth (Gbps) | EBS Bandwidth (Gbps) | On-Demand Price/hr* |
| g4ad.xlarge | 4 | 16 | 1 | 150 | Up to 10 | Up to 3 | $0.379 |
| g4ad.2xlarge | 8 | 32 | 1 | 300 | Up to 10 | Up to 3 | $0. 541 |
*On demand pricing as of date 08.01.21, visit: https://aws.amazon.com/about-aws/whats-new/2021/07/introducing-new-amazon-ec2-g4ad-instance-sizes/
Types of workloads for the smaller G4ad instances
These instances address two key use cases for customers:
| | |
| --- | --- |
| Workstation as a service | Cloud game streaming |
| | |
Workstation as a Service
The challenge many IT managers face is to ensure the VMs allocated to their workforce are optimized for specific roles and tasks. A great example of this is the many professional 3D applications and workloads that don't require large number of vCPU cores, but demand a lot of graphics performance. Let's have a look at a couple of workloads that benefit from high-performance GPU support:
Digital compositing and visual effects
Foundry Nuke® is a node-based digital compositing and visual effects application first designed for television and film post-production. While basic Foundry Nuke functionality has low hardware requirements (starting at with just 2x vCPUs), several of its advanced nodes and workflows are GPU accelerated. Nuke® can also support multiple GPU processing between all the available GPUs.
Game design and programming
Applications like EPIC Games Unreal Engine, a leading real-time 3D creation tool used in game development, as well as film and TV production, uses graphics rasterization to render out large scenes and characters. These workflows benefit greatly from GPU acceleration with DirectX support paired with a minimum of a 4x vCPU configuration.
Design visualization
For many product designers and engineers, the ability to burn off photorealistic renders of projects during design phases greatly helps with key design and client review processes. Applications like SOLIDWORKS VisualizeTM offers powerful physics-based rendering that result in stunningly photorealistic images. The Radeon™ ProRender plug in on which that capability is based uses OpenCL™ acceleration. vCPU core count plays less of a role here and only a minimum of 2x vCPUs is required to run.
Prototyping and simulation
Graphics intensive workloads like design simulation, uses applications and tools like MATLAB and Simulink, to model and simulate dynamic system/product behavior in testing conditions that might be difficult to reproduce with hardware prototypes. This allows engineers in industries like aerospace and automotive, to evaluate and revise their designs before moving to more costly prototyping stages of the PLM cycle. This typically results in cost savings, safer testing, and early detection of design flaws. While this requires extensive graphics processing to work effectively, it does not need the much higher vCPU core count of previous instances. Users benefit from the lower cost savings of AmazonEC2 G4ad.xlarge and G4ad.2xlarge without impacting performance.
Cloud Gaming
Want to stream games? AmazonEC2 G4ad.xlarge and G4ad.2xlarge powered by AMD's Radeon Pro V520 GPU are ideal for this! As you know, video games are heavily reliant on memory and graphics processing to deliver a smooth and dynamic gaming experience. Based on AMD's latest "Navi" GPU architecture, these instances can render large and expansive game environments at high frame rates and up to a 4K resolution from within the cloud. Packing 8GB of GDDR graphics memory, more assets and higher-resolution textures can be used within a game – And who wouldn't want to stream AAA game titles like Assassin's Creed on Ultra settings? With these new instances delivering the same graphics acceleration but at a lower price point, creating a cloud gaming service becomes even more accessible.
With these new sizes of G4ad instances, customers now have up to 25% lower cost than comparable GPU-based instances for their graphics applications. It is now highly feasible to support workers and contractors who rely on the most demanding applications from the cloud with workstation-class performance. The expanded G4ad portfolio gives organizations the flexibility to cost-effectively provision resources as needed rather than being limited by on-premises hardware capacity and the logistics of shipping expensive workstations to remote workers.
Resources:
George Watkins is Product Marketing Manager for AMD. His postings are his own opinions and may not represent AMD's positions, strategies or opinions. Links to third party sites are provided for convenience and unless explicitly stated, AMD is not responsible for the contents of such linked sites and no endorsement is implied. Third party marks are for informational purposes only and no endorsement of or by AMD is intended or implied.
1 for more information, visit: https://aws.amazon.com/about-aws/whats-new/2021/07/introducing-new-amazon-ec2-g4ad-instance-sizes/