Live webinar broadcast "AMD-powered Workspot workstations on Azure"

george_watkins
Staff
Bookmark

Subscribe

Email to a Friend
3rd party advertisement
Are you interested in deploying in the cloud? Do you want to learn more about AMD-powered desktop and workstations in the cloud? Well join us Wednesday, April 1st for a live webinar as we launch the all new AMD-powered desktops and workstations on Azure with Workspot's turnkey enterprise-ready cloud desktop platform. We'll also discuss how IT organizations can quickly deploy this turnkey VDI solution to their users to work remotely whether at home, in the office or onsite.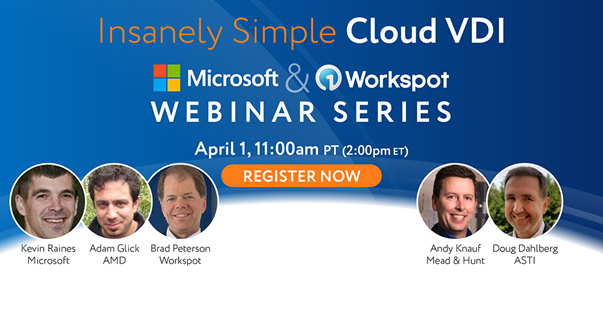 Watch the webinar recording now
What: Live webinar broadcast "AMD-Powered Workspot workstations on Azure"
Who: Hear from the following cloud experts:
Adam Glick, DaaS Cloud Tech Marketing at AMD
Kevin Raines, HPC Specialist at Microsoft
Brad Peterson, VP at Workspot
Andy Knauf, CIO at Mead & Hunt
Doug Dahlberg, Dir of IT at ASTI
A few of the topics examined:
Why move to Azure (the Cloud)?
Why choose Workspot cloud desktops and the new AMD-powered offering
How do I quickly deploy Workspot cloud desktops & workstations on Azure to address remote working
other resources:
AMD.com landing page - Click here
AMD blog - Click here
MSFT blog - Click here
The information contained in blog represents the view of AMD or the third-party presenter as of the date presented. AMD and/or the third-party presenters have no obligation to update any forward-looking content in the above presentations. AMD is not responsible for the content of any third-party presentations and does not necessarily endorse the comments made therein.
George Watkins is a Product Marketing Manager for AMD. His postings are his own opinions and may not represent AMD's positions, strategies or opinions. Links to third party sites are provided for convenience and unless explicitly stated, AMD is not responsible for the contents of such linked sites and no endorsement is implied.