Take Your Rendering to the Next Level with AMD Radeon ProRender Developer Updates and New Plug-Ins

alexander_blake-davies
Moderator

AMD Radeon™ ProRender is our fast, easy, and incredible physically-based rendering engine built on industry standards that can take your rendering to the next level on virtually any GPU, any CPU, and any OS1 in over a dozen leading digital content creation and CAD applications.
On-time for this week's relaunch of GPUOpen, we have some exciting new announcements and releases, including some big changes for developers looking to integrate Radeon ProRender into their applications, a preview of our next-generation rendering engine, and new and updated plug-ins for Blender®, Houdini™, Maya®, and Unreal® Engine.


Now Even Easier for Developers to Implement
AMD Radeon™ ProRender Developer Suite, our complete toolkit of SDKs for developers looking to add physically-based rendering to their application's workflow, has moved to a new home on GPUOpen -- relaunched this week with a brand-new website with a modern look and feel.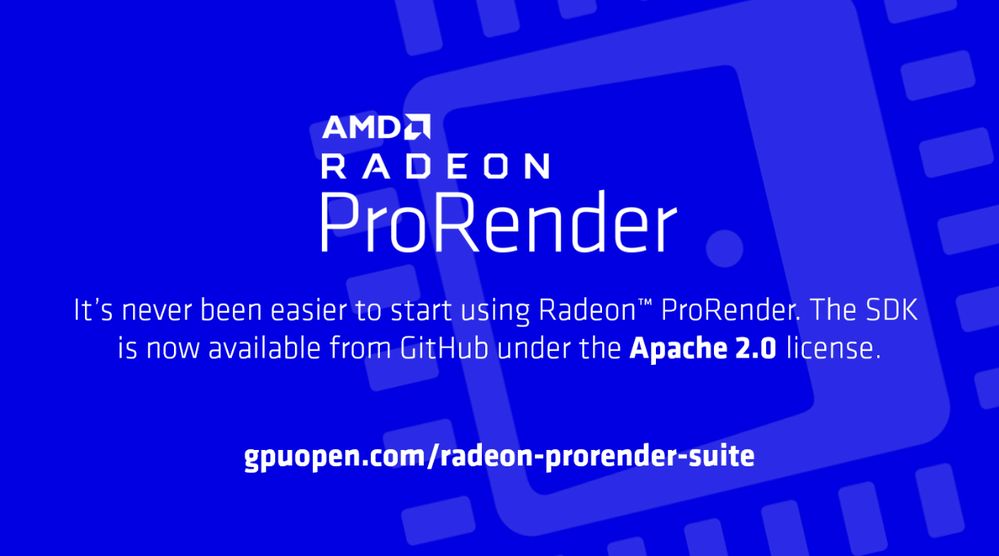 Along with this move, we have also made some important changes as to how we license Radeon ProRender for developers to make it even easier to work with. Our SDKs are now freely available under the permissive Apache License 2.0, simplifying the licensing agreement to use Radeon ProRender in your application.
On top of this new licensing model, we are also making open-source versions of all our Radeon ProRender plug-ins available on GPUOpen, which developers can use as examples of how to integrate our renderer into their application.
Updated SDKs, Including the Next Generation of AMD Rendering Software
The developer suite consists of three SDKs, AMD Radeon™ ProRender, AMD Radeon™ Rays, and the AMD Radeon™ Image Filter Library SDK, and in addition to the new home and licensing changes, we are made a few substantial updates. Firstly, a beta of the Radeon ProRender 2.0 SDK, the next generation of our rendering software, is now available.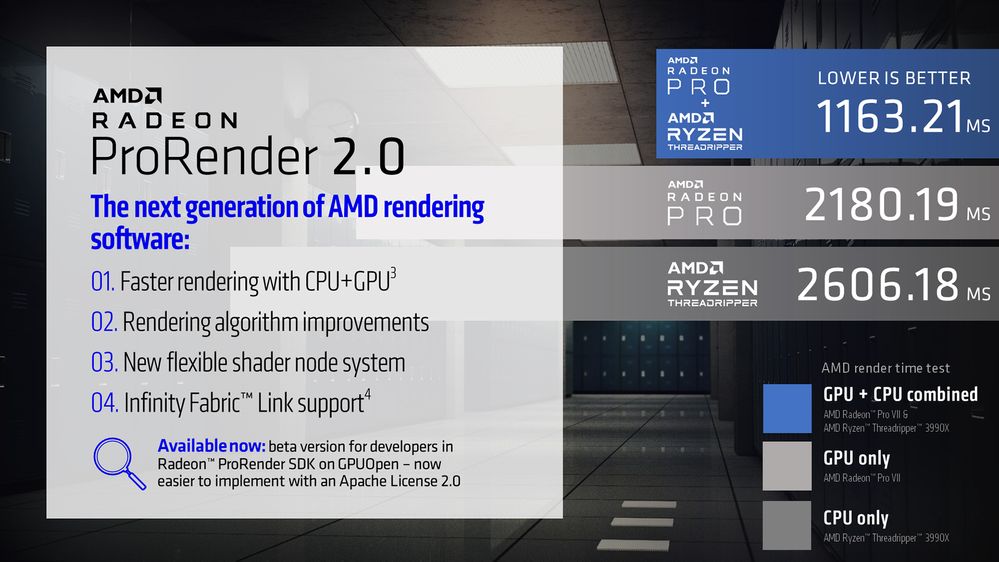 Background image created by Yohsuke Nakano using Radeon ProRender for Maya and rendered using Render Pool, used with permission
AMD Radeon ProRender 2.0 adds several significant new features and improvements, including a new flexible shader node system, out-of-core support for heavy geometry, and improvements to our rendering algorithm designed for better convergence with the same samples per pixel. Radeon ProRender 2.0 also lets developers boost their applications' rendering performance with improved CPU + GPU rendering2 – for example when tested with our internal render test with the just announced the AMD Radeon™ Pro VII plus the AMD Ryzen™ Threadripper™ 3990X working together, render times were up to 47 percent faster.3
Lastly, we have released AMD Radeon Rays 4.0, an update to our high-performance ray intersection acceleration library. This latest version supports both AMD GPUs and CPUs as well as those of other vendors using DirectX® 12 in addition to Vulkan® APIs, has a custom AABB hierarchy, and includes GPU Bounding Volume Hierarchy (BVH) optimizations. Radeon Rays 2.0 is still available for developers needing OpenCL™ support.
New Plug-In for Unreal Engine
In addition to all the updates we have for developers, don't think we've also forgotten our users. Today we're also releasing our new Radeon™ ProRender plug-in for Unreal® Engine which adds both our Vulkan® API-based Full Spectrum Rendering technology and full OpenCL™ path-traced rendering to this popular application that is increasingly being used for more than just game development.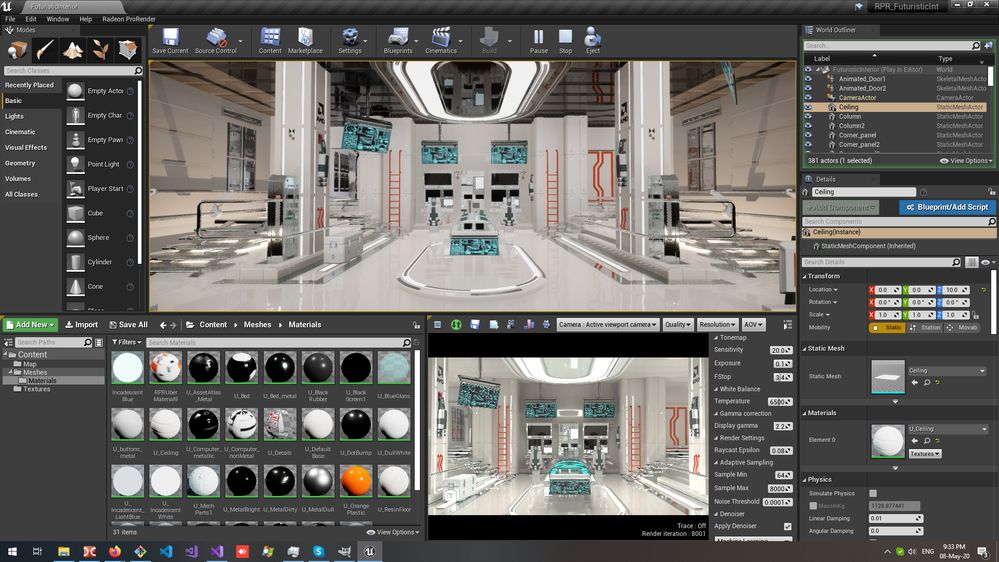 Our plug-in is fully integrated into Unreal Engine, and uses the existing lights, materials, and textures of any scene you've created – and as the Unreal's Datasmith tool makes it simple to make Unreal Engine part of product and AEC visualization workflows, designers and architects can now easily create high-quality photorealistic renderings of their creations using Radeon™ ProRender.
Radeon ProRender for Unreal Engine also includes many of the features you would expect from our other plug-ins, such as AI-accelerated denoising, adaptive sampling, and native tone mapping and gamma controls.
Updated Plug-Ins, Including Support for Blender 2.83
Wait, there's more – we don't just have a new plug-in but also quite a few exciting new updates to our existing plug-ins. To start, for our Blender® users, we have updated our plug-in to support the upcoming 2.83 release of Blender. We are also adding an OpenVBD volume node, improved export times for image files (when using 2.83), have added utilities for baking nodes, and have updated the installation process to load the plug-in through the Blender add-on preferences menu.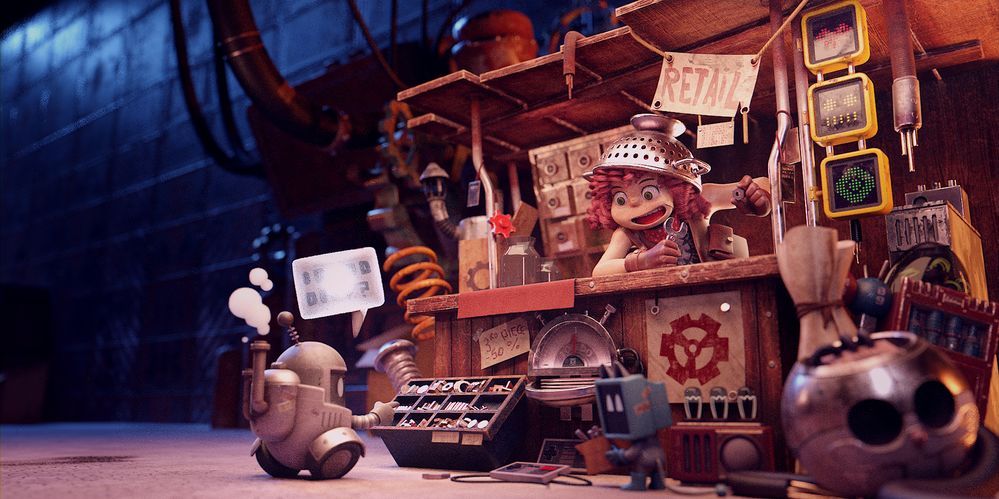 The Junk Shop scene created by Alex Treviño, original concept by Anaïs Maamar. Rendered by AMD using AMD Radeon ProRender for Blender
Our plug-in for Autodesk® Maya® now supports the latest version, 2020, and this update adds a ton of new and updated features, including support for Esphere's Ornatrix hair plug-in for Maya, support for rendering OpenVBD volumes, Radeon ProRender lights showing in the Maya Light Editor and HyperShade, support for more Maya shader nodes, camera motion blur, and various UI improvements.
Our newest plug-in before today's release for Unreal® Engine is our plug-in for SideFX® Houdini™ 18 that works with SideFX Solaris, Houdini's USD-based set of tools for lookdev, layout, and lighting. We have updated our plug-in to support the Houdini principled shader, improved the Radeon ProRender area lights, added motion blur support, and improved our OpenVDB volume rendering.
Try Out Our Next-Generation Rendering Engine Today
Lastly, as an extra treat for our dedicated Radeon™ ProRender users, we wanted to give you a sneak peek of Radeon ProRender 2.0 rendering – in our updated plug-ins for Blender® and Maya® (Windows® versions only) you can now turn on an "experimental" beta Radeon ProRender 2.0 mode to preview some of the improvements our next-generation rendering engine brings to table. Keep in mind as an "experimental" feature, this mode should not be expected to be as stable as the standard rendering mode and is not recommended for use in production workflows, it's just to give you a taste of what's coming.
New and Updated Plug-Ins Available Now
Everything you've read about above is available today. Developers can visit GPUOpen to learn more about and download our latest Radeon ProRender SDKs and users can download our new and updated plug-ins from the link below.
For more information about Radeon ProRender, please check out our web page.


LEARN MORE ABOUT THE AMD RADEON PRORENDER DEVELOPER SUITE
DOWNLOAD THE RADEON PRORENDER 2.0 SDK BETA

LEARN MORE ABOUT RADEON RAYS 4.0


DOWNLOAD THE UPDATED PLUG-INS NOW
To provide feedback or report any issues please join our AMD Radeon ProRender Community.
To discuss AMD Radeon ProRender with other users you can also join the AMD Radeon ProRender Discord.
Footnotes:
Title image created by Serghei Nenov using Radeon™ ProRender for Maya®

Mercedes-AMG F1 W11 EQ Performance render created by Mike Griggs using AMD Radeon™ ProRender for Cinema 4D™. 3D model courtesy of Mercedes-AMG Petronas Formula One Team.


GPU or CPU support for OpenCL™ or Apple® Metal® required. Radeon™ ProRender supports Windows®, macOS®, and Linux®.
Only supported when using an AMD CPU + an AMD GPU.
When using AMD Radeon™ ProRender 2.0 with support for GPU + GPU rendering, the AMD Radeon™ Pro VII GPU enables up to 16% faster render times when compared to CPU rendering alone, and the AMD Radeon™ Pro VII + AMD Ryzen™ Threadripper™ 3990X enables up to 47% faster GPU+CPU render times when compared to GPU rendering alone in the internal AMD "Breakfast room" render test. Testing conducted by AMD Performance Labs as of April 29, 2020 on the AMD Radeon™ Pro VII graphics card and pre-release AMD Radeon™ Pro Software for Enterprise 20.10 RC-Prime9, on a test system comprising an AMD Ryzen™ Threadripper™ 3990X, 64 GB DDR4 RAM, MSI TRX40 motherboard with BIOS version 1.22N3 at default settings, 500 GB SSD, Windows® 10 Pro November 2019 Update. Benchmark Application: ran the Radeon™ ProRender 2.0 SDK internal AMD render test rendering the "Breakfast room" render test at 10 iterations and then calculated the average time in milliseconds of 35 runs for CPU, GPU, and CPU+CPU rendering (lower is better). AMD Ryzen™ Threadripper™ 3990X render time in ms: 2606.18. AMD Radeon™ Pro VII render time in ms: 2180.19. AMD Ryzen™ Threadripper™ 3990X + AMD Radeon™ Pro VII render time in ms: 1163.21. Performance Differential GPU vs. CPU Rendering: (2606.18-2180.19)/2606.18*100 = ~16.35% faster rendering time using the AMD Radeon™ Pro VII GPU over the AMD Ryzen™ Threadripper™ 3990X CPU. Performance Differential CPU+GPU vs. GPU Rendering: (2180.19-1163.21)/2180.19*100 = ~46.65% faster rendering time using the AMD Radeon™ Pro VII GPU + AMD Ryzen™ Threadripper™ 3990X CPU together over just the AMD Radeon™ Pro VII GPU. Scores are based on AMD internal lab measurements and may vary. PC manufacturers may vary configurations, yielding different results. Performance may vary based on use of latest drivers. RPS-127

AMD Infinity Fabric™ Link requires two Radeon Pro VII GPUs, a compatible bridge connector (either a two- or a three-slot bridge connector, both sold separately.), and Radeon Software for Enterprise driver 20.Q2 or later. Compatible software is currently limited to Radeon™ ProRender, but additional application compatibility is expected in future 3rd party software releases and are required to use the combined graphics memory of both cards. GD-169


Alexander Blake-Davies is a Professional Graphics Software Product Marketing Specialist for AMD. His postings are his own opinions and may not represent AMD's positions, strategies, or opinions. Links to third-party sites are provided for convenience and unless explicitly stated, AMD is not responsible for the contents of such linked sites and no endorsement is implied. GD-5

© 2020 Advanced Micro Devices, Inc. All rights reserved. AMD, the AMD Arrow logo, Radeon, and combinations thereof are trademarks of Advanced Micro Devices, Inc. Autodesk and Maya are registered trademarks or trademarks of Autodesk, Inc., and/or its subsidiaries and/or affiliates in the USA and/or other countries. Blender is a registered trademark of the Blender Foundation in EU and USA. Houdini and SideFX are registered trademarks or trademarks of Side Effects Software Inc. registered in the USA and other countries. Linux is the registered trademark of Linus Torvalds in the U.S. and other countries. macOS is a registered trademark of Apple Inc. OpenCL is a trademark of Apple Inc. used by permission by Khronos Group, Inc. Unreal is a registered trademark of Epic Games, Inc. in the US and elsewhere. Vulkan is a registered trademark of Khronos Group Inc. Windows is a registered trademark of Microsoft Corporation in the United States and/or other jurisdictions. Other product names used in this publication are for identification purposes only and may be trademarks of their respective companies.