Radeon ProRender Transforms Rendering Workflows with Interactive Viewport Denoising

alexander_blake-davies
Moderator

[Originally posted on 12/12/17]
Coming first to the Radeon™ ProRender plug-in for Blender™, AMD's new denoising feature allows artists to rapidly achieve final renders and revolutionizes rendering workflows with interactive viewport denoising, enabling fast and clear real-time render previews.
Radeon ProRender is AMD's high-performance, physically-based rendering engine that enables CAD designers and 3D artists to create incredible renders quickly and easily, and is freely available for many popular digital content-creation applications, with plug-ins and add-ins for Autodesk® 3ds Max®, Autodesk® Maya®, Blender™, and Dassault Systèmes SOLIDWORKS®. It is also natively integrated into Maxon's Cinema 4D™ version R19.
Building on our successful updates this past October, where we delivered significant performance improvements to both final rendering and interactive viewport rendering, today we are releasing updates to our plug-ins for 3ds Max, Maya, and Blender.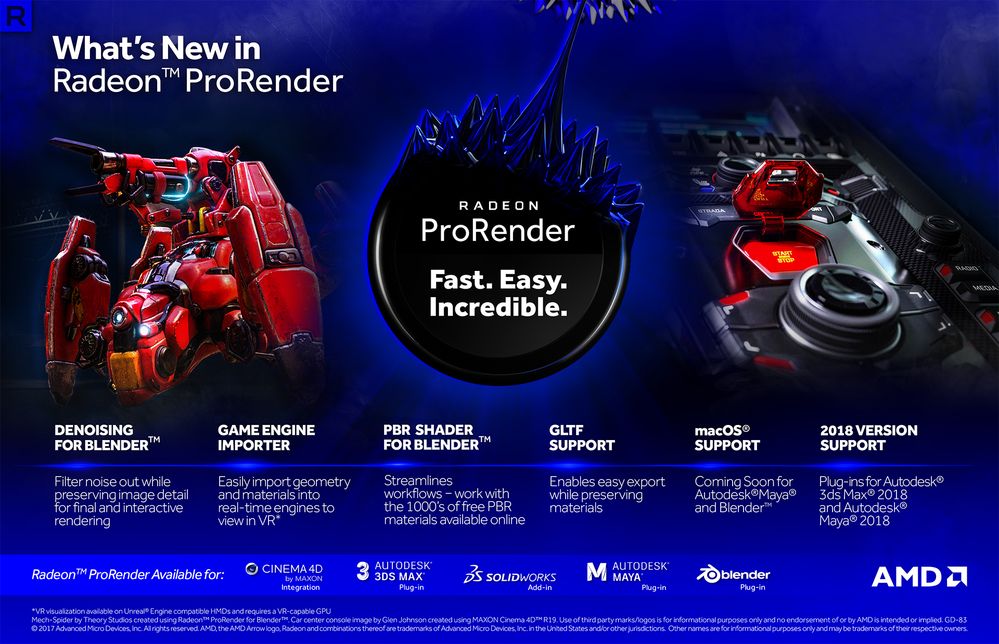 Denoising for Blender
Denoising is a feature that removes noise from an image while preserving image detail. It allows you to cut render times while getting less noisy images. Physically-based path tracing lets you set the number of samples used to render an image. More samples equal a less noisy image but naturally longer render times. By using a denoiser, artists can use low sample counts and get less noisy renders without the long render time.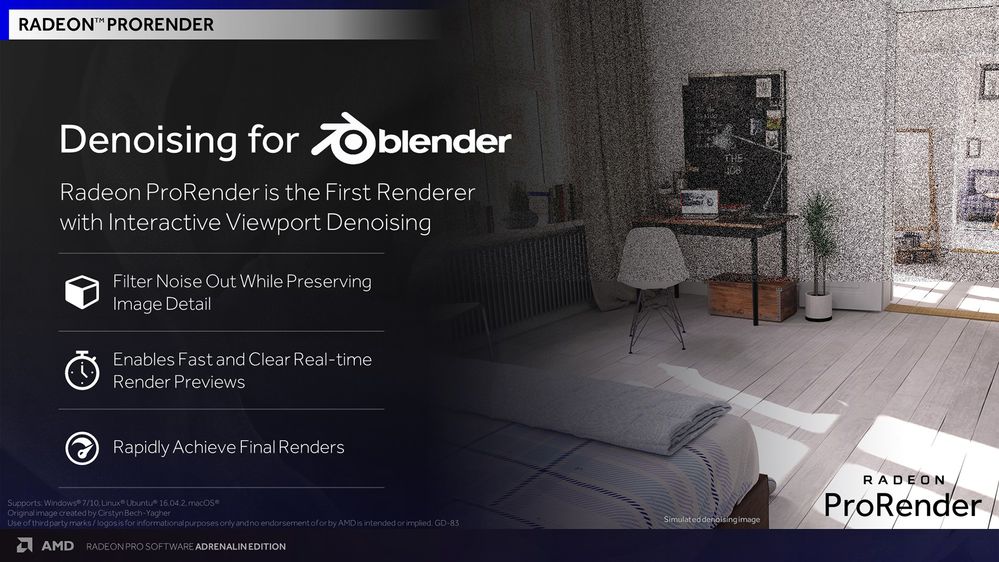 What our new Radeon ProRender denoiser does is use extra image detail (such as normals and depth data) to determine edges and differentiate between texture detail and noise in the render. It can then filter out between the two, literally finding "the signal in the noise."
Currently, most other renderers with denoising only do it as a post-process to get less noisy final rendered images. Along with doing the same, Radeon ProRender also supports denoising of interactive rendering and is the first renderer to release this feature. This allows radically clearer interactive viewport renders, allowing the artist to do their look development or shading and lighting with a clearer idea of what the final render might be.
PBR Shader for Blender and glTF Support
First introduced in our Radeon ProRender plug-in for 3ds Max in October, we are now adding a simplified PBR shader to Blender that closely correlates to the shaders used in game engines and streamlines workflows, letting artists and designers work with the 1000's of freely available PBR materials available online.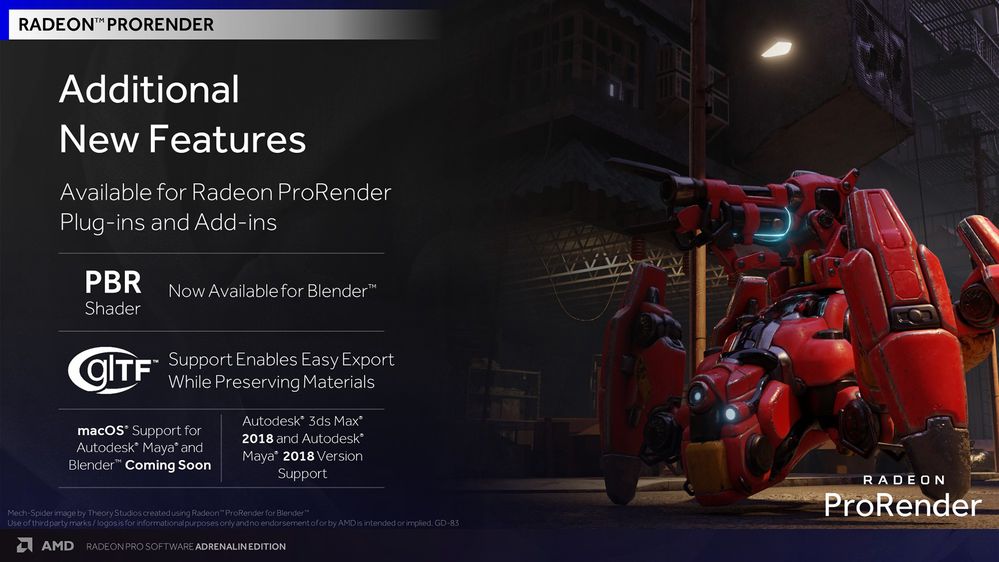 The Khronos Group's glTF (GL Transmission Format) is "a royalty-free specification for the efficient transmission and loading of 3D scenes and models by applications" which is now supported by Radeon ProRender for easy export of assets to other applications while preserving materials.
2018 Version Support and Coming Soon for macOS
Two features we know our users have been asking for are here – our plug-ins for 3ds Max and Maya (for Windows) now support the 2018 versions of these two Autodesk applications and macOS® support is coming soon for our Radeon ProRender Maya and Blender plug-ins.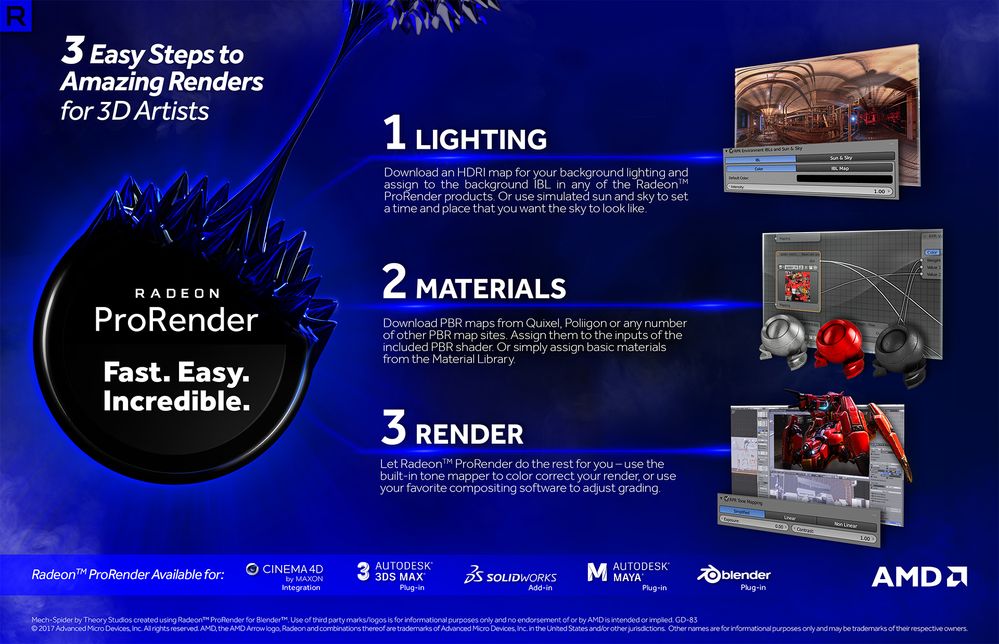 Get the Updated Plug-ins Now
You can download the latest versions of our Radeon ProRender plug-ins and add-ins from here.
Alexander Blake-Davies, Software Product Marketing Specialist for Professional Graphics at AMD's Radeon Technology Group. Links to third party sites and references to third party trademarks are provided for convenience and illustrative purposes only. Unless explicitly stated, AMD is not responsible for the contents of such links, and no third-party endorsement of AMD or any of its products is implied. Use of third party names or marks is for informational purposes only and no endorsement of or by AMD is intended or implied.