Introducing AMD Radeon™ Pro WX 3200 -- Most cost-effective, ISV-certified AMD graphics card under $200 for small form factor CAD workstations

bill_ma
Staff
The AEC (architecture, engineering and construction) and manufacturing industries are faced with an ever-growing demand for higher quality visuals.
CAD engineers and designers in these fields have long been challenged to find a workstation solution that provides the ideal balance of performance and stability, while staying within increasingly tight project budgets and meeting the stringent space limitations of their work environments.
Enter the AMD Radeon™ Pro WX 3200 graphics card, which is expected to be available in Q3 2019 from leading etailers such as newegg, resellers such as PCM and in updated commercial workstations from Boxx, Dell and HP, starting this summer.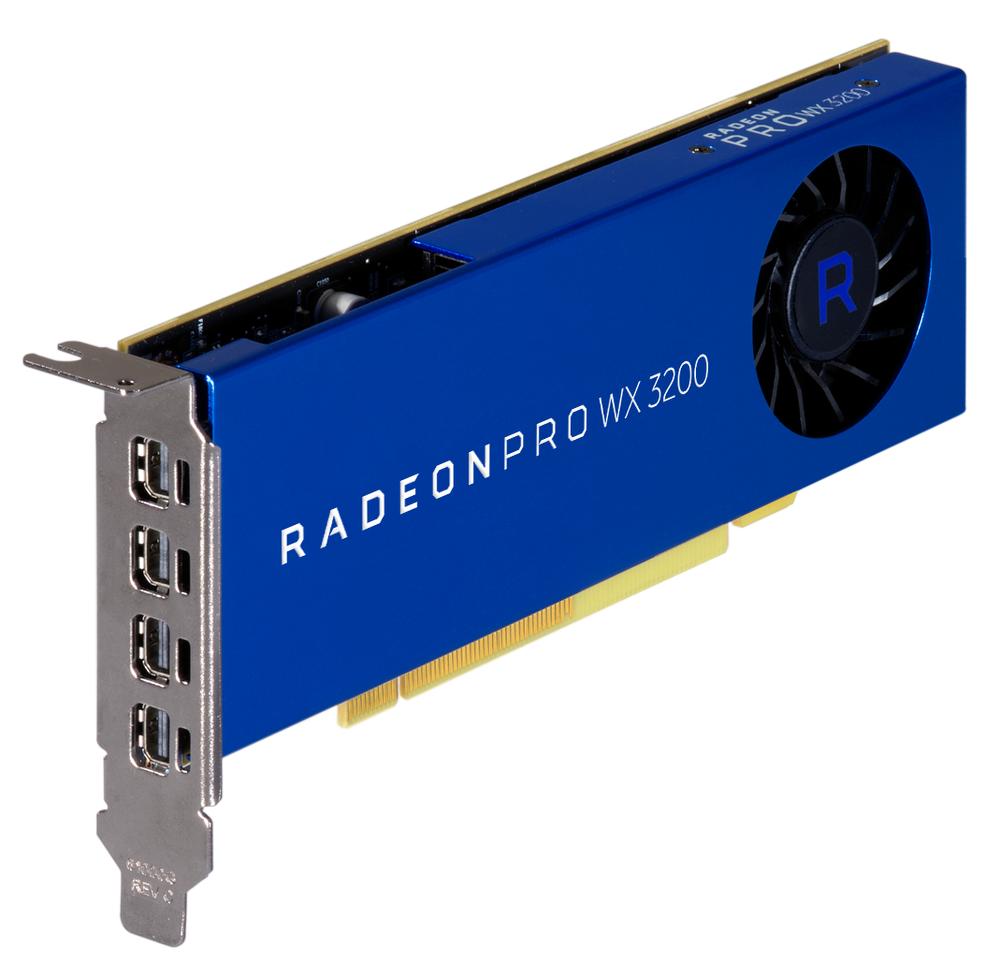 Priced at USD $199 SEP, the high-performance, low-profile AMD Radeon™ Pro WX 3200 was created specifically to meet the requirements of today's CAD professionals. It delivers a balanced set of features, performance, efficiency and value, and was designed specifically for compact-sized workstations desired by small and medium sized businesses.
To help ensure the AMD Radeon™ Pro WX 3200 graphics card performs optimally with the most popular professional design applications, it has been ISV-certified with ACCA® Software, Altair solidThinking Inspire, ANSYS®, Autodesk® Inventor®, Autodesk® Revit®, Autodesk® VRED Professional, Bentley Systems MicroStation, Beta CAE Systems, CGTech VERICUT, CNC Software Mastercam, COMSOL Multiphysics, Dassault Systemes® Abaqus, Graphisoft ArchiCAD®, Hexagon Apex Iberian Lynx, Hexagon Marc/Mentat, Hexagon Patran®, Siemens PLM Software Solid Edge®, and more.
When designing the new professional graphics card, AMD addressed a variety of factors including performance, memory, size, display outputs, power consumption and ongoing driver support. Key features include:
1.66 TFLOPS peak performance – With 1.66 TFLOPS peak single precision compute performance, the Radeon™ Pro WX 3200 delivers up to 33 percent faster performance in a low-profile workstation graphics card compared to the previous generation Radeon™ Pro WX 3100 graphics card.
4GB high-speed GDDR5 memory / 128-bit memory interface – With 4GB of GPU memory, the Radeon™ Pro WX 3200 card can handle large 2D and 3D models and workflows with ease.
10 compute units – Each compute unit contains 64 stream processors, for a total of 640 stream processors available that deliver a number of application benefits, including fast redraw and high quality images.
Single slot, low-profile card – Compact form factor and efficient design fit into nearly all desktop workstations, ranging from small form factors to full-size towers.
4x Mini-DisplayPort™ 1.4 – The graphics card can drive up to four 4K displays or a single 8K UHD display to provide designers with an immersive ultra-high-resolution experience to view their work.
Energy efficient design –

Unique power monitoring and management technologies cap power consumption at

50 watts max

. AMD PowerTune technology dynamically optimizes GPU power usage and AMD ZeroCore Power technology significantly reduces power consumption at idle.

Enhanced driver support –

AMD Radeon™ Pro Software for Enterprise supports the family of AMD Radeon™ Pro graphics products with performance enhancements, stability fixes and new or updated features on a quarterly release schedule.
With AMD's most cost-effective certified graphics solution under USD $199 SEP for small form factor workstations, CAD engineers and designers in manufacturing and AEC now have a great solution that delivers amazing results with the ideal combination of features and functionality.
For more information, visit https://www.amd.com/en/products/professional-graphics/radeon-pro-wx-3200
Bill Ma is Senior Product Manager, Professional Graphics for AMD. His postings are his own opinions and may not represent AMD's positions, strategies or opinions. Links to third party sites are provided for convenience and unless explicitly stated, AMD is not responsible for the contents of such linked sites and no endorsement is implied. GD-5