Announcing AMD Support for GPU-Accelerated Machine Learning Training on Windows 10

alexander_blake-davies
Moderator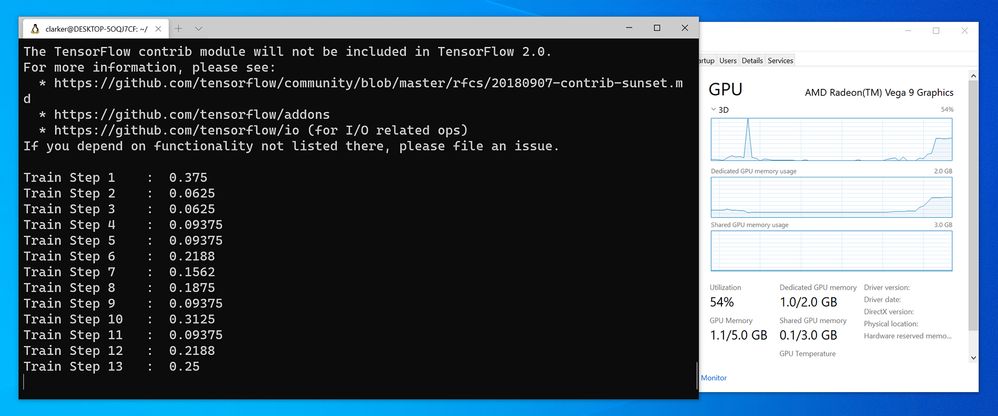 Machine Learning and Artificial Intelligence have increasingly become part of many of today's software tools and technologies, both accelerating the performance of existing technologies and helping scientists and researchers create new technologies to solve some of the world's most profound challenges.
Because of this, there is an increasing demand to learn the fundamentals of machine learning by both existing software engineers and students. However, one of the challenges many users face is the accessibility of machine learning workflows and tools – they will commonly need to use Linux software solutions, often on separate hardware from what they use for their day-to-day computing tasks.

To solve this challenge, at Build 2020 Microsoft announced that they are adding GPU-accelerated compute support to the Windows Subsystem for Linux (WSL), which allows the use of command-line Linux applications side-by-side with native Windows 10 applications. This update will help lower the barrier to entry to acquiring machine learning skills by letting users have the best of both worlds -- allowing them to use the Windows systems they already have, including those powered by AMD hardware.
"Microsoft has worked closely with AMD to help drive the democratization of machine learning using DirectML on Windows and inside WSL, enabling anyone, including students and beginners, to use AMD hardware to power popular ML training workflows."
– Kam VedBrat, General Manager, Windows AI Platform & Windows Virtual Desktop, Microsoft
One of the key components of this update is the use of the Microsoft DirectML API, which up until now enabled GPU-accelerated machine learning inference on any DirectX 12 compatible GPU such as our AMD Radeon and Radeon Pro graphics cards. With this update, machine learning training workflows can now be GPU-accelerated on Windows 10 too, and Microsoft is also working to integrate DirectML into the most used machine learning tools, libraries, and frameworks. And because many of the most used tools run on Linux, Microsoft is ensuring that DirectML works well within WSL.
To see this in action, you can watch the Microsoft 365 Developer Build 2020 Skilling Session video below where GPU-accelerated DirectML machine learning training is demonstrated on Windows 10 using an AMD Ryzen Microsoft Surface Edition processor in the Microsoft Surface Laptop 3.
Additionally, today Microsoft is taking the first step to bringing this feature to Windows 10 with a public preview for members of the Windows Insider Program. The preview package includes a build of TensorFlow with a DirectML backend, and students and beginners can either start their ML learning journey on Windows 10 with the TensorFlow tutorial models or the examples Microsoft has released.
To support this preview, we have worked closely with Microsoft to enable this on our graphics cards and we are releasing a preview Radeon Software Adrenalin 2020 Edition driver that enables support for DirectX 12 compatible GPU-acceleration within the Windows Subsystem for Linux (WSL).
This driver is compatible with AMD Radeon graphics, Radeon Pro graphics, Ryzen and Ryzen PRO Desktop Processors with Radeon Vega graphics, and Ryzen and Ryzen PRO Mobile Processors with Radeon Vega graphics (or a complete list of compatible AMD products, please refer to the release notes).
To try out the preview on your AMD-powered system, you'll need to download our preview driver and follow the directions outlined in Microsoft's blog post along with the guidance in their getting started documentation.
Alexander Blake-Davies is a Software Product Marketing Specialist for AMD. His postings are his own opinions and may not represent AMD's positions, strategies, or opinions. Links to third-party sites are provided for convenience and unless explicitly stated, AMD is not responsible for the contents of such linked sites and no endorsement is implied. GD-5


©2020 Advanced Micro Devices, Inc. AMD, the AMD Arrow logo, Radeon, Ryzen, and combinations thereof are trademarks of Advanced Micro Devices, Inc. Microsoft, DirectX, Surface, and Windows are registered trademarks of Microsoft Corporation in the United States and/or other jurisdictions. TensorFlow, the TensorFlow logo and any related marks are trademarks of Google Inc. Other product names used in this publication are for identification purposes only and may be trademarks of their respective companies.
1 Comment