AMD Server CPUs + GPUs: The Ultimate Virtualization Solution

deneffe
Staff
Bookmark

Subscribe

Email to a Friend

[Originally posted on 08/29/18]
AMD is the only company in the world that offers both world-class server CPU and GPU technologies. In the enterprise and cloud spaces those technologies come in the form of our AMD EPYC™ CPUs and our AMD Radeon™ Pro GPUs. Inside AMD, we call this combo A + A.

For the datacenter market, A + A is akin to two great musicians with different styles, teaming up as a duet to make something magical. Like David Bowie and Freddie Mercury in the song "Under Pressure".
At VMworld 2018 in Las Vegas in the AMD booth, we demonstrated how A + A makes an astounding duet. For the first time, we showed a technology demonstration of a virtualized environment driven by an HPE ProLiant DL385 Gen10 from AMD's Santa Clara, CA datacenter. Inside, the server we have two 32 core, 64 thread Epyc CPUs and a recently announced dual GPU solution based on the "Vega" architecture1, the Radeon Pro V340. The result, an awesome system for virtualized workloads. And a GPU that delivers 33% greater user density than our competition3.
Also, in the booth was our A + A gorilla. It's a dual Epyc server with 4 Radeon Pro V340s. 8 GPUs (2 per card), each with 56 compute units4 thumping graphics and supported by 2 Epyc 32 core CPUs.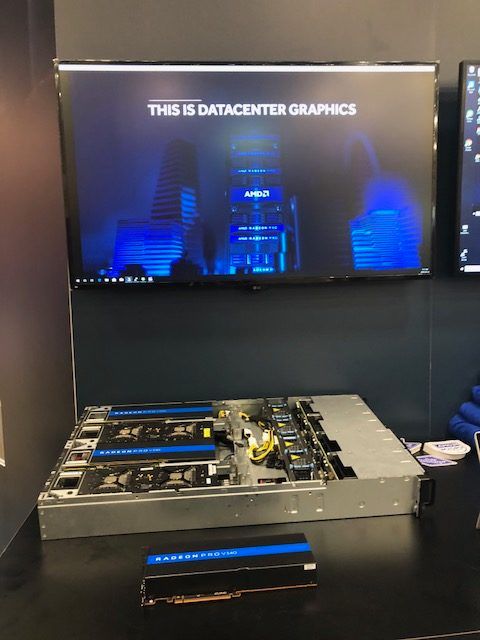 Stop to think about the possibilities of this system in a VDI environment. Each GPU can support 32 VMs, each with 1 GB of ultra-fast memory. That's 128 workstation-class users per server. Match that with 2 Epyc processors with a combined 64 CPU cores and 128 threads and you get a balanced, beast of a system.
And we doubled down on security. Both pieces of silicon brilliance come equipped with security solutions. The Secure Encrypted Virtualization engine on the Epyc CPU and a built-in security processor in our dual Vega, Radeon Pro V340 GPU.
Exciting stuff. An astounding solution for virtualized workloads. All AMD, all was on display at VMworld.
Michael DeNeffe, AMD's Director of Cloud Graphics and has extensive experience in network computing, and client device technologies. Links to third-party sites and references to third-party trademarks are provided for convenience and illustrative purposes only. Unless explicitly stated, AMD is not responsible for the contents of such links, and no third-party endorsement of AMD or any of its products is implied. Use of third-party names or marks is for informational purposes only and no endorsement of or by AMD is intended or implied.
FOOTNOTES
1. "Vega" is a codename for AMD architecture, and is not product name. GD-122
2. Estimates based on SPECfp®_rate_base2017 using the GCC-02 v7.2 compiler. AMD- based system scored 201 in tests conducted in AMD labs using an "Ethanol" reference platform configured with 2 x AMD EPYC 7601 SOC's ($4200 each at AMD 1 ku pricing), 512GB memory (16 x 32GB 2R DDR4 2666MHz), Ubuntu 17.04, BIOS 1002E. Intel- based Supermicro SYS-1029U-TRTP server scored 164 in tests conducted by AMD, configured with 2 x 8160 CPU's (2 x $4702 each per ark.intel.com), 768GB memory (24 x 32GB 2R DDR4 2666MHz), SLES 12 SP3 4.4.92-6.18-default kernel, BIOS set to Extreme performance setting. NAP-77
3. The AMD Radeon™ Pro V340 graphics card supports up to 32 virtual users with 1GB memory profiles per card. The NVIDIA Tesla P40 supports up to 24 virtual users with 1GB memory profiles per card. AMD user density advantage 32/24 = up to 33% greater.
4. AMD Radeon™ and FirePro™ GPUs based on the Graphics Core Next architecture consist of multiple discrete execution engines known as a Compute Unit ("CU"). Each CU contains 64 shaders ("Stream Processors") working together. GD-78