AMD Radeon ProRender for Autodesk 3ds Max and Maya Updated for Autodesk University

bsavery
Staff

Just in time for Autodesk University 2019 and the exciting release of the new AMD Radeon™ Pro W5700 workstation graphics card, our Radeon™ ProRender physically-based rendering plug-ins have been updated with new features and tools including Full Spectrum Rendering Vulkan® ray tracing for the Autodesk® Maya® v2.8 plug-in and some helpful new user documentation.
3ds Max Plug-In Updates
While many of the below updates are for the Maya plug-in, the Radeon ProRender plug-in for Autodesk® 3ds Max® v2.6 has received many core updates to the rendering software and denoisers. Also, there are updates to the .rpr export functionality. These exported files can be used to pass data between plug-ins or rendered from the command line with the "RPRSRender64.exe" utility.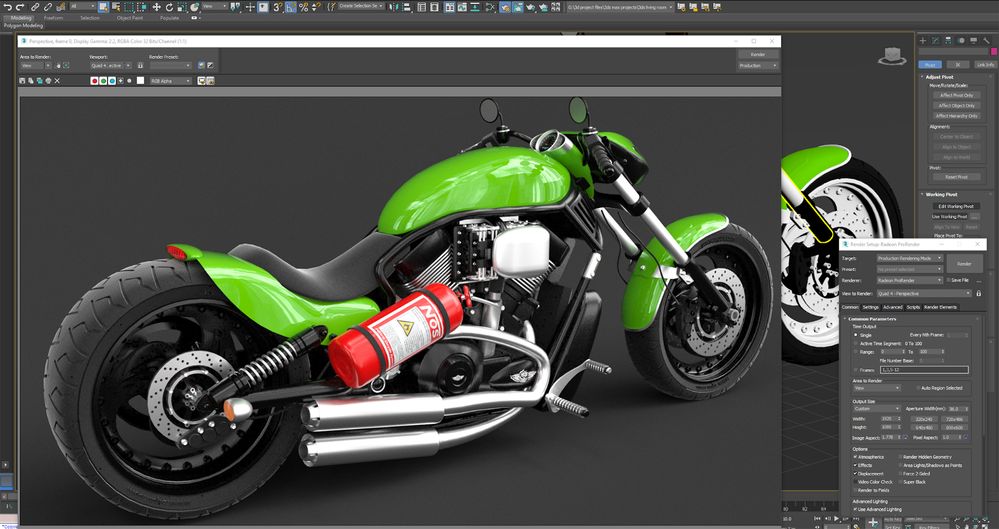 Full Spectrum Rendering
For Maya, we added Full Spectrum Rendering modes for rendering (Windows® only). This brings Vulkan-based ray tracing for fast viewport and final renders. It is especially useful for quick "playblast" style previews. The render settings allow the user to set the quality level to a wide spectrum from rasterized to fully path-traced (in OpenCL™) render quality, enabling everything from fast viewport previews to accurate final renders.

Support for Maya MASH Instances
Adding complexity to a scene greatly helps with realism. For example, pieces of dust on a floor or thousands of trees in a forest. However, it would be extremely overwhelming to manually place each tree in a forest yourself. Maya's MASH system makes rendering these instances easy, and now Radeon ProRender supports them as well!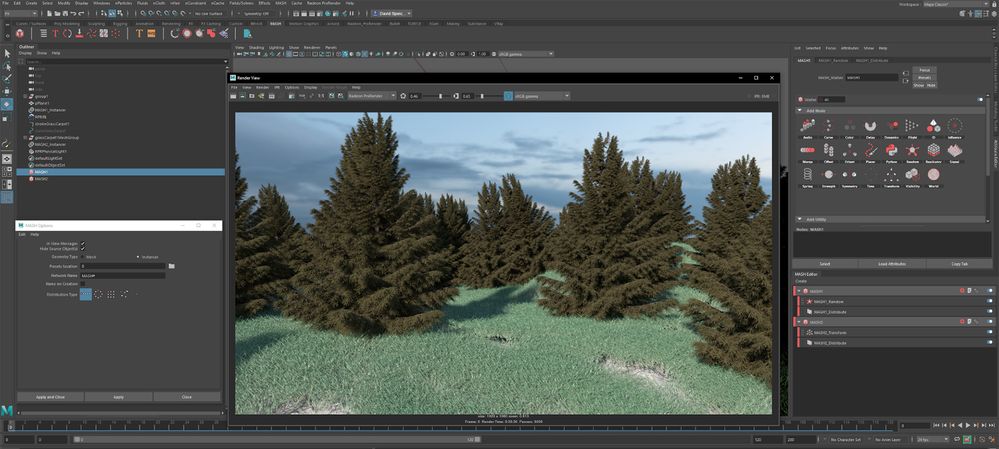 Improved User Documentation
Rendering software is complicated. There are many shader nodes, light parameters, and sampling settings to keep track of. For all users, expert to novice, good documentation is key. We have invested significantly in updating the documentation for our Radeon ProRender plug-ins to help with this.

Here you will find detailed explanations of the plug-in settings, as well as images to throw more light on software features, and in many cases, example scenes to illustrate concepts. Check them out today at https://radeon-pro.github.io/RadeonProRenderDocs/plugins/maya/about.html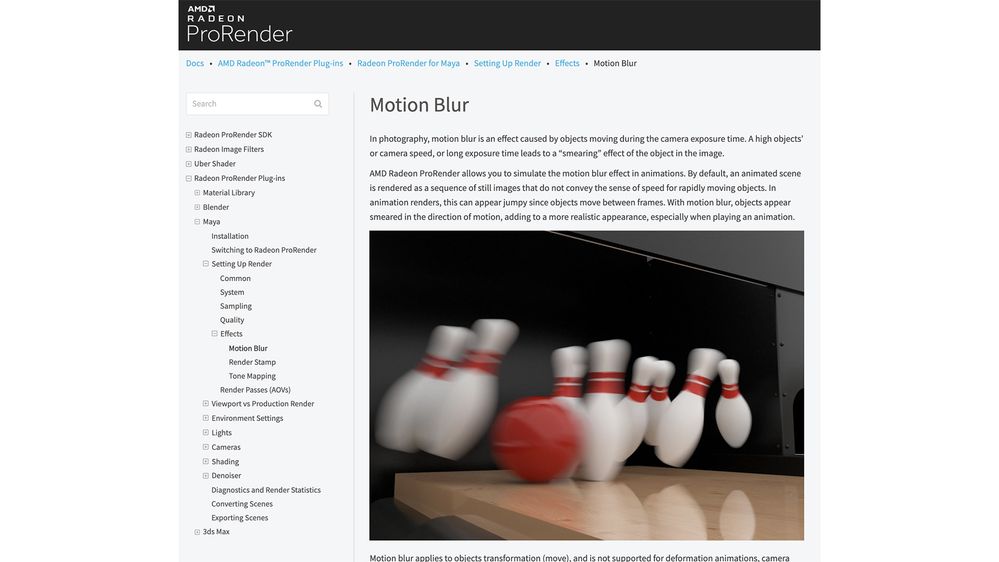 Better Support for Various Material Nodes
Lastly, we have invested serious effort in better supporting the Maya Material Nodes. This is an ongoing effort, so please if you see an issue with a specific shader network you are using, please let us know in our community forum. Here are a few details of what we changed:
Expedited export of layered texture nodes
More math operations in the RPR Arithmetic node
The Shadow Catcher Node is now called the "Matte" node and includes reflection catching
And more! (please see the release notes)
Download and check out our updated plug-ins for Autodesk 3ds Max and Maya today!
Brian Savery is a Professional Graphics Software Development Manager for AMD. His postings are his own opinions and may not represent AMD's positions, strategies or opinions. Links to third-party sites are provided for convenience and unless explicitly stated, AMD is not responsible for the contents of such linked sites and no endorsement is implied. GD-5
Title image created by Serghei Nenov using AMD Radeon™ ProRender for Maya®


Autodesk, the Autodesk logo, 3ds Max, and Maya are registered trademarks or trademarks of Autodesk, Inc., and/or its subsidiaries and/or affiliates in the USA and/or other countries. OpenCL is a trademark of Apple Inc. used by permission by Khronos Group Inc. Windows is a registered trademark of Microsoft Corporation in the United States and/or other jurisdictions. Vulkan and the Vulkan logo are registered trademarks of the Khronos Group Inc. Other product names used in this publication are for identification purposes only and may be trademarks of their respective companies.