AMD delivers world-class performance and next-generation enhancements for professional graphics

scott_jackson
Staff
AMD Radeon™ PRO W6000 series workstation graphics cards deliver exceptional performance, stability, reliability and a host of innovative features. We created these new graphics offerings to power demanding architectural design workloads, ultra-high resolution media projects, complex design and engineering simulations, as well as advanced image and video editing applications.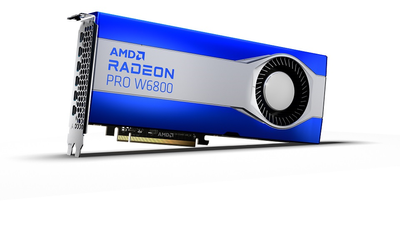 The AMD Radeon PRO W6800 workstation graphics card brings the ultimate performance and reliability to professionals that handle extra-large projects, extreme graphic workloads and large hardware-accelerated raytracing projects(1). It sets a new standard in professional graphics with the array of next-generation architectural features, including 60 enhanced compute units supporting hardware-accelerated raytracing, and a gigantic 32GB of high-speed GDDR6 memory with ECC support.
The graphics card also features 128MB of AMD Infinity Cache that delivers high-bandwidth performance at low power and low latency, and AMD Smart Access Memory that delivers even higher levels of performance for systems equipped with select AMD Ryzen™ Desktop Processors(2).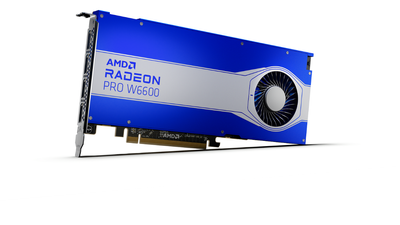 The AMD Radeon PRO W6600 workstation graphics card delivers an optimal price-to-performance benefit for mainstream workloads, including CAD (Computer-Aided Design) and AEC (Architecture, Engineering and Construction) applications, as well as for interactive rendering and visualization, product and automotive design, 3D modeling and animation, and more.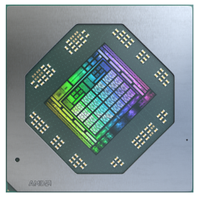 The AMD Radeon PRO W6600M GPU provides mobile users with professional software application support in the office, on the go or wherever reliable, dedicated and high-performance GPU processing is required.
Leading application developers recognize the potential for AMD's new professional graphics products and the benefits the technologies will provide to their customers. AMD works closely with these partners to help ensure our graphics solutions provide the reliability, stability and optimal performance professionals require.
"It is thrilling to think about how DaVinci Resolve customers will take advantage of the new AMD Radeon PRO W6800 GPU with AV1 support," said Dan May, President, Blackmagic Design Inc. "With the introduction of this new workstation graphics card and combined with future versions of DaVinci Resolve 17, users will be able to access the most efficient open-source codec in the world. With access to the huge 32 gigabyte frame buffer, DaVinci Resolve users will be able to create even larger VFX projects, work with bigger timelines, and use the large memory space to get better performance plus fast response times. With the new AV1 support and fast processing of the Radeon PRO W6800, DaVinci Resolve will be able to do hardware accelerated decoding to speed up their workflows of customers' video content created for AV1 playback."
Leading workstation system providers understand the impact these new professional graphics products will have for their customers.
"Dell Precision customers will benefit from the new AMD Radeon PRO W6000 series workstation graphics, featuring the combined power of up to 128MB AMD Infinity Cache plus AMD RDNA 2 architecture that support performance, stability and reliability," said Charlie Walker, Director of Product Management for Precision, Dell Technologies. "The high-performance capabilities of AMD Radeon PRO W6000 series are a natural fit for our Precision workstation customers to achieve exceptional results in their professional applications. Customers can find it in our Precision portfolio later this year."


"AMD Radeon PRO W6600M brings HP customers performance and reliability while also enabling their next creative breakthrough," said Brian Allen, manager, global product team for Advanced Compute and Solutions, Z by HP. "Built on the award winning AMD RDNA 2 architecture and backed by broad professional application support, the new AMD Radeon PRO graphics offer next generation support for mobile professionals in a wide variety of creative applications."
The AMD Radeon PRO W6000 series workstation graphics products are packed with new capabilities and features including:
Award-Winning AMD RDNA 2 Architecture – Built on the advanced 7nm manufacturing process, AMD RDNA 2 architecture introduces an array of advanced features elevating professional graphics to new levels of performance and efficiency.
Enhanced Compute Units with Realtime Hardware-accelerated Raytracing – Enhanced Compute Units (CU) with Ray Accelerators offer up to 46 percent faster rendering than Radeon PRO graphics cards based on previous-generation architectures in SOLIDWORKS Visualize 2021(1). Support for Variable Rate Shading (VRS) delivers real-time photorealistic viewports and rendering.
AMD Infinity Cache – Up to 128MB of last-level data cache integrated on the GPU die is designed to reduce latency and power consumption, enabling the AMD Radeon PRO W6800 to deliver the highest RDNA workstation GPU performance to date(1).
Smart Access Memory – Unlocks higher performance for key professional workloads by giving AMD Ryzen™ 5000 Series Desktop Processors or select AMD Ryzen™ 3000 Series Desktop Processors access to the entire high-speed GDDR6 graphics memory(3).
AMD Radeon™ PRO Viewport Boost – Designed for today's professional workloads and compatible software to help viewport frames-per-second performance increase with project file sizes(4).
Certified for leading professional applications – AMD continues to work with leading professional software application vendors to help ensure AMD Radeon PRO graphics cards are built for demanding 24/7 environments and tested to exceptional standards, delivering the stability and reliability required by workstation professionals. The list of certified applications can be found here.
This new AMD Radeon PRO line of workstation graphics offers solutions for a wide range of professional environments from heavy to medium to light workflows in addition to professionals on-the-go.
Scott Jackson is Director of Product Management for AMD Radeon PRO at AMD. This posting is his own opinion and may not represent AMD's positions, strategies or opinions. Links to third party sites are provided for convenience and unless explicitly stated, AMD is not responsible for the contents of such linked sites and no endorsement is implied.
1 Testing as of March 23, 2021 by AMD Performance Labs on a test system comprised of an AMD Ryzen™ 9 5950X with AMD Radeon™ PRO W5700 / AMD Radeon™ PRO WX 9100 / AMD Radeon™ PRO W6600 (pre-production sample) / AMD Radeon™ PRO W6800 (pre-production sample), at 3840x2160 display resolution. Benchmark Application: Dassault Systèmes SOLIDWORKS® Visualize 2021 SP3 (ProRender low sample) test. Performance may vary based on factors such as driver version and hardware configuration. RPW-382
2 Testing as of March 23, 2021 by AMD Performance Labs on a test system comprised of an AMD Ryzen™ 5950X with AMD Radeon™ PRO W5700, AMD Radeon™ PRO W6800 pre-production sample. Benchmark Applications: Lumion v.11 (Museum, Valley Winery, Downtown Development, Glass House, Villa Cabrera, Farnsworth, Residential Home, Beach House), Topaz Video Enhance AI 2.0.0 (Artemis-HQ, Gaia-HQ, Theia-Detail), Dassault Systèmes SOLIDWORKS® Visualize 2021 SP3 (Camaro default angle, Yellow motorcycle, Snowmobile). Performance may vary based on factors such as tasks performed, driver version and hardware configuration. RPW-362
3 Smart Access Memory technology enablement requires an AMD Radeon 6000 series GPU, Ryzen 5000 or 3000 series GPU (excluding the Ryzen 5 3400G and Ryzen 3 3200G) and an AMD 500 series motherboard with the latest BIOS update. BIOS requires support for AGESA 1.1.0.0 or higher. Download latest BIOS from vendor website. For additional information and system requirements, see www.amd.com/en/technologies/smart-access-memory GD-178
4 The Radeon™ PRO Viewport Boost feature is currently compatible with Autodesk 3ds Max®, Autodesk Revit® and Epic Twinmotion®. Other professional software products to be announced. GD-189