Mark as New

Bookmark

Subscribe

Mute
Good time of a day.
I and many other owners of Asus FX705DY / FX505DY (with latest BIOS 313) have problems with Ryzen 5 3550H CPU overheat on Linux. When CPU is under load and it reaches temperature over 80° C - CPU will throttle to 399MHz and will stay at this frequency until reboot.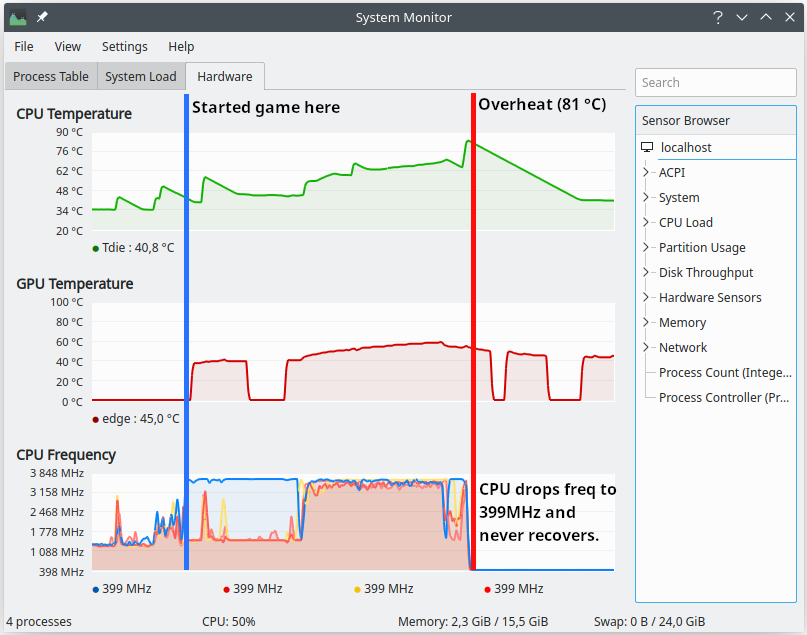 I tested multiple Linux distributions: CentOS, Fedora, Manjaro - CPU throttles on all of them. To exclude HW problem I also tried Windows 10 - no CPU throttling, so it's not hardware problem, but I can't use Windows for my Job.
Thread on Manjaro Community forum: Perfomance throttle on Ryzen 5-3550H+AMD RX560X laptop after some use - Hardware - Manjaro Linux For...
Linux kernel bugzilla: 203733 – CPU freq stuck at 400Mhz when CPU is fully loaded and video card is used - AMD Ryzen 3550h
Another bug report maybe related: 204579 – min cpu clocks incorrect in amd ryzen 5 3550H
If You may need any other info, please ask.
Best regards,
Leon
1 Solution
Mark as New

Bookmark

Subscribe

Mute
7 Replies