Mark as New

Bookmark

Subscribe

Mute
Problème monitoring 5800X et Asus B550
bonjour, voici le soucis...J'ai des problèmes de lecture d'utilisation CPU.. dans vahalla ne dépasse guère 5%, un stress sous cpu Z 70%... par contre les performance sont là. J'ai réinstallé windows 11, tout est revenu à la normal, mais de nouveau cassé lors de ses mises a jours! j'ai les derniers pilotes adrénaline chipset et gpu.. (après les mises a jours windows)
Seul le monitoring de windows semble juste.

j'ai une B550 tuf gaming avec un 5800x. Le bios est le 2803.

C'est pas vraiment un problème en soit, mais ça me gêne un peu, les perf sont là sous cpuz,3dmark en cpu. L'occt est ok.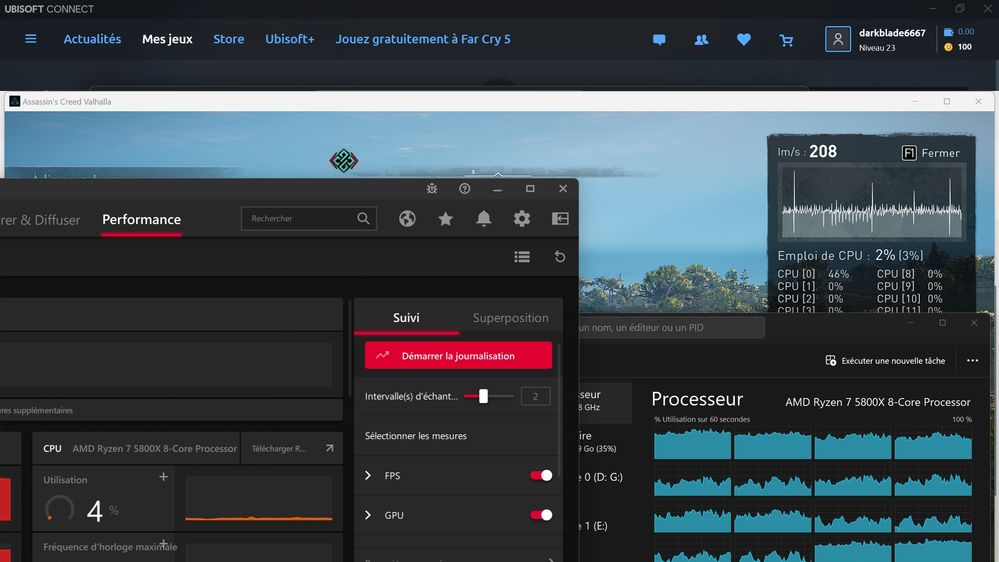 2 Replies
Mark as New

Bookmark

Subscribe

Mute
OFFICIAL TERMS OF USE and TERMS OF MEMBERSHIP
AMD Community Forum
This is a user to user English language only Support Forum.
Mark as New

Bookmark

Subscribe

Mute
hello, here is the problem... I have problems reading CPU usage.. in vahalla perhaps does not exceed 5%, stress under cpu Z 70%... on the other hand the performances are there. I reinstalled windows 11, everything is back to normal, but again broke during its updates! I have the latest adrenaline chipset and gpu drivers.. (after windows updates)
Only windows monitoring seems right.
I have a tuf gaming B550 with a 5800x. The bios is 2803. It's not really a problem in itself, but it bothers me a little, the performances are there under cpuz, 3dmark in cpu. The occt is ok.