Mark as New

Bookmark

Subscribe

Mute
Asus ROG Crosshair Hero VII, Ryzen 2700x, Corsair Vengeance RGB (Pro) 3200 4x16GB Memtest86 failures.
Hello,
Does anyone on this forum have experience with a system with the following setup?
Motherboard: Asus ROG Crosshair Hero VII (Wifi).
CPU : Ryzen 2700x.
RAM : Corsair Vengeance RGB 3200 4x16GB
or
Corsair Vengeance RGB PRO 3200 4x16GB
PSU = Corsair AX1600i
Complete Build information here: https://community.amd.com/message/2904373?commentID=2904373#comment-2904373

I am consistently getting Memtest86 failures with some modules in the Corsair Vengeance RGB 3200 4x16GB kit
In that case one 16GB RAM module of four failed Memtest86 and I had to RMA the entire kit.

That kit was selected using Corsair RAM Selector for the motherboard.
The replacement kit = Corsair Vengeance RGB PRO 3200 4x16GB.

Corsair sent me the newer version (PRO) as the original kit is older and out of stock. The spec is 'identical' the changes are to the RAM style and the RGB's are individually addressable.

In that case three of 4 RAM sticks failed Memtest86 and I have been asked to RMA the RAM back to Corsair again.

I tested at default bios settings and clock speeds using ASUS original BIOS on the motherboard:
https://www.asus.com/Motherboards/ROG-CROSSHAIR-VII-HERO-WI-FI/HelpDesk_BIOS/


Version 08042018/07/208.11 MBytes
ROG CROSSHAIR VII HERO (WI-FI) BIOS 0804

I also flashed the motherboard BIOS to the latest available BIOS:

Version 1201
2019/01/048.44 MBytes
ROG CROSSHAIR VII HERO (WI-FI) BIOS 1201

Memtest 86 Test results are the same.
I have the following questions:
1. Should I have to make changes to the Ram Timings in BIOS to help get this RAM to pass Memtest86?
2. Does anyone know if AMD X470 motherboards support a wide range of DDR4 RAM or is there only a small subset of RAM sticks that work with confidence in reality?
3. Is it possible to populate an X470 motherboard with 64GB at 3200 MHz?
4. What level of confidence can I have that Ram Manufacturers actually test their RAM to run with Ryzen 2700x on X470 motherboards at rated speed?
In the first case where 1 of 4 sticks in a kit fail I could possibly put that down to bad luck.
In second case with RMA replacement RAM where 3 of 4 modules fail Memtest86 this indicates to me a Quality Assurance issue or a lack of compatibility with X470 motherboards / lack of testing generally.

Please note I tested the motherboard and system extensively. I tested working sticks pass in all RAM slots.
I tested failing sticks in primary RAM slot and various other RAM slots.
I downloaded and cut two different Memtest86 USB sticks, just in case something was wrong with the Memtest86 installation / USB.
Thanks.
1 Solution
Mark as New

Bookmark

Subscribe

Mute
I have managed to run the 3rd RMA set of Corsair Vengeance RGB PRO 3200 4x16GB kit at 3200MHz and pass MemTest86.
Here is a shot of ASUS BIOS showing the CPU and Memory Frequency used: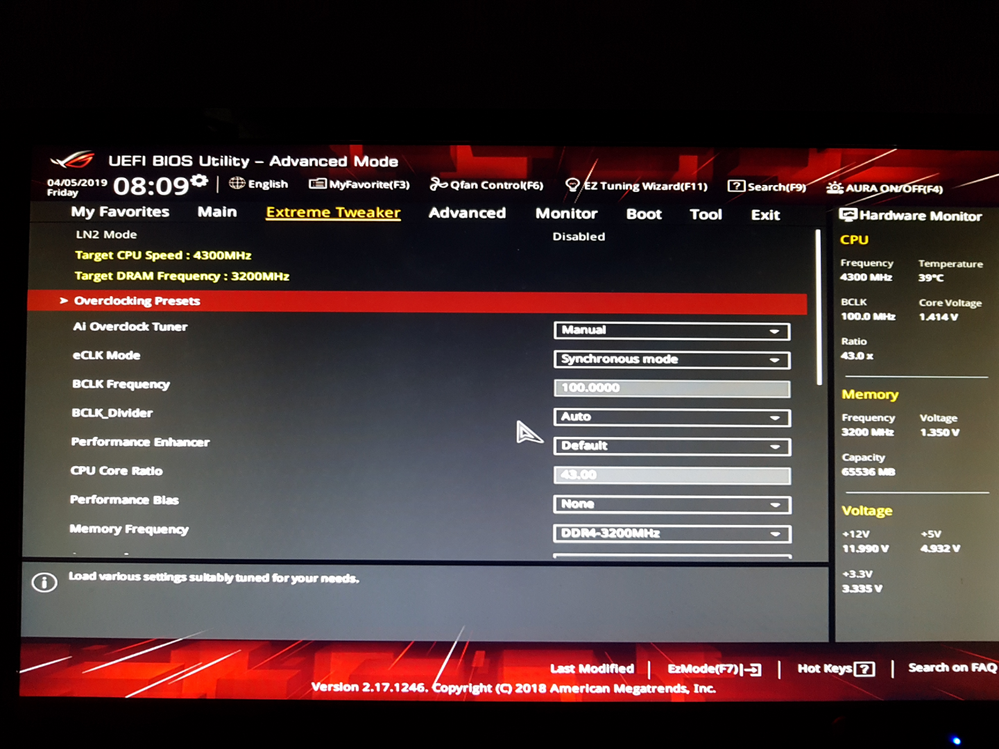 Here is a screenshot showing passing MemTest86 Tests 1 to 10 with a Single Pass. It also passes a 4 Pass Run including the Hammer Test 13.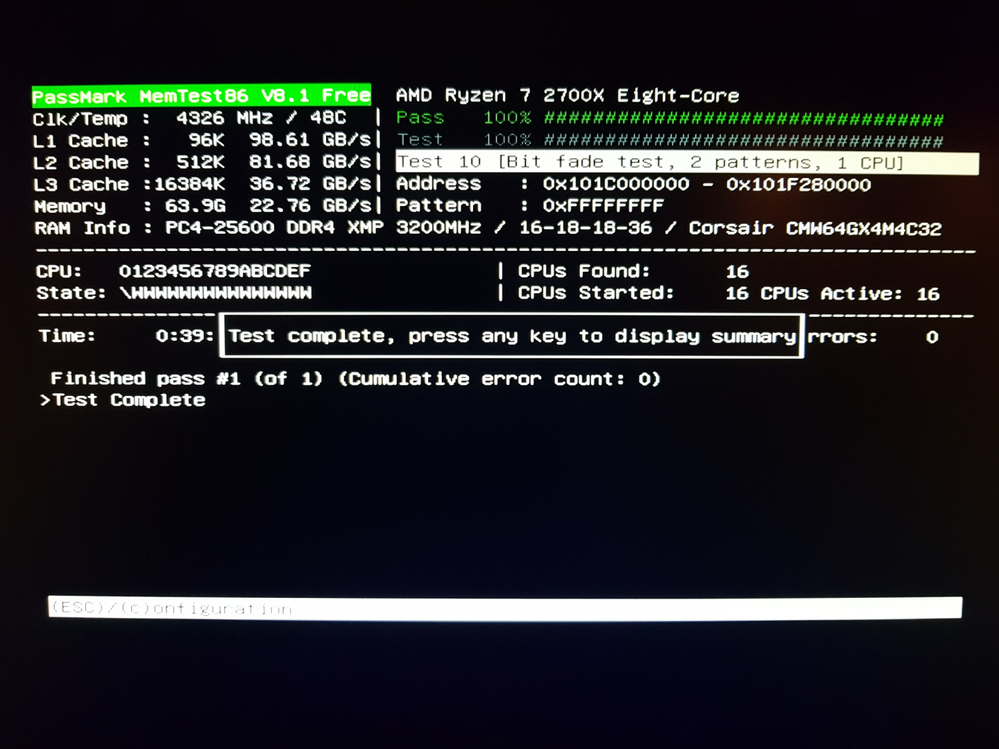 Looking at the Ryzen Specifications:
AMD Ryzen™ 7 2700X
See:
2nd Gen Ryzen™ 7 2700X Desktop Processor | AMD

I set up MemTest86 tests to run at the highest Max Boost Clock 4.3GHz
You need to be careful to have BIOS settings which will also pass MemTest86 at Base Clock 3.7GHz.
Lower Clock frequency would usually imply less noise and it would not be unreasonable to assume that passing MemTest86 at Max Boost Clock 4.3GHz
would mean you will also pass MemTest 86 at Base Clock 3.7GHz. This was not the case. When I dropped the clock multiplier in BIOS from 43 to 37 and I ran MemTest86 it failed with many Test 7 errors.This has serious implications for users of AISUITE III within Windows 10 if a User were to drop the Clock Multiplier from within Windows 10 from 43 to 37 using the AISUITEIII TPU menu for example. The User could end up running at a CPU clock frequency which is in fact causing memory failures which could wreck their Windows 10 OS or at the very least cause BSOD's. I made further adjustments in the ASUS BIOS settings so that MemTest86 passes at both Base Clock 3.7 GHz and
Max Boost Clock 4.3GHz.


The MemTest86 screenshot above at 4326 MHz is actually using the adjusted settings which pass MemTest86 at both frequencies.
I drop the Clock multiplier from 43 to 37 in BIOS, reboot and run MemTest86 again.
Here is a screenshot showing passing MemTest86 at 3.7GHz . Note this passes Test 13 Hammer test as well but that is not shown in this screenshot.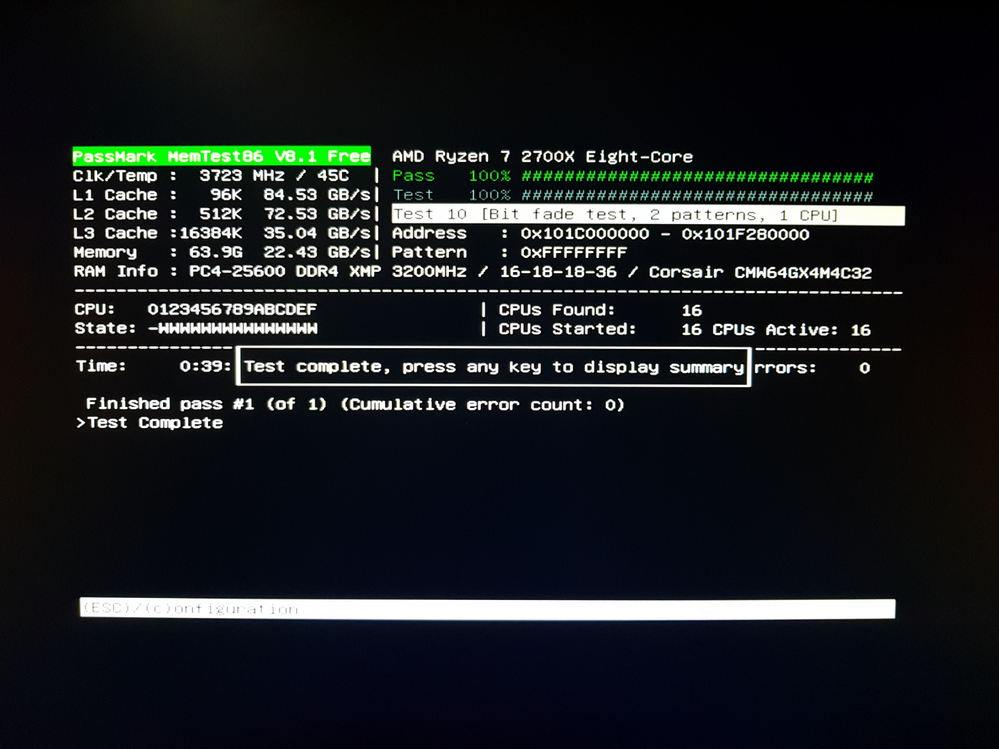 Adjusting BIOS settings to achieve the above was difficult.
I am now able to report back to Corsair and ASUS to tell them that this 3rd RMA set of Corsair Vengeance RGB PRO 3200 4x16GB kit can indeed run at it's rated speed of 3200MHz on Ryzen 2700x with Asus ROG Crosshair Hero VII (Wifi) motherboard and pass MemTest86 at Ryzen 2700x specified Base and Boost Clocks.

I will supply the BIOS User Settings file to both ASUS and Corsair for their inspection.

Corsair have told me they are unable to run Failure Analysis on the previous two RAM kits which failed MemTest86 with default ASUS BIOS settings and frequency when run at SPD 1.2 volt profile running at 2133MHz.

I will continue to request that Corsair do something to fix their Ram Selector.

Hopefully AMD, Asus, Corsair and other Ram manufacturers can work together to seriously improve memory compatibility and profiles for next generation Ryzen products.

This RAM issue has cost me time and money to resolve. It has been difficult to debug and MemTest86 runtimes on Ryzen2700x are long.

I have opened a couple of separate posts related to this issue.

https://community.amd.com/thread/238460
and
https://community.amd.com/thread/238459

Thanks again to everyone who responded to this post and gave advice.

I now mark this as Correct Answer.

60 Replies