Mark as New

Bookmark

Subscribe

Mute
Corsair 4000/5000 Series Front Panel
I just came across these and I feel like I need one. I can't find any release date or anything beyond the forum thread that mentions them. 4000D/5000D Front Panels. These are beautiful. There is a top piece that comes with it too.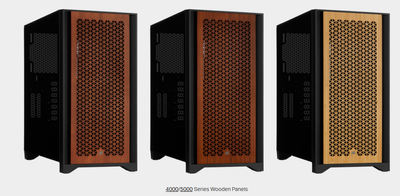 A Great Day for DIY – Introducing a Multitude of New Components - New Product Releases - Corsair Com...
ASRock X570 Taichi, Ryzen 7 5700X, 32GB RAM 3200Mhz, Gigabyte RX 6800 XT Gaming OC, Corsair HX1000 1000 Watt Fully Modular PSU, Win11Pro
3 Replies

Mark as New

Bookmark

Subscribe

Mute
That's real slick. Love the wood look on the front panels. I'm sure someone gonna pair it with the Brown Noctua's.
Ryzen 7 5800X3D| AMD 6800 XT Midnight Black | MSI B550 Gaming Plus | Be Quiet Pure Rock 2 Black
Corsair Dominator 32GB 4x8 | 970 Evo+/ WD SN550 1 TB/860 Evo 500GB | Be Quiet 802 Silent Base Airflow

Mark as New

Bookmark

Subscribe

Mute
Is that a wood grained panel?
I was just on Corsair's site and they were showing nothing like that on the 4000/5000 series cases.
I did see a wood grain panel similar to that on a Falcon North case that someone mentioned in this forum.
I can only assume that someone is marketing the Corsair cases with the enhancement and charging extra.

Mark as New

Bookmark

Subscribe

Mute
It's from their forum. They said to expect it in 6 to 7 weeks.
ASRock X570 Taichi, Ryzen 7 5700X, 32GB RAM 3200Mhz, Gigabyte RX 6800 XT Gaming OC, Corsair HX1000 1000 Watt Fully Modular PSU, Win11Pro