Mark as New

Bookmark

Subscribe

Mute

Email to a Friend
Card Vaga 64
Windows 11 updates to driver 30.0.13001.3012
Dated 7/27/2021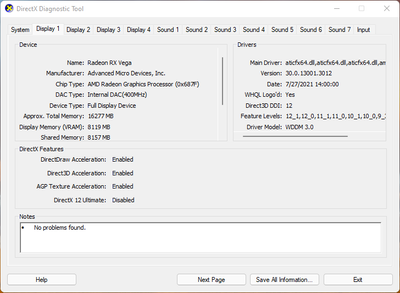 When trying to load Adrenalin I get this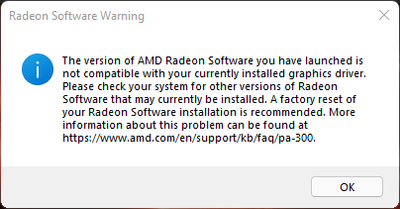 No Radeon 30.0.13001.3012 is available on your site how do I use the latest driver and still use Adrenalin?
This is my system specs on bare metal
Operating System: Windows 11 Pro 64-bit (10.0, Build 22000) (22000.co_release.210604-1628)
Language: English (Regional Setting: English)
System Manufacturer: To Be Filled By O.E.M.
System Model: To Be Filled By O.E.M.
BIOS: P1.90 (type: UEFI)
Processor: Intel(R) Core(TM) i7-4770K CPU @ 3.50GHz (8 CPUs), ~3.5GHz
Memory: 16384MB RAM
Available OS Memory: 16316MB RAM
Page File: 17511MB used, 7507MB available
Windows Dir: C:\WINDOWS
DirectX Version: DirectX 12
1 Solution

Mark as New

Bookmark

Subscribe

Mute

Email to a Friend
The Adrenaline Driver Tool is not supported by the Windows 11 UWP Driver. Deinstall it and then install the AMD UWP Settings via the Windows Store.
11 Replies