Mark as New

Bookmark

Subscribe

Mute
I have the latest drivers of my amd radeon 530 4gb installed , but i am not having the relive tab , here is a screenshot , i got a notification that says that amd relive has been successfully installed , but still not getting it, i did a clean reinstall , but it did not fix it.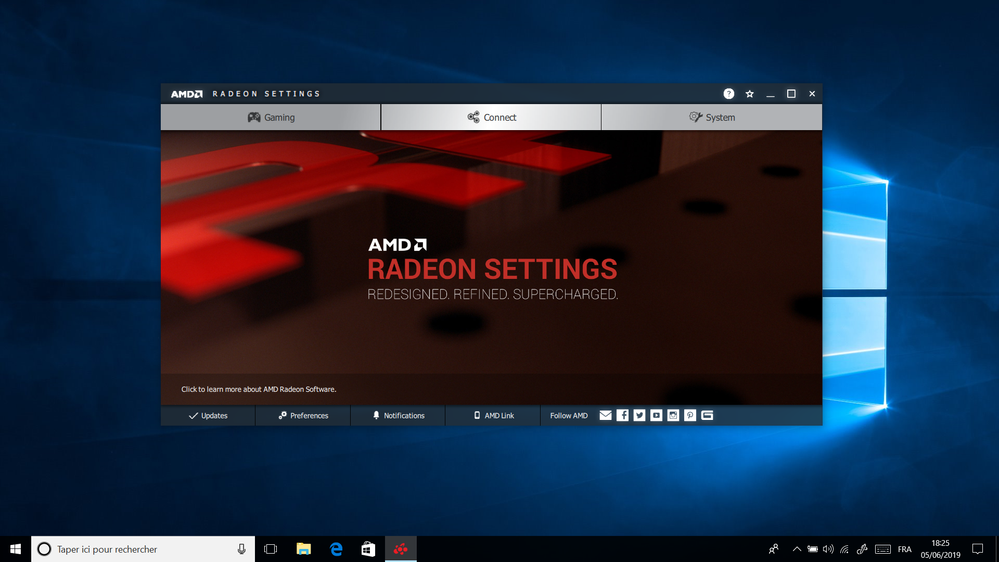 3 Replies

Mark as New

Bookmark

Subscribe

Mute
You didn't give any of the required system information for posting so I can only pose a couple of questions.

Did you ever have a re-live tab?
If you did and you updated the driver, the re-live is a secondary option install and easily not installed if you don't tell the driver to do so. You can add later from Radeon Settings.
If you are on a laptop, many of them don't support this function.
Not sure what you have.
If this doesn't help reply back with the following information please:
When posting a new question, please provide as much detail as possible describing your issue making sure to include the relevant hardware and software configuration.
For example:
Issue Description: [Describe your issue in detail here]
Hardware: [Describe the make and model of your: Graphics Card, CPU, Motherboard, RAM, PSU, Display(s), etc.]
Software: [Describe version or release date of your: Operating System, Game/Application, Drivers, etc.]

Mark as New

Bookmark

Subscribe

Mute
Sorry for not giving much informations it's my first posting on a forum, here are the answers of your questions :
-I have never had a relive tab , even after installing the latest 19.5.2 update.
- I have the 5570 DELL laptop with i7 8th gen processor , 8gb of ram , and an amd radeon 530 4gb graphics card which supports the Radeon Relive.
-I have windows 10 professional 64bits.
Mark as New

Bookmark

Subscribe

Mute
It is likely then that you mobile device does not support re-live most do not. To clarify you cold ask Dell support if this is a function they support or not. If it wasn't working with the initial shipping drivers than I would doubt it does. Some laptops that have custom fitted desktops do support it but only because they have desktop graphics. Just because your is called a Radeon 530 doesn't mean it is a desktop GPU. I agree it is confusing they do this but the mobile variants are different. I don't know why ReLive can't can't be just as easily supported on these products as plenty of 3rd party capture utilities will work fine. Luckily you have many to choose from in the event you don't get ReLive working. Again ask Dell if you model is or is not supposed to support it.
Taken from the AMD relive page:
How to Capture and Stream Gameplay Using Radeon™ ReLive | AMD
Radeon™ ReLive is currently supported on systems with AMD Graphics Core Next (GCN) Architecture-based Desktop Graphics. These include:
Radeon™ RX Vega Series
Radeon™ RX 500 Series
Radeon™ RX 400 Series
Radeon™ Pro Duo
AMD Radeon™ R9 Fury, R9 300, R7 300 Series
AMD Radeon™ R9 200, R7 200, R5 300, R5 240 Series
AMD Radeon™ HD 8500 – HD 8900 Series
AMD Radeon™ HD 7700 – HD 7900 Series
NOTE! Radeon™ ReLive for AMD Radeon products is supported on the following Operating Systems:
AMD Radeon™ RX Vega, Radeon™ RX 500 Series Graphics products and newer are only supported on Windows® 7 and Windows® 10 64-bit.
AMD Radeon™ R9 Fury, Radeon™ Pro Duo and Radeon™ RX 400 Series Graphics products are only supported on Windows 7, Windows® 8.1 and Windows 10 64-bit.
All remaining products are supported under Windows 7, Windows 8.1 and Windows 10 32-bit and 64-bit versions.
Radeon™ ReLive is currently supported on DirectX® 9, 10 11, 12 and Vulkan® APIs.
The availability of specific Radeon ReLive recording functions will depend on the GPU being used. For more information on encoding support, please visit Radeon ReLive.
Radeon™ R9 300 Series and older products have encoding support up to 1080P resolution at up to 60 Frames Per Second (FPS).