Mark as New

Bookmark

Subscribe

Mute
OpenGL Depth Rendering Problem On Specific Programs
Hello. I have been hacking away at this issue since I first purchased this PC about a year ago. In a specific game, Second Life, my AMD GPU is delivering serveral rendering issues.
1. Constant Random Crashes
2. Inability To Render Depth Maps in game
3. Low FPS
Included in this link is my forum post from Second Life's forums which led me to conclude it is an OpenGL Rendering Issue.
**PLEASE READ THAT FORUM POST IN DEPTH**

YES I have uninstalled Reinstalled
YES I have updated drivers
YES I have messed with game settings.
I have escalated this issue to the develops of the Second Life Viewer called Black Dragon and they were stumped. I escalated this issue to the developer of Gshade. They were also stumped.
This image describes in detail my issue. this specific program, which runs on OpenGL is not able to produce a depth map. In addition where I should be getting at least 30FPS in all areas I find I am getting about 7-10. In addition it crashes randomly all the time. The injected software in the red window on the right is a photo manipulation tool called Gshade.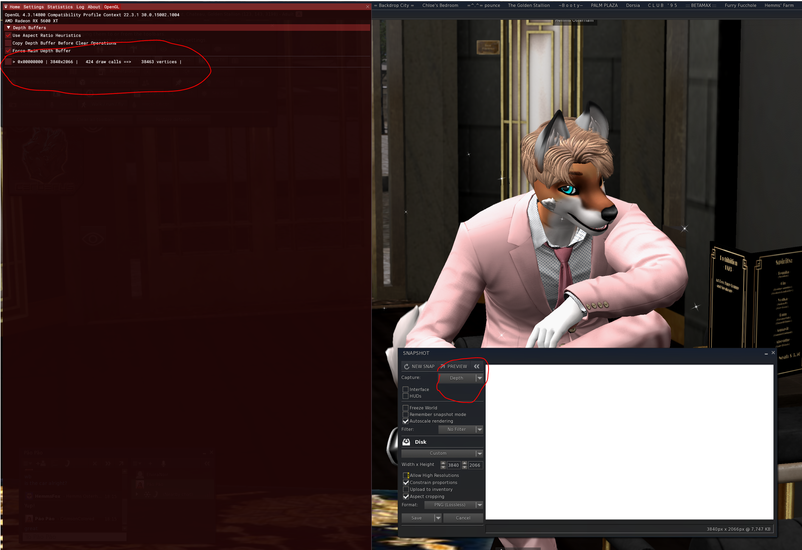 Here is some diagnostics information from GPU-Z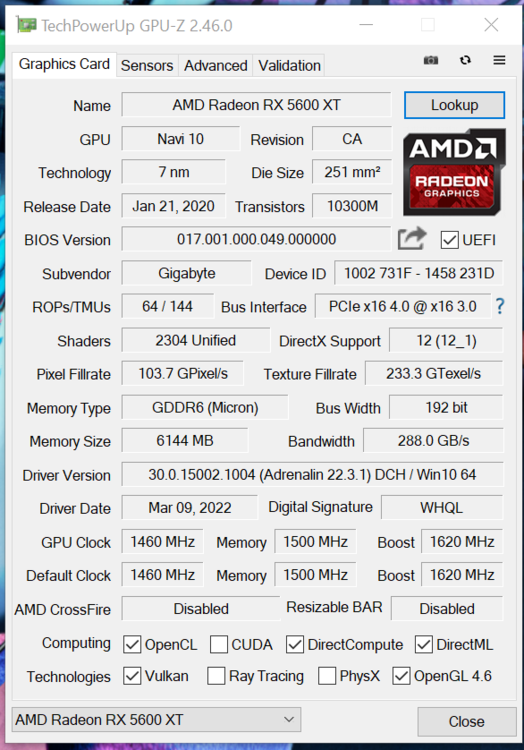 Current PC Setup:
CPU
AMD Ryzen 5 3600 6-Core Processor
Base speed: 3.60 GHz
Sockets: 1
Cores: 6
Logical processors: 12
Virtualization: Enabled
L1 cache: 384 KB
L2 cache: 3.0 MB
L3 cache: 32.0 MB
Utilization 21%
Speed 3.94 GHz
Up time 0:09:42:59
Processes 240
Threads 3550
Handles 147577
Memory
16.0 GB
Speed: 2667 MHz
Slots used: 2 of 2
Form factor: DIMM
Hardware reserved: 49.1 MB
Available 2.4 GB
Cached 2.0 GB
Committed 26.4/38.0 GB
Paged pool 530 MB
Non-paged pool 402 MB
In use (Compressed) 13.5 GB (198 MB)
Disk 0 (C:)
SATA SSD
Capacity: 447 GB
Formatted: 447 GB
System disk: No
Page file: No
Type: SSD
Read speed 4.1 KB/s
Write speed 108 KB/s
Active time 0%
Average response time 0.7 ms
Ethernet
Realtek PCIe GbE Family Controller
Adapter name: Ethernet
DNS name: Home
Connection type: Ethernet
IPv4 address: 192.168.0.35
IPv6 address: fe80::d521:9179:7a33:a3e5%5
Receive 4.8 Mbps
Send 16.0 Kbps
GPU 0
AMD Radeon RX 5600 XT
Driver version: 30.0.15002.1004
Driver date: 3/9/2022
DirectX version: 12 (FL 12.1)
Physical location: PCI bus 43, device 0, function 0
Utilization 58%
Dedicated GPU memory 5.7/6.0 GB
Shared GPU memory 0.2/8.0 GB
GPU Memory 5.9/14.0 GB
5 Replies