Mark as New

Bookmark

Subscribe

Mute
Graphics pilote crash on all games with 6800XT
Hello, I have a big problem with my new graphics card.
I had a 2070S and bought a 6800XT, formatted all my hard drives to accommodate it and made sure it was going to work. I installed the driver for all my components and some games. I can't play because my games crash after a few minutes.
I tried to reinstall the graphics driver and DirectX. My windows 10 is up to date but nothing changes.
Please help me, I beg you.
PC specification :
Ryzen 7 3800X

16GB 3600MHz

MSI MPG B550 gaming plus

RX 6800XT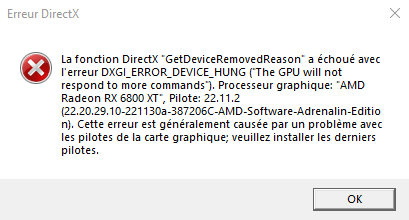 2 Replies

Mark as New

Bookmark

Subscribe

Mute
Have you tried using AMD's cleanup Utility or DDU (Display Driver uninstaller) and then reinstall the drivers manually? That's the first thing I'd try to do. Also, do you have any overclock or undervolt applied or does this happen with the default settings?
Leonidas - Ryzen 7 5800X3D | MBA RX 6800 XT Midnight Black | Be Quiet 802 Silent Base (Main)
Maximus - Ryzen 7 3700x | Power Color Fighter RX 6700 XT | Fractal Ridge ITX Case (HTPC)

Mark as New

Bookmark

Subscribe

Mute
Did you buy the GPU new, or did you buy it second hand?
ASRock X570 Taichi, Ryzen 7 5700X, 32GB RAM 3600Mhz, AMD Radeon RX 7900 XT, Corsair HX1000 1000 Watt Fully Modular PSU, Win11Pro