Mark as New

Bookmark

Subscribe

Mute
Fluctuations in GPU Utilization | Core Clock Drops (Sapphire Nitro+ AMD Radeon RX 6900 XT)
hello there
i've bought my new pc around 1.5 half years ago, here is my spec list:
- AMD Ryzen 9 5950X - Corsair iCUE H150i RGB Pro XT - Sapphire Nitro+ AMD Radeon RX 6900 XT - ASUS Rog Strix X570-E Gaming - Corsair Vengeance RGB Pro (2x 16GB, 3600 MHz) - Corsair RM850x (850W) - Corsair Force Series MP600 (2TB, NVMe PCIe Gen4 x4M.2) - Seagate Barracuda (2TB, 3.5", 7200 RPM)
everything was working perfectly fine but all of a sudden i've noticed some stutters in a few games and it didn't felt smooth at all...
so i've did a few benchmarks in 3d mark and noticed that my gpu score was all over the place. next i've did some gpu stress testing in the adrenaline software and noticed that my gpu usage behaved pretty strange (See Screenshot Bellow)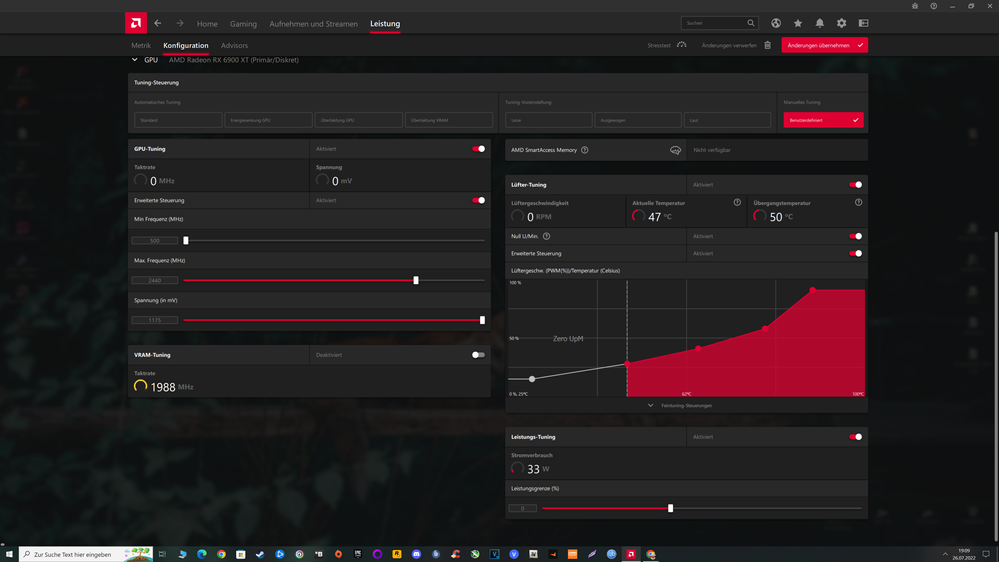 Adrenalin GPU Settings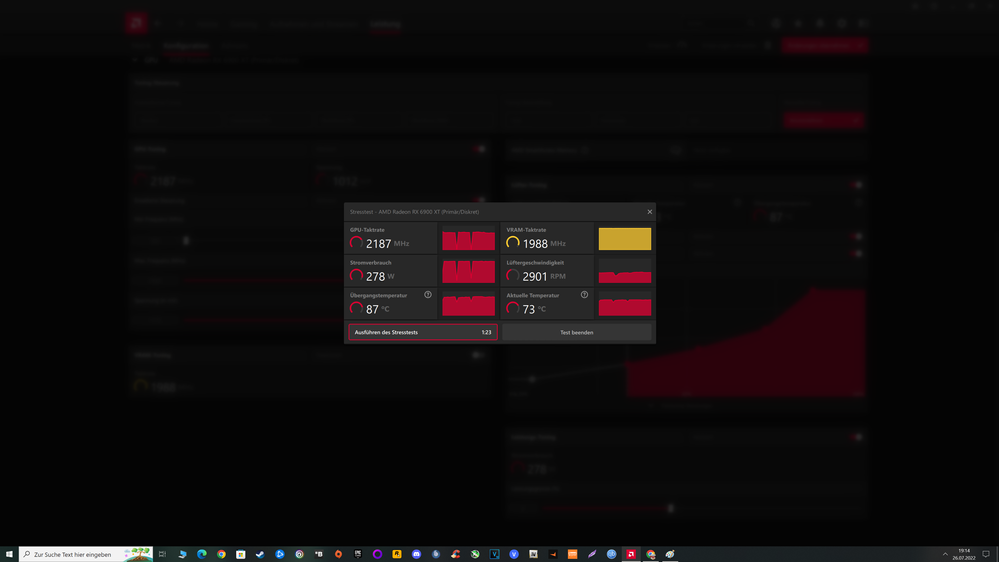 Adrenalin GPU Stress Test
i've did the following stuff to solve the problem but without a success: undervolting, power limit tuning, removing all drivers (amd cleanup utility), testing older drivers, disabling c-state (bios), disabling sam
did someone experience the same problem, is my gpu broken?!
thanks for the help
ps: sry for my awful english
1 Solution

Mark as New

Bookmark

Subscribe

Mute
This is a feature of the stress test, during it switches modes to load, for example (first the GPU then the memory, during the switching, the load of the video card falls, understands this and resets the frequencies, run a normal stress test, for example, Unigine Superposition, there will be a similar situation after passing one test, the video card will reset the frequencies and then the second one will start, the stress mode is changing test (no load, no high frequencies, no overheating, the video card analyzes the data and boosts the frequencies during the load). And about the games, depending on which ones you play, and with what settings + what settings you make in amd adrenaline. I generally turn everything off in the Amd adrenaline driver, only freesync is enabled. For perfect work in the game for example: there can be any game: immortal fenix rising I have an average of 100+ frames 2k, I make the frame limit slightly lower, for example 90fps (via msi afterburner, you can through the game without a difference) freesync is enabled, and a perfectly smooth straight line without staters, sometimes of course occur, but this is already the merit of yubisoft. Just try to limit the fps to just below the average and freesync should be enabled too (it only works in fullscreen mode)
8 Replies