Mark as New

Bookmark

Subscribe

Mute
AMD drivers causing screen glitch RX 570
Evening all,

I've run into a problem that's left me scratching my head a little. I shut my computer down one night no issues all day, then on start up the following day the screen begins to display a glitch where pixels seem to get stuck or go black. As I use the computer the glitching pixels change rapidly and stop whenever I cease any input. The only workaround at the moment is disabling the graphics card via device manager.

So far the steps I've tried to fix this are:
Uninstalled graphics driver then reinstalled latest.
Ensured all windows updates are installed.
Updated MB BIOS.
Installed latest chipset drivers.
Complete fresh install of windows, ensuring all the above have the latest versions.
Uninstalled latest AMD driver and installed previous versions.
See below for a screenshot of what I'm seeing. However, the vertical black lines do not appear as part of the glitch and are only captured when I take the screenshot.

If anyone's had any issues like this before and know of a fix I'd appreciate any help. Hoping it's not my GPU on the blink!

Graphics card: MSI RX 570
MD: B450M MOTAR MAX
CPU: AMD Ryzen 5 2600X Six-Core Processor, 3600 Mhz, 6 Core(s)
RAM: Corsair 16GB DDR4 3600mhz Vengeance
Storage: Samsung 970 EVO Plus V-NAND M.2 250GB SSD
Windows 10 Home version 10.0.19043 Build 19043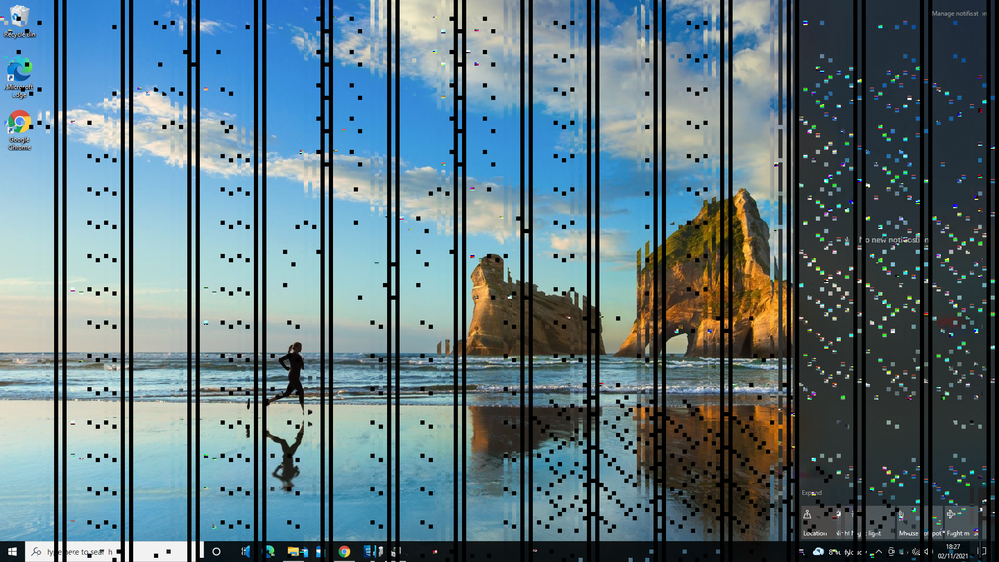 2 Replies
Mark as New

Bookmark

Subscribe

Mute
Looks like your GPU could be on it's way out..
Remove it from your pc, clean any dust in the cooler and from the fans if you haven't already..
If it's the same when you put it back, try changing the thermal paste and make it a good quality one (Arctic Silver 5) for example..
You could try a different cable and try it in a different PC too..
AMD Ryzen 7 3700x, Asus Tuf Gaming RX 6700 XT, Asus TUF Gaming x570 Plus, 32gb G.Skill TZ neo 3600mhz, Samsung 980pro 1tb NVME, Samsung 970 EVO Plus 1tb NVME, Lian Li Galahad AIO 240mm, Antec Titanium 1kw.

Mark as New

Bookmark

Subscribe

Mute
Yeah I'm thinking its dying. Had another glitch earlier with lots of green dots all over the screen, like something from The Matrix.
I'll give it a good clean though and redo the paste and see if that helps.
Thanks for the response.