Mark as New

Bookmark

Subscribe

Mute
7900XTX Memory Junction Temperature ~100C is this normal or issue ?
Hello from Poland !
Card : Reference AMD, branded by Gigabyte 7900XTX
Case : SilentiumPC Pax M70, very quiet, factory soundproofed with mats + 3 fans (2 front, 1 back)
Mounted : Standard horizontal
Overclocking : default settings
After 30 minutes running Furmark : stable 70C on GPU, 84C on GPU Hot Spot but 100C on Memory Junction Temperature.
Is this normal temperature or something is wrong with my card ?
100C at this point is about 92,5% of limit before memory starts throttling.
Any comments welcome.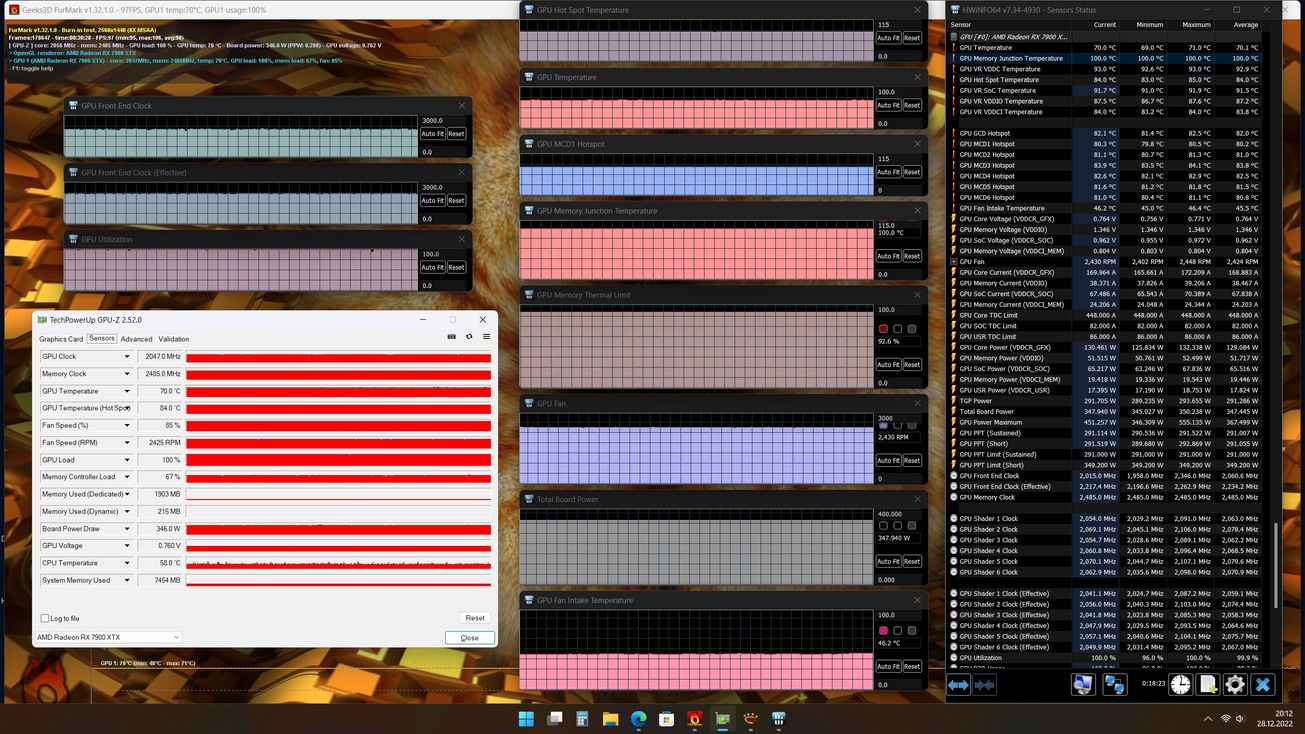 2 Replies
Mark as New

Bookmark

Subscribe

Mute
Considering your fans are already running at over 2400 rpm and your hotspot already sits at 84°C, I'd say something is pretty off. Just for comparison:
My reference card with Furmark running at 3440x1440 with 4xMSAA enables settles around 72°C hotspot with the fans running at around 1800 rpm, so much lower compared to your card. However my case is the complete opposite of yours: It is a very airflow trimmed case with a total of eight fans.

Mark as New

Bookmark

Subscribe

Mute
Thx for reply.
Try switch from 4xMSAA o 8xMSAA and GPU will raise frequency ?
Something weird, QHD :
0 x MSAA, GPU ~1600Mhz, Mem load ~51%, TBP ~348W, ~280FPS
2 x MSAA, GPU ~1500Mhz, Mem load ~60%, TBP ~348W, ~225FPS
4 x MSAA, GPU ~1750Mhz, Mem load ~66%, TBP ~348W, ~157FPS
8 x MSAA, GPU ~2050Mhz, Mem load ~68%, TBP ~348W, ~99FPS
This is my case : https://www.silentiumpc.com/pl/product/pax-m70-v2/
Yes - my case box is very hot and totally quiet. I need that cause im working a lot and like quiet atmosphere. 3 fans vs 8 fans is big difrent, but quality of fans matter. Simply SilentiumPC fans are not very good, but at 900-1000rpm inaudible. I'm playing games at QHD 60Hz. No need for more refreshrate. I like stable 60fps at maximum graphics preset. On previous card 2080 Super FE GPU reached 85C and started throttling. Maybe 2400rpms is not quiet in open bench, but in my case is nearby acceptable fan noise. Sorry for my poor english.
Best regards !