Mark as New

Bookmark

Subscribe

Mute
I am having either bad lag or a mouse issue at random in Vanguard its like i am drunk the mouse just goes where it wants to. Didn't have the issue with my 2080ti card it started when i added this card to the mix.. I have the lag option turned on in adrenaline and so far it isn't happening in any other game , anyone have a idea what it could be ?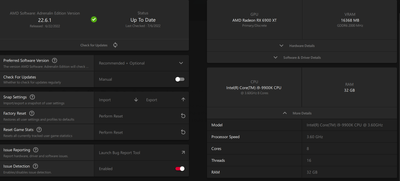 2 Replies

Mark as New

Bookmark

Subscribe

Mute
Do you have Samsung Magician install? If answer is yes uninstall or try different Mouse.
MOBO :EVGA X299 DARK 151-SX-E299-KR CPU : Intel Core i9-10900X Skylake-X 10-Core 3.7 GHz LCR :Corsair Hydro Series H80i V2 GPU :SAPPHIRE NITRO+ RX 6900 XT SE MEMORY: CORSAIR Dominator Platinum SE Torque 32GB (4 x 8GB) CMD32GX4M4C3200C14T SSD 01: SAMSUNG 970 PRO M.2 1 TB NVMe PCI-Express 3.0 x4 MZ-V7P512BW SSD 02: SAMSUNG 860 PRO 256GBX2 Raid 0 PSU : Corsair AX1200I 1200 Watts CASE :Thermaltake (Armor+) VH6000SWA SC :Creative Sound Blaster AE-9 5.1 Channels Monitor Acer XR382CQK IPS 3840x1600 @ 75HZ BD Samsung SH-B123L

Mark as New

Bookmark

Subscribe

Mute
No its not installed have a WD m.2 drive I did change my mouse and keyboard to a different usb port .. just had another random lockup last night ..