VRMark Cyan Room Points the Way to Better VR Experiences with DirectX 12

Bookmark

Subscribe

Email to a Friend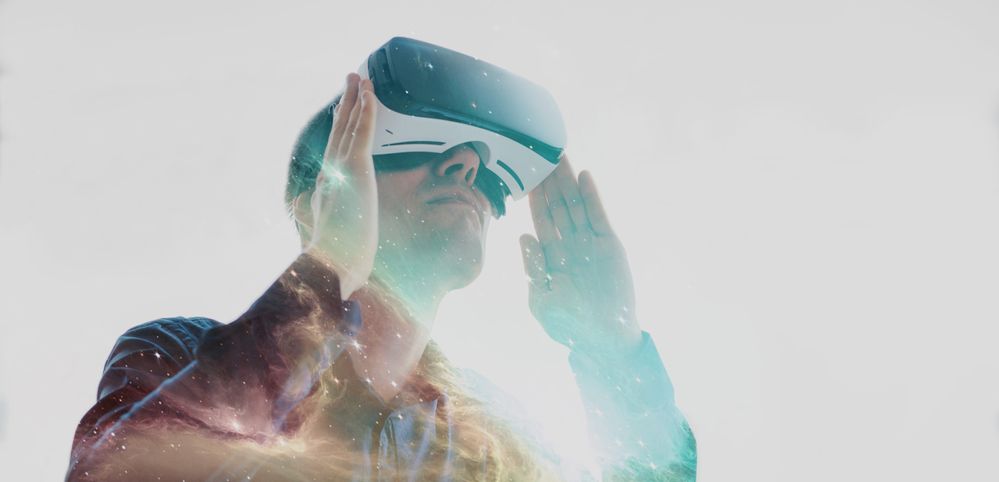 [Originally posted on 11/22/17.]
If you've been lucky enough to try out virtual reality using the most popular PC-connected headsets, you know that they have an astounding ability to offer a sense of "presence"—to convince your brain you're in another place. VR technology has incredible potential for gaming and other applications, but it's also rather demanding. If your PC fails to send the next frame of the animation to your headset on time, you can lose that sense of presence. Worse yet, if your system really can't keep up, repeated dropped frames can make the person wearing the headset feel awfully uncomfortable.
To avoid such problems, VR-ready PCs need a good, fast CPU and graphics processor—and the right software to drive it.
One of the best ways to meet the challenges of VR is by driving the CPU and GPU quickly and efficiently using DirectX® 12 and Vulkan®, two members of a new class of programming interfaces that give developers more direct access to the hardware. AMD has been a pioneer in next-gen programming interfaces, and we continue to work on building the drivers and software tools needed to enable great experiences.
So far, most VR applications on the PC have relied on the older DirectX® 11 infrastructure, but that's beginning to change. Today, the folks at Futuremark are releasing an update to their popular VRMark® benchmark that adds a new test environment known as the Cyan Room. The Cyan Room benchmark runs exclusively in DirectX® 12, and it's a nice demonstration of the potential for next-generation tools to make VR more compelling.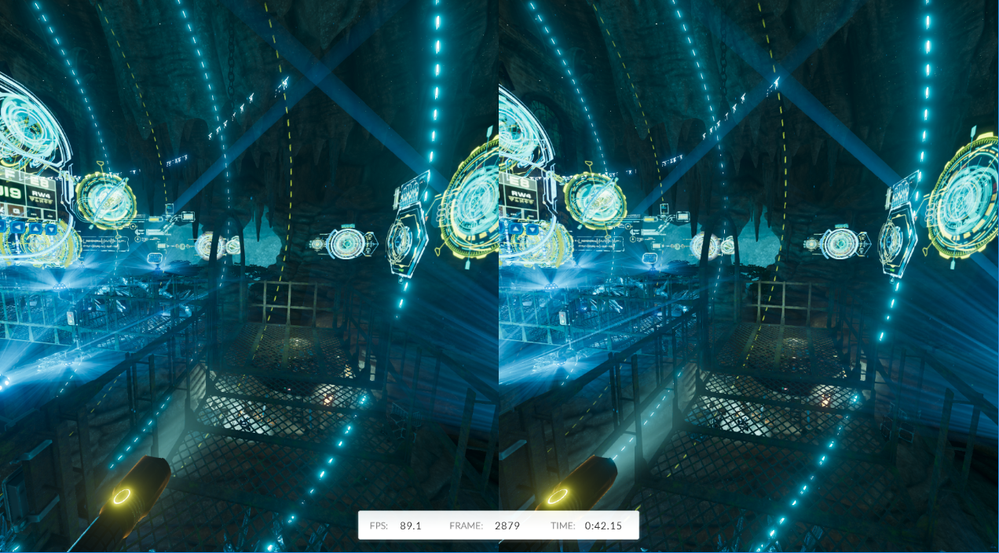 VRMark Cyan Room
The Cyan Room also highlights AMD's continued performance leadership on this front. Here are some initial results from VRMark® Cyan Room, fresh from our performance lab.1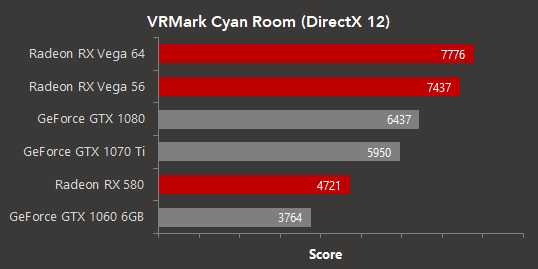 As you can see, the Radeon™ GPUs we tested have clear leads over their direct competition. What's more, all the Radeon™ GPUs are meeting the key requirement for today's VR headsets by delivering at least 90 frames per second in this test.1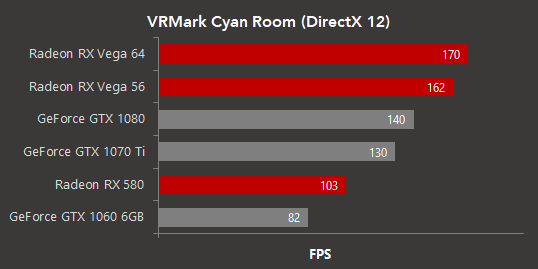 VRMark® Cyan Room combines this solid performance with rich visuals thanks in part to the efficiency of DirectX® 12.
Because DirectX® 12 offers more direct control over the hardware, the developers at Futuremark could schedule work and arrange resources more optimally to make sure each frame of animation is rendered quickly. Meanwhile, asynchronous compute shaders allow multiple types of work to run on the GPU in overlapping fashion, keeping the graphics processor more fully utilized. That's especially important for Radeon GPUs, which tend to have big, powerful shader arrays and robust support for asynchronous compute.
Next-gen tools have benefits on the CPU front, as well. The excellent results above come from a system based on a Ryzen™ 7 1800X processor. DirectX® 12's more efficient model allowed the Cyan Room's developers to eliminate unnecessary CPU overhead. At the same time, DirectX® 12's improved threading allows the application to distribute work more effectively across a Ryzen processor's multiple CPU cores and hardware threads.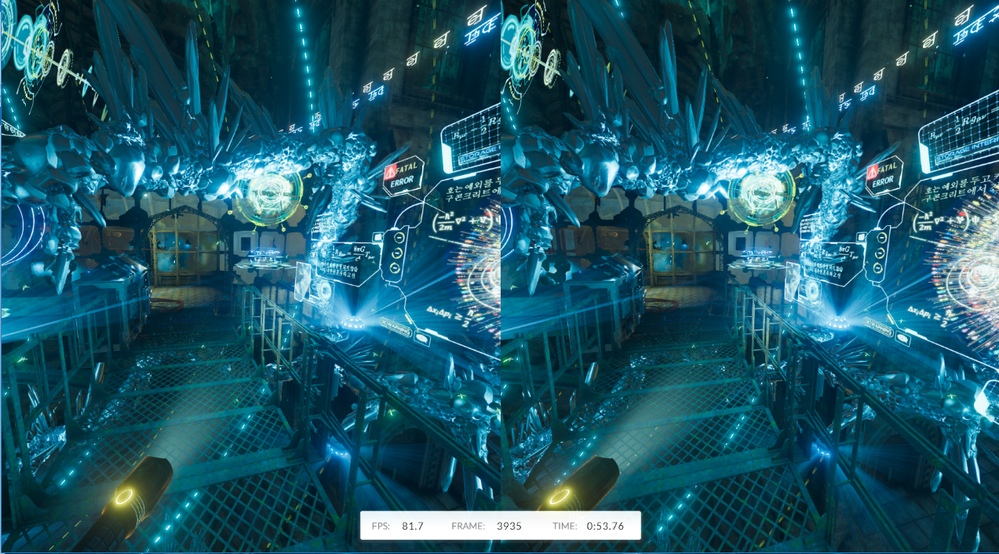 VRMark Cyan Room
The VRMark® Cyan Room test points to a future where VR developers use next-generation programming interfaces like DirectX® 12 and Vulkan® to harness the full capacity of Radeon™ and Ryzen™ processors. With that sort of power at their fingertips, game developers should be able to create even more compelling VR experiences going forward.2 Futuremark's 'VR benchmark' can be found here.
Scott Wasson, Sr. Manager, Technical Marketing for the Radeon Technologies Group at AMD. His postings are his own opinions and may not represent AMD's positions, strategies, or opinions. Links to third party sites and references to third party trademarks are provided for convenience and illustrative purposes only. Unless explicitly stated, AMD is not responsible for the contents of such links, and no third party endorsement of AMD or any of its products is implied.
Testing conducted by AMD Performance Labs as of November 18, 2017 on the Radeon RX 580 8GB, Radeon RX Vega 56, Radeon RX Vega 64, GeForce GTX 1060 6GB, GeForce GTX 1070 Ti Founders Edition, and GeForce GTX 1080 Founders Edition on a test system comprising of Ryzen 7 1800X CPU, 16GB DDR4-2933 system memory, and Windows 10 x64. The Radeon graphics cards were tested with Radeon Software 17.11.2 The GeForce cards were tested with the 388.81 driver. PC manufacturers may vary configurations, yielding different results. In VRMark Cyan Room using the no-headset option, the Radeon RX 580 scored 4721. The Radeon RX Vega 56 scored 7437. The Radeon RX Vega 64 scored 7776. The GeForce GTX 1060 6GB scored 3764. The GeForce GTX 1070 Ti Founders Edition scored 5950. The GeForce GTX 1080 Founders Edition scored 6437. In VRMark Cyan Room using the no-headset option, the Radeon RX 580 scored 103 FPS. The Radeon RX Vega 56 scored 162 FPS. The Radeon RX Vega 64 scored 170 FPS. The GeForce GTX 1060 6GB scored 82 FPS. The GeForce GTX 1070 Ti Founders Edition scored 130 FPS. The GeForce GTX 1080 Founders Edition scored 140 FPS. Performance may vary based on use of latest drivers. RX-169
©2017 Advanced Micro Devices, Inc. All rights reserved. AMD, the AMD Arrow logo, LiquidVR, Radeon, Ryzen, Threadripper, and combinations thereof are trademarks of Advanced Micro Devices, Inc. DirectX and Microsoft are registered trademarks of Microsoft Corporation in the US and other countries. Vulkan and the Vulkan logo are registered trademarks of the Khronos Group Inc. VRMark is a trademark of Futuremark Ltd. Other product names used in this publication are for identification purposes only and may be trademarks of their respective companies.