The start of a new era: the Dell G5 15 SE featuring AMD Ryzen™ and Radeon™

frank_azor
Staff
It's incredible to see how far the gaming industry has come in the past two decades. At Alienware, I helped introduce some of the world's first gaming laptops and we kicked off what would become a new era of portable gaming. Looking at those notebooks now, which were revolutionary, but also thick, heavy, hot and loud, I could not have dreamed of the beautiful and practical gaming laptops we see today.
As I looked to the next generation of gaming products, I saw AMD as the only company where I could come make my vision for those products a reality. How you might ask? AMD has what I like to call the "AMD advantage" – it's the only processor company that has the combination of high-performance CPUs with AMD RyzenTM and graphics with AMD RadeonTM, plus the extensive suite of AMD Technology and Software.
On stage at CES 2020, I introduced the first "AMD Advantage" system to the world: the Dell G5 15 SE. Today, this collaboration between Dell and AMD comes to life. We are proud to share the most comprehensive all-AMD gaming solution ever, combining those core components of AMD RyzenTM processors, AMD RadeonTM graphics, and AMD technologies and software. Starting at under $1,000 USD, the new Dell G5 15 SE laptop can do it all – play the latest games at high framerates and excel at content creation and productivity in the office or classroom.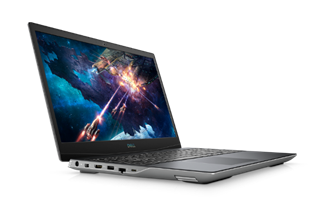 On the outside, it's finished in a contemporary iridescent silver shell. On the inside, this system brings unparalleled performance to its class alongside gamer-centric features including AMD FreeSyncTM[1] and the AMD Radeon Adrenalin Software suite and introduces new innovations such as AMD SmartShift.
And what is SmartShift? Think of it as a free performance boost. We're not increasing the size, the weight, or the power draw of the laptop, but we're giving gamers up to 14 percent more performance averaged across select games[2] by enabling the processor and graphics to communicate directly with one another. This is made possible by dynamically shifting power from the Ryzen Processor to the Radeon Graphics and vice versa based on demand. The best part is that it does it seamlessly, quickly, and automatically without user input or any application-specific support required. As WIRED Magazine put it in its "Best of CES 2020" list: "It's smart, it's powerful, and it has big potential."

In addition to this new SmartShift technology, you will also find an optional four-zone RGB keyboard, customizable to your style. Choose between two display options at launch: a 60Hz or a 144Hz AMD FreeSync technology-enabled panel, with an additional 120Hz AMD FreeSync variant expected in August 2020 for smooth, tear- and stutter-free gaming.
Digging deeper, the Dell G5 15 SE features a full-fledged AMD Ryzen H-Series processor. With Ryzen H-series, you'll unleash desktop-caliber performance in your laptop for high performance gaming, content creation and multitasking. From the 6-core Ryzen 5 4600H with a up to 4.0 GHz boost clock[3], all the way up to the 8-core Ryzen 9 4900H capable of up to 4.4 GHz max boost[3]. No matter which processor you choose, it is paired with fast dual-channel 3200 MHz memory, so nothing holds you back.
Debuting in this laptop is also the AMD RadeonTM RX 5600M, built on the efficient 7nm AMD RDNA gaming architecture with 6GB of memory and 36 compute units for high-power graphics on the go. Perfect for the ultimate 60+ FPS 1080p gaming experience, the Radeon graphics are only enhanced further with SmartShift.

With this system, we have combined the latest AMD processor, graphics, software to build the best experience we've seen in laptops. For us, this is just the beginning – the Dell G5 15 SE is the start of a new era and is sure to be a game changer.
Frank Azor is the Chief Architect of Gaming Solutions at AMD. His postings are his own opinions and may not represent AMD's positions, strategies or opinions. Links to third party sites are provided for convenience and unless explicitly stated, AMD is not responsible for the contents of such linked sites and no endorsement is implied. GD-5
[1] AMD FreeSyncTM technology requires AMD RadeonTM graphics and a display that supports FreeSync technology as certified by AMD. AMD FreeSyncTM Premium technology adds requirements of mandatory low framerate compensation and at least 120 Hz refresh rate at minimum FHD. AMD FreeSyncTM Premium Pro technology adds requirements for the display to meet AMD FreeSync Premium Pro compliance tests. See www.amd.com/freesync for complete details. Confirm capability with your system manufacturer before purchase. GD-127
[2] RM-018 Testing done by AMD performance labs May 04 2020 on Dell 15 G5 SE, Ryzen 7 4800H with RX 5600M 6GB, 32GB DDR4-3200Mhz, AMD Driver 20.10.02-200401a-354027E, with SmartShift ON vs. the same laptop with SmartShift OFF. Uplift based on an average of performance in The Witcher 3, Battlefield 5 and The Division 2. Performance may vary. RM-018.
[3] Max boost for AMD Ryzen processors is the maximum frequency achievable by a single core on the processor running a bursty single-threaded workload. Max boost will vary based on several factors, including, but not limited to: thermal paste; system cooling; motherboard design and BIOS; the latest AMD chipset driver; and the latest OS updates. GD-150
2 Comments