The Industry Leading AMD AM4 X570 Chipset

erin_maiorino
Staff
With the new AMD X570 chipset for socket AM4, we are bringing industry leading technology for enthusiasts, gamers and creators alike.
PCI Express® 4.0
Modern PC platforms use the PCI Express® 3.0 interface, which can transfer data up to 1GB/s per lane, or 16GB/s on a x16 slot. With the continuously increasing performance demands of games and applications, the devices that are being built to meet those demands require equally increasing bandwidth. The new PCIe 4.0 standard DOUBLES the bandwidth of PCIe 3.0 to up to 2GB/s per lane, or up to 32 GB/s on a x16 slot, enabling new generations of high-performance graphics cards, networking devices, NVMe drives, ethernet cards and more.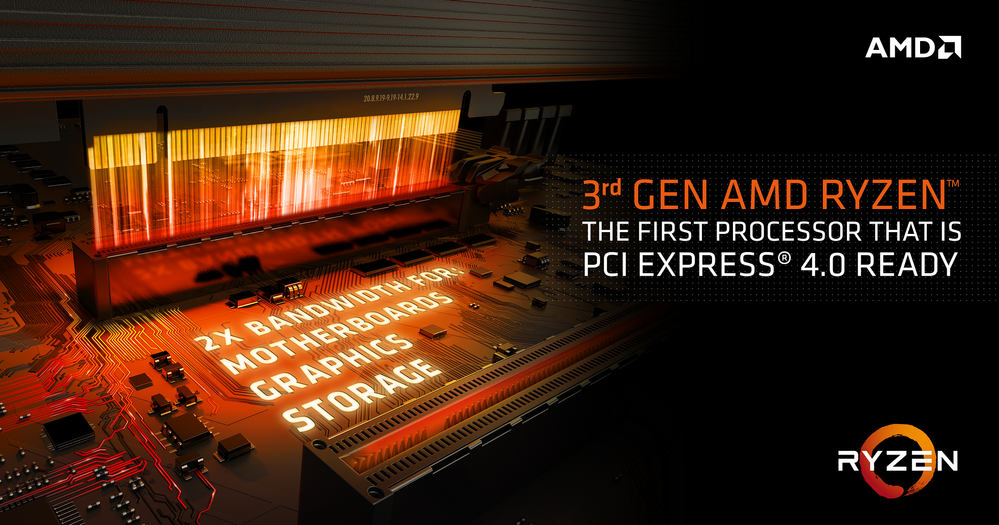 What can PCIe 4.0 do for you? Increased bandwidth can remove bottlenecks to performance and accelerate your workflow. That means the promise of faster file storage, faster application loading, and even faster graphics performance is tied to adoption of the PCIe 4.0 standard.

The future of PCIe 4.0 bandwidth starts in 2019 with the launch of 3rd Gen AMD Ryzen Desktop Processors and AMD X570-based motherboards. We've been working closely with leading technology partners like Phison to enable the first PCIe 4.0 ×4 NVMe controllers for consumer storage devices, as well as SSD vendors like Corsair, Galaxy and Gigabyte to help bring PCIe 4.0 drives to market.
AMD X570-based Flagship Motherboards
3rd Gen AMD Ryzen Desktop Processors will be supported by all major motherboard manufacturers. With over 100 AM4 motherboards currently in market, our partners will be introducing an additional 50+ models with the new AMD X570 chipset, the world's first consumer PC platform with support for PCIe 4.0 devices.
Thanks to AMD and our next-gen platform technology leadership, PC enthusiasts can take advantage of this bleeding-edge hardware advancement in the second half of 2019. Only with 3rd Gen AMD Ryzen Desktop Processors and AMD X570 you can count on beautiful, powerful elite motherboards with PCIe 4.0 technology.
Erin Maiorino, Ryzen Desktop Product Marketing Manager at AMD. Her postings are her own opinions and may not represent AMD's positions, strategies, or opinions. Links to third party sites and references to third party trademarks are provided for convenience and illustrative purposes only. Unless explicitly stated, AMD is not responsible for the contents of such links, and no third party endorsement of AMD or any of its products is implied.
©2019 Advanced Micro Devices, Inc. All rights reserved. AMD, the AMD Arrow logo, Ryzen and combinations thereof are trademarks of Advanced Micro Devices, Inc PCIe and PCI Express are registered trademarks of PCI-SIG Corporation.
1 Testing as of 05/20/2019 by AMD Performance Labs using a 3rd Gen AMD Ryzen™ Processor and Phison PS5016-E16 PCIE4.0 NVME 2TB in Crystal DiskMark 6.0.2 Results may vary with configuration. RZ3-12
29 Comments