The Exciting Future of AMD Socket AM4

rhallock
Staff
Bookmark

Subscribe

Email to a Friend
In 2016, we made a pretty bold commitment to you: we would continue to support AMD Socket AM4 until 2020. It was a big promise, especially given what people were accustomed to with other platforms. In the four ensuing years, the humble Socket AM4 has been on an incredible trajectory:
4X more cores and 8X more threads (4C4T → 16C32t)
4X architectures ("Excavator" → "Zen" → "Zen+" → "Zen 2")
4X process technologies (28nm → 14nm → 12nm → 7nm)
4X PCIe® bandwidth (12x PCIe Gen 3 → 24x PCIe Gen 4)
+33% DRAM bandwidth (DDR4-2400 → DDR4-3200+)

Nobody has even come close to a compatibility effort like this in the history of x86 processors. Until the advent of Socket AM4, I think it's fair to say that most PC builders expected every socket to be a dead end: use it for the processor it launched with, then get another one when a new CPU launches. But our technology is different.

And that difference is no accident: it was for you. It was by design. And we're still working on it. About 9 years ago, we set out to create one CPU socket that could help your PC grow with us. It has been an enormous engineering challenge to create a platform that can host so many different architectures and configurations along the way. But we were up to the challenge, and we are still investing in it, because we knew how unique and special it could be. We know it's daunting to feel like you need to replace all of your core hardware just to get a CPU upgrade. It's expensive. As enthusiasts ourselves, we totally get it.

Now that we're in 2020, you're undoubtedly wondering just how far that commitment goes. You have questions about what happens next. And we're ready to share a little more detail, starting with The Big Question.
Q: Will the "Zen 3" architecture be compatible with AMD Socket AM4?
A: Yes! AMD officially plans to support next-gen AMD Ryzen™ desktop processors, with the "Zen 3" architecture, on AMD X570 and B550 motherboards. This will require a BIOS update. Specific details about this update will come at a later time, but we're committed to keeping you up-to-date. We've also updated our official chipset/CPU support matrix to take future "Zen 3" processors into account (below)!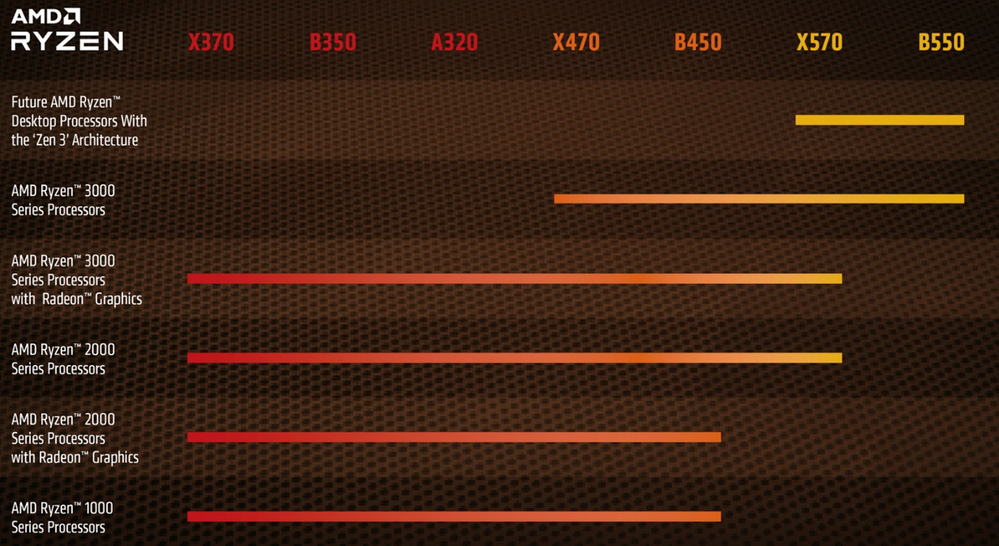 Q: What about (X pre-500 Series chipset)?
A: AMD has no plans to introduce "Zen 3" architecture support for older chipsets. While we wish could enable full support for every processor on every chipset, the flash memory chips that store BIOS settings and support have capacity limitations. Given these limitations, and the unprecedented longevity of the AM4 socket, there will inevitably be a time and place where a transition to free up space is necessary—the AMD 500 Series chipsets are that time.

Q: How long will Socket AM4 last from here?
A: This will depend on the schedule of industry I/O technologies. Such technology changes typically require adjustments to the pin count or layout of a processor package, which would necessitate a new socket. We have no specific details to share concerning this roadmap or timing right now, but we know it's important to keep you updated—and we will.

Q: Wait, wait, I have more questions!
A: All shall be revealed in time! For now, we can all focus on what's at hand: AMD B550 motherboards arrive soon, and we wanted you to rest easy knowing that an investment in this platform gives you a clear upgrade path tomorrow. The same is true for AMD X570 motherboards, too.

Historic upgradeability is what AMD Socket AM4 has been known for throughout its life, and that legacy continues—even now in 2020. So, if you'd like to know more about the AMD B550 chipset, please visit AMD.com. And if you're interested in building a new gaming rig around AMD B550, motherboards will be available starting June 16th.
Stay tuned!
Robert Hallock is the Technical Marketing lead for AMD consumer processors. The information contained herein is for informational purposes only and is subject to change without notice. Timelines, roadmaps, and/or product release dates are plans only and subject to change. "Zen"; "Zen+"; "Zen 2"; and "Zen 3" are codenames for AMD architectures and are not product names. GD-122