Socket AM4 Platform Longevity: Getting Ryzen 3000 Ready

erin_maiorino
Staff
With the launch of the AM4 platform in 2016, we at AMD made a commitment to maintain and support socket AM4 through 2020. During that time, we have continued to evolve the platform to offer new features, more performance, and greater functionality. With a single socket ranging from entry level to enthusiast class motherboards, consumers have the flexibility to start with the hardware that meets their needs today, and upgrade to their growing performance demands tomorrow.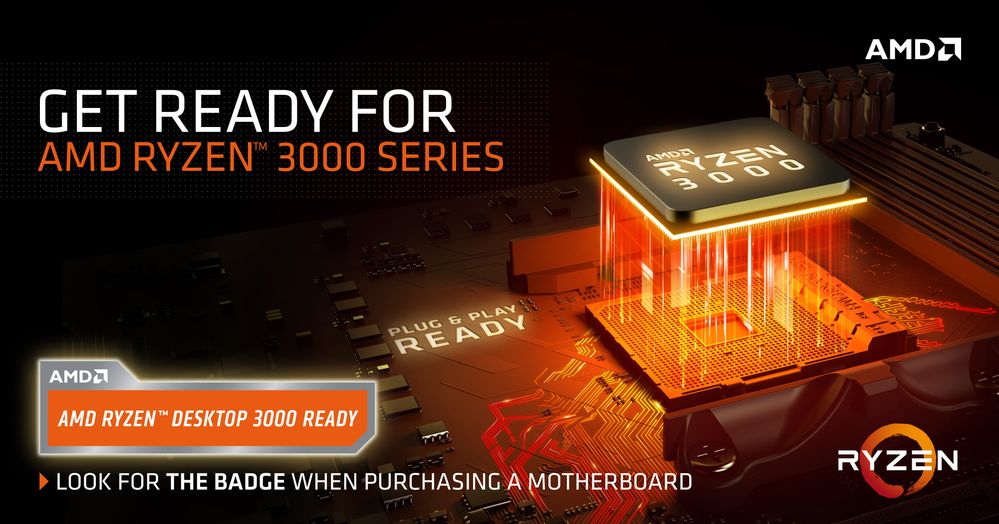 So, how do you know whether you'll be able to upgrade your existing processor with a new motherboard or a new processor with existing motherboard? With the new AMD X570 chipset and AMD Ryzen 3000 series processors, we're launching Ryzen 3000 Ready. If a new X570, X470 or B450 motherboard is calling your name, just look for the "AMD Ryzen Desktop 3000 Ready" badge (shown above) on the box to ensure processor drop-in compatibility.
For those looking to update their existing PCs with a new processor, motherboard manufacturers have BIOS updates rolling out now. Check out your motherboard vendor's website for a list of supported processors so that you can easily identify which motherboard will support your Ryzen processor of choice.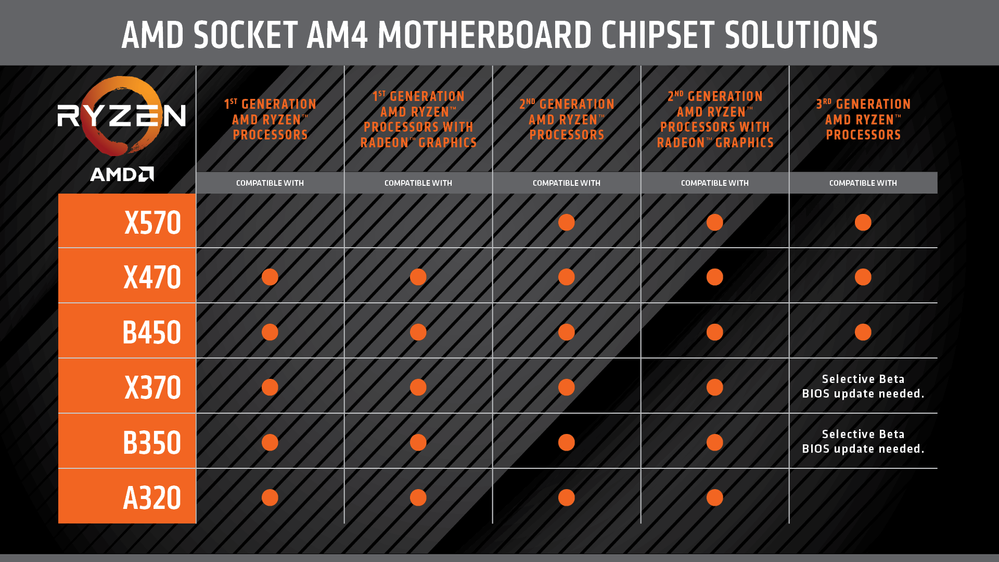 AMD's Socket AM4 has historic forwards and backwards compatibility. Where else can you upgrade your processor and be able to use your current motherboard? Even better, many current customers will see a BIOS update to support the Ryzen 3000 series processors. That's the beauty of the stable, flexible AM4 ecosystem.
Erin Maiorino, Ryzen Desktop Product Marketing Manager at AMD. Her postings are her own opinions and may not represent AMD's positions, strategies, or opinions. Links to third party sites and references to third party trademarks are provided for convenience and illustrative purposes only. Unless explicitly stated, AMD is not responsible for the contents of such links, and no third party endorsement of AMD or any of its products is implied. 
©2019 Advanced Micro Devices, Inc. All rights reserved. AMD, the AMD Arrow logo, Ryzen and combinations thereof are trademarks of Advanced Micro Devices, Inc.
37 Comments