Resolving Top Community Issues with the Latest AMD Radeon™ Software Adrenalin 2020 Driver

warren_eng
Staff
Bookmark

Subscribe

Email to a Friend
You spoke, we listened. The AMD and Radeon™ communities include some of the most vocal people on the internet. You proudly show off your AMD hardware and rave about how great your system is, but you're also quick to point out issues that you have come across with equal passion. Our team pays close attention to all your posts and we've worked diligently with our engineers to resolve as many of those issues as possible in the latest release of Radeon Software Adrenalin 2020 Edition.
Last week, we released an early look driver that addressed a number of your concerns. In fact, we checked in around 40 fixes including some of the issues that were leading to reported black screens that have been seen intermittently by the community. There is still work to be done, but we felt the number of resolved issues in this driver should, in our hope, fix the problem that may be affecting your system. Today we are releasing the WHQL certified version of that driver, which has undergone further testing from our end.
Here's a list of the top issues we've resolved with this driver:
Performing a task switch with some Radeon Software features enabled or some third-party applications with hardware acceleration running in the background may cause a system hang or black screen.
Improvements have been made that allow for more responsive fan ramp up or fan ramp down times on Radeon RX 5700 series graphics products.
Performance Metrics Overlay and Radeon WattMan incorrectly report lower than expected clock speeds on Radeon RX 5700 series graphics products during gaming workloads.
When Instant Replay is enabled, a TDR or black screen may occur when launching games or applications.
A black screen may occur when toggling HDR on in the game settings of Battlefield™ V.
The Witcher 3: Wild Hunt™ may experience an application hang or black screen during certain parts of the game or intermittently during gameplay.
Some video content in Chrome™ may appear as a black screen or be unresponsive on Radeon RX 5000 series graphics products when hardware acceleration is enabled.
Metro Exodus™ may experience an application hang or TDR when choosing some specific dialogue prompts in the Sam's Story DLC.
Grand Theft Auto™ V may experience an application crash when invoking Radeon Software's overlay with third party OSD applications running.
Monster Hunter World™: Iceborne may experience intermittent crashes while idle or on the character creation screen.
Some games colors may appear washed out when HDR mode has been enabled in game and Windows® on Radeon RX 5700 series graphics products
After a Factory Reset installation with the 'Keep My Settings' option chosen, Instant Replay could fail to function if it was enabled in the previous Radeon Software installation.
When invoking Radeon Software's overlay while a game is open users may observe flickering in the game or in the Radeon Software interface.
Radeon Software may experience a crash and error message when locking Windows® or performing a sleep or hibernate with the Radeon Software Streaming tab open.
A loss of display with working audio may be experienced on a limited number of displays when performing a mode change on Radeon RX 5000 series graphics products.
Radeon Software may fail to launch if Radeon Software's overlay is disabled and a game is running in the background.
Battlefield™ V may experience an application hang or TDR after extended periods of play.
Some Origin™ games may fail to be detected or may detect the incorrect game title in Radeon Software.
Some productivity applications are being detected and listed in the Radeon Software games tab.
The Radeon Chill hotkey could sometimes continue to remain enabled once the user has removed or disabled the hotkey.
Red Dead Redemption™ 2 may exhibit blocky textures on snow covered terrain.
After resuming from sleep, Chrome™ may experience an application crash if video content was previously playing on Radeon RX 5700 series graphics products.
Radeon FreeSync status in Radeon Software may sometimes fail to update when enabling or disabling the feature through the display itself.
Fortnite™ may experience an application crash on Radeon RX 500 series Hybrid Graphics system configurations.
We are also actively looking at various other problems, including the following:
Enhanced Sync may cause a black screen to occur when enabled on some games and system configurations. Enhanced Sync has been temporarily disabled from the gaming profile and any users who may be experiencing issues with Enhanced Sync enabled should disable it as a temporary workaround.
Performance Metrics Overlay and Radeon WattMan incorrectly report higher than expected idle clock speeds on Radeon RX 5700 series graphics products. Performance and power consumption are not impacted by this incorrect reporting.
DOOM™ may experience an intermittent system hang or application crash during gameplay.
Desktop cursor may intermittently remain visible after toggling Radeon Software's overlay in some games. A workaround is to bring up the game menu or task switch to refresh the cursor.
A system crash or hang may occur when running the Final Fantasy XIV: Shadowbringers™ benchmark.
The Gaming tab in Radeon Software may display some folder locations appearing as games.
Radeon Software may open with an inconsistent window size or may not keep its previously set size when opened.
Modifying the HDMI Scaling slider may cause FPS to become locked to 30.
Some games may exhibit stutter intermittently during gameplay on Radeon RX 5000 series graphics products.
Some games may experience stutter while using Instant Replay or third-party applications that stream or perform screen capture. A potential workaround is to disable these features or applications while gaming.

AMD A-Series/E-Series APU Processors will reflect older Radeon Software Adrenalin 2019 Edition Settings user interface. AMD will update the user interface to the 2020 Edition in a future release.

Although this release resolves many black screen issues, AMD is aware that some users may still experience black screen or system hang issues during extended periods of gameplay. AMD will continue to monitor and investigate reports of these issues closely.
If you're still experiencing any issues on your system, we kindly encourage you to submit a bug report so we can get to work on fixing them. Posting issues on Reddit and other community forums, although helpful, does not necessarily mean we'll be able to spot your post or get enough information from it, so the best way to get issues resolved quickly would be to submit your report directly to us.
Often, many problems can be resolved with a clean installation of our driver. In order to perform a clean installation, you must select the "Factory Reset" option at the beginning of the installation process. Once this is selected, old instances of the driver will be removed, and the uninstaller will restart your system before the new driver installation begins.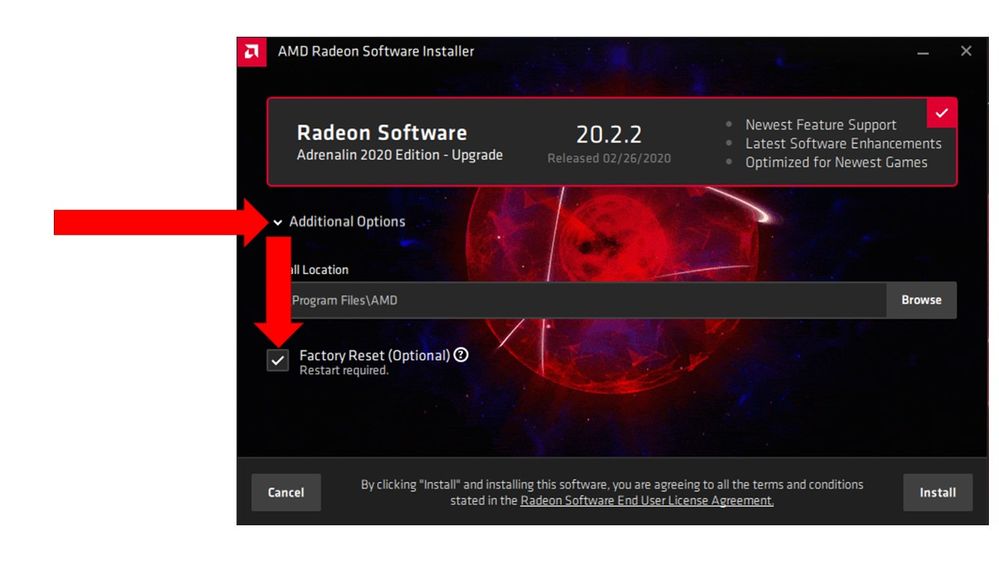 Please feel free to check out our online resource that goes through detailed steps on how to enable key features or address common issues with Radeon Software. If you're still having problems and would like to reach out to our customer care team, you can contact them here.
Warren Eng is the Product Marketing Manager for Radeon Software at AMD. His postings are his own opinions and may not represent AMD's positions, strategies or opinions. Links to third party sites are provided for convenience and unless explicitly stated, AMD is not responsible for the contents of such linked sites and no endorsement is implied. GD-5