Maximize Performance with "Rage Mode", Exclusively on the Radeon™ RX 6800 XT Graphics Card

warren_eng
Staff
Bookmark

Subscribe

Email to a Friend
Before Radeon graphics, there was Rage.
The ATI Rage series was the first 3D graphics accelerator developed by ATI Technologies (acquired by AMD in 2006) and with the Rage 3D graphics chip - ushered in a new era of PC gaming, one that continues to evolve to this day. To celebrate this important milestone and precursor to AMD Radeon graphics, we are introducing a new "Rage Mode" for the AMD Radeon RX 6800 XT and RX 6900 XT GPU.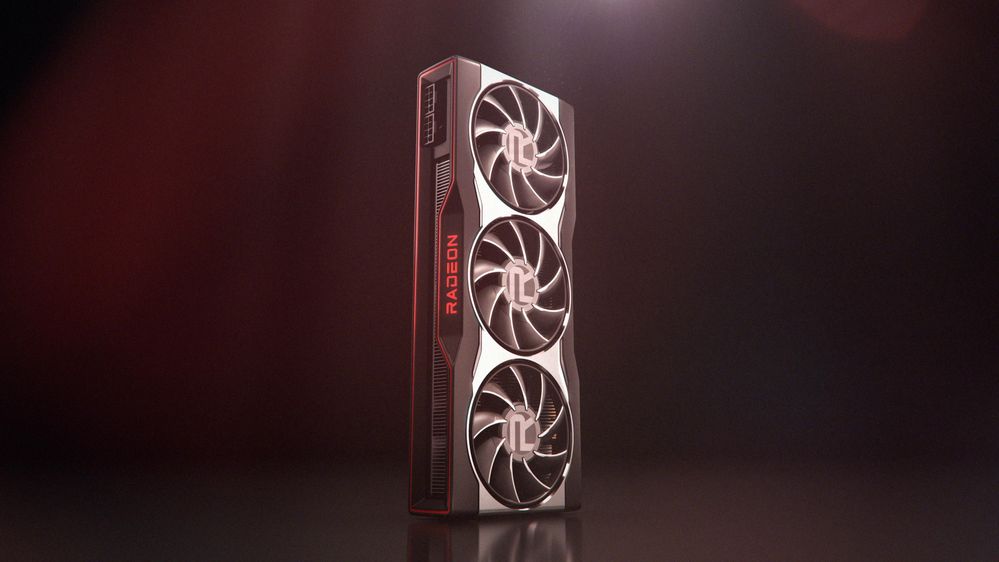 The new Radeon RX 6800 XT graphics card
"Rage Mode" is one of three new exclusive performance tuning presets found in Radeon Software Adrenalin 2020 Edition for the RX 6800 XT and RX 6900 XT GPU ("Quiet" and "Balanced" modes will be available on the Radeon RX 6800 GPU). These new presets automatically adjust power and fan levels based on the setting you choose:
"BALANCED" is the default preset, and as the name implies, it delivers a perfect mix of performance and power savings to suit all your 4K gaming needs.
"QUIET" preset delivers 4K gaming performance while keeping the graphics card quiet. Game performance is barely affected, with drops of only around 2% while the fan speed is reduced by almost 10%.*
"RAGE MODE" is for those who want the ultimate, maximum performance. Since there will be many AMD Partners who will offer variants of the Radeon RX 6800 XT graphics card, "Rage Mode" will depend on the individual GPU and cooling solution found on your board, and will allow your card to take advantage of any extra headroom it may have.
Access to these presets is easy. All you have to do is ensure you have the latest driver installed on your system (and a Radeon RX 6800 series GPU of course). After installing the driver, launch Radeon Software from your desktop by using the hot key [ALT] + [R]. Select the "Performance" tab at the top of the window and select the "Tuning" sub tab below it. Once you reach the screen shown below, you'll be able to choose the preset you want.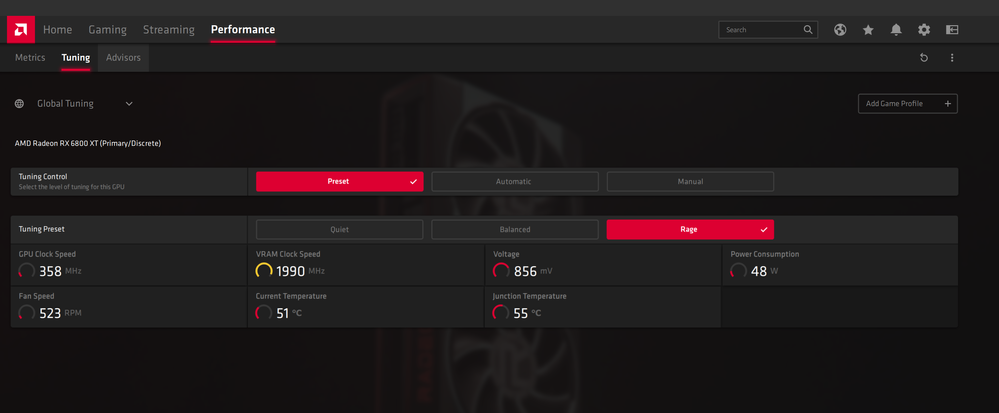 "Rage" preset selected in Radeon Software
There are many other Radeon Software features that you can take advantage of with your new Radeon RX 6000 series graphics card. Learn more about them here and get the most out of your Radeon RX 6000 series GPU!
Warren Eng is the Product Marketing Manager for Radeon Software at AMD. His postings are his own opinions and may not represent AMD's positions, strategies or opinions. Links to third party sites are provided for convenience and unless explicitly stated, AMD is not responsible for the contents of such linked sites and no endorsement is implied. GD-5
Disclaimers & Attribution:
* RS- 346- Testing conducted by AMD Performance Labs as of October 1st, 2020 on the 16GB Radeon™ RX 6800 XT, using a test system comprising of AMD Ryzen 9 5900X CPU (3.7 GHz), 16GB DDR4-3200MHz memory, and Windows 10x64 with Radeon Software Adrenalin 2020 Edition 20.45. Select games were run in "Balanced" preset and "Quiet" preset. Games tested include Borderlands 3, Death Stranding, Doom Eternal, Horizon Zero Dawn, Metro Exodus, RDR2, Shadow of the Tomb Raider, and Rainbow Six Siege. Quality was set at max presets running at 4K resolution. Reduction in power and fan speeds measured using MSI Afterburner Performance may vary.
© 2020 Advanced Micro Devices, Inc. All rights reserved. AMD, the AMD Arrow logo, Radeon and combinations thereof are trademarks of Advanced Micro Devices, Inc. in the United States and/or other jurisdictions. Other names are for informational purposes only and may be trademarks of their respective owners.
4 Comments