Introducing the New Radeon™ Software Adrenalin Edition 21.4.1

warren_eng
Staff
We have spent the past year listening closely to our community and today we are introducing the newest version of Radeon Software, complete with changes and updates based on your feedback. Building upon the completely revised user interface that was introduced last year, we made adjustments to help you get the most out of your Radeon™ graphics powered PC.
We know some of you have asked for a more simplified layout, while others have asked for greater levels of functionality and features. In order to cater to both requests, we're introducing new installation options for you to choose from when you install our software.
STREAMLINED INSTALLATION OPTIONS
Our new minimal installation option provides users with a simplified version of our software. With the new UI, there are basic enablement toggles for our game specific features like Radeon™ Anti-Lag, Radeon™ Boost and Radeon™ Image Sharpening, along with other settings specific to your graphics, display or video playback capabilities. For those who want access to our capture and streaming functionality, performance metrics and tuning features, AMD Link and more, they can simply install our full software installation to gain access to all those great features.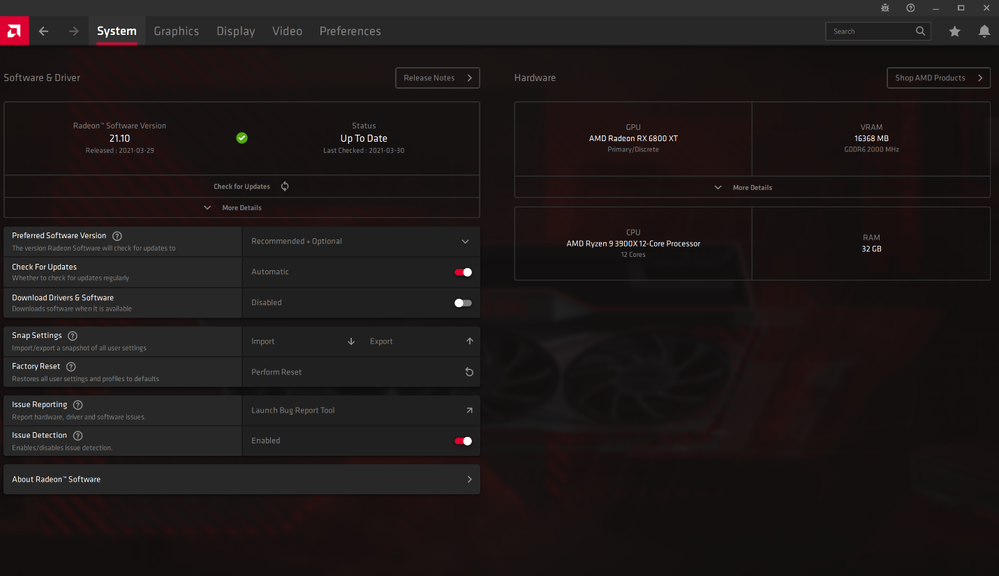 Radeon Software Minimal Install Home Screen
For the few who prefer to have just the driver installed and no user interface, a driver-only installation option is also available.
UPDATED USER INTERFACE
We made changes to the way our full installation looks. New navigations arrows have been added so you can easily go back to the settings screen you were previously on. We added more stats under the Gaming tab, and we have improved the search bar so you can find what you are looking for more easily.
For those who do not want to use our integrated browser that can be called up during gameplay, there is an option now to disable it.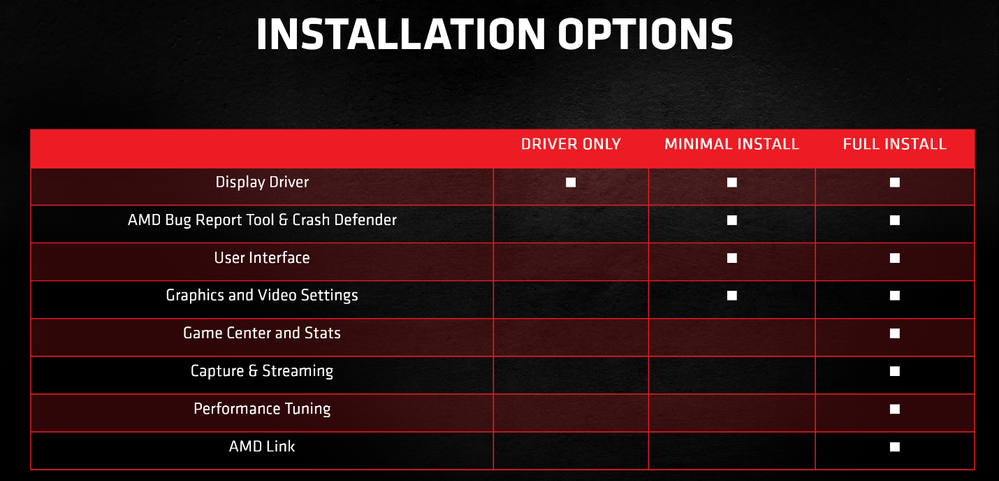 NEW RECORD & STREAMING WIZARD
We are also making our Record and Stream section (formerly Streaming) simple to use by adding a new setup wizard for first time users. This new wizard steps people through an easy process to get their system configured for either media capture or streaming.
Our Record & Stream section has changed, with an updated interface and a new location for the media section so you can quickly view and edit any media that you have captured on your PC.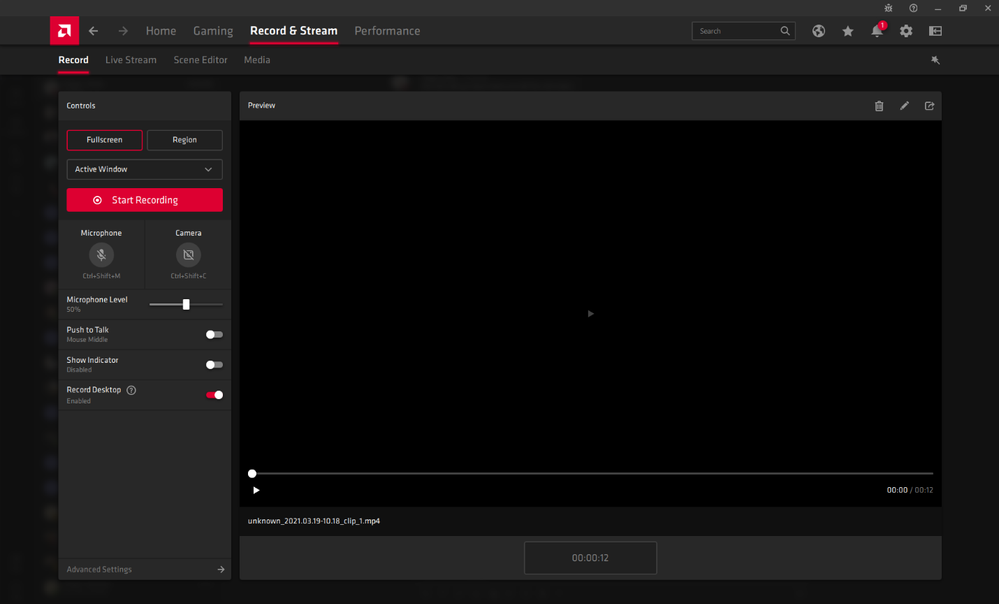 Radeon Software Recording Page
DETAILED RYZEN CPU METRICS AND PERFORMANCE OVERLAY
For the great number of you who are running a Radeon graphics on an AMD Ryzen™ processor- powered system, the performance section within Radeon Software now offers more comprehensive CPU metrics for your Ryzen processor. These include clock speed, voltage and power consumption readouts so you can get a better sense of what your system is up to from the convenience of one location.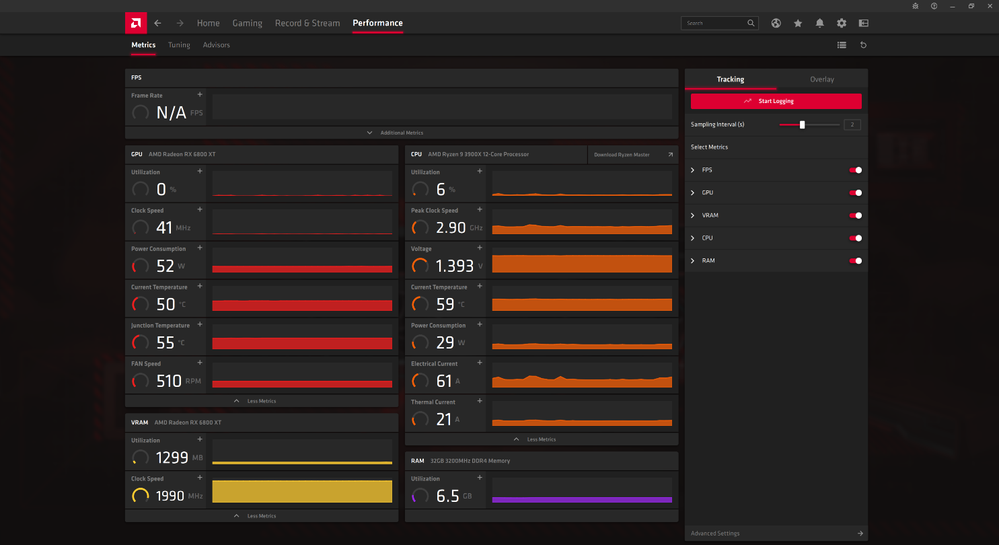 Radeon Software Performance Metrics Page with New Ryzen Processor Stats
We have also updated our performance overlay to include graphs and meters for an easier and more visual readout of your system performance while you are gaming.

Updated Radeon Software Metrics Overlay That Gamers can Enable While Gaming
COLOR DEFICIENCY CORRECTION & DISPLAY COLOR ENHANCEMENT
For those who have color vision deficiencies, we have a new feature that can help. Our new Color Deficiency Correction feature allows users to adjust all three major color blindness types with strength slides for games. We also have a new color profile for your display that selectively modifies colors in your game, giving you a more vivid look.

Display Color Enhancement and Color Deficiency Correction Features
AV1 HARDWARE-ACCELERATED DECODE SUPPORT
Beginning with this release, the Radeon™ RX 6000 series graphics cards will be among the first to support hardware accelerated AV1 decode*, making them ready for tomorrow's content from major streaming services.
AMD LINK FOR WINDOWS
AMD Link is our free app that users can download to their phone, tablet or TV to connect to their PC and play desktop games from almost any device in the world. This app has been downloaded over a million times last year, and we know it will get even more popular now that we are bringing it to Windows. You can now connect your Ryzen + Radeon Windows-based notebook to your desktop that's running a powerful AMD GPU like Radeon™ RX 6800 XT graphics, turning that notebook into a 4K 60 FPS gaming powerhouse.
Another new benefit of AMD Link is our new 'Link Game' feature. This feature allows a friend to connect to your PC from their Radeon graphics-based system and have that system act like a second controller in any game you have installed that supports local-multiplayer gaming. Even though your friend may be a few floors or a few hundred miles away, all they need is a Link code from you to get connected to your PC so you can play a game together as if you were both in the same room.
Be sure to also check out our most recent updates to Radeon Boost and Radeon Anti-Lag here
Download the latest version of Radeon Software today and give all these features and more a try.
Discover more about Radeon Software here.
Warren Eng is the Product Marketing Manager for Radeon Software at AMD. His postings are his own opinions and may not represent AMD's positions, strategies or opinions. Links to third party sites are provided for convenience and unless explicitly stated, AMD is not responsible for the contents of such linked sites and no endorsement is implied. GD-5
Disclaimers & Attribution:
© 2021Advanced Micro Devices, Inc. All rights reserved. AMD, the AMD Arrow logo, Radeon, Ryzen, and combinations thereof are trademarks of Advanced Micro Devices, Inc. Windows is a registered trademark of Microsoft Corporation in the US and/or other countries. Other names are for informational purposes only and may be trademarks of their respective owners.