Introducing Radeon Software Adrenalin Edition

sasa_marinkovic
Staff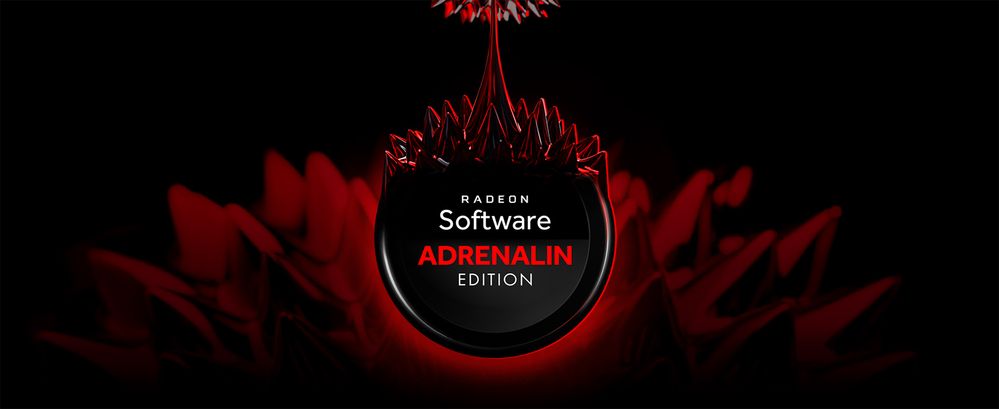 [Originally posted on 12/12/17.]
Today marks the fourth consecutive time that we are releasing big annual software, I am thrilled to let you know that I genuinely believe that this is AMD's best and most sophisticated release yet.
Radeon Software Adrenalin Edition has been artfully designed and meticulously crafted to unleash the powerful performance and innovation built into Radeon™ Graphics through an incredibly intuitive and utterly beautiful user interface for both PCs and mobile devices.
Radeon Software Adrenalin Edition introduces an interface that is modern, humanized and can be conveniently tailored to a user's device and personal preferences. The result is a supercharged, forward-thinking and highly-intuitive experience that lets gamers tailor their gameplay to their unique preferences.
On the PC side, Radeon™ Settings is enhanced with Radeon™ Overlay, a seamless, natural way to take control of GPU settings directly within the game for the more personalized gaming experience.
On the mobile side, AMD Link is a mobile app designed to enable users to track their PC game performance from their smartphone or tablet, monitor their PC's system info and stay connected to the latest AMD headlines, driver updates, and more with its news feed.
Radeon Software core technologies —Radeon™ Chill, Radeon™ WattMan1, Enhanced Sync and Radeon™ ReLive — deliver efficient, smooth, powerful and fun capabilities to fundamentally enrich PC gaming.
Let me dive into some most exciting features:
Radeon Overlay
The all-new Radeon Overlay lets gamers take performance to the next level with the ability to monitor, record and fine tune their gameplay without ever leaving the game. The Radeon Overlay provides one-click access to Radeon ReLive, Performance Monitoring, Radeon Chill, Frame Rate Target Control (FRTC), Radeon™ FreeSync technology2, Color Settings:
Performance Monitoring enables monitoring and recording of frames per second as well as PC system info
Radeon ReLive allows convenient recording and streaming of in-game action, so your greatest victories can live on
Radeon Chill lets Radeon GPU-powered systems work smarter, not harder. Gamers can now enable/disable Radeon Chill per game with a left-to-right slider allowing for instant framerate adjustments
FRTC: Limit uncapped framerates, keeping gamers' GPUs cool and quiet
Radeon FreeSync: minimize tearing on a whim
Color Settings lets users redefine their visual experience
AMD Link App
Radeon Software Adrenalin Edition introduces a first-of-its-kind mobile app called AMD Link. Designed with today's socially-connected, mobile-first world in mind—and with the gamer at its center—the groundbreaking AMD Link app allows users to conveniently access their PC gameplay performance metrics and PC system info on their smartphone and tablet.
The app dashboard includes four main sections:
Performance Monitoring: Users can monitor and track gaming performance on their PC through easy-to-grasp visuals like bar graphs and charts. Users can also easily record performance with the touch of a button.
Radeon ReLive: Users can control Radeon ReLive on their PC with a smartphone or tablet. This enables control of Radeon ReLive features, including one-touch capture, streaming and instant replay features, and an easy-to-use gallery feature where users can conveniently view and share screenshots through their own social media accounts.
News Feed: Stay connected with the AMD News Feed, which keeps gamers up to date on all the latest AMD news. Users can receive info about AMD products, customize their AMD social feeds, as well as have the option to share opinions, tips and feedback across various social channels.
Notifications: Receive the latest and greatest updates related to AMD Link, including real-time notifications each time a new driver is released.
Radeon Chill
As one of the most popular core technologies of Radeon Software, Radeon Chill has redefined the way users save power while gaming.
With Radeon Software Adrenalin Edition, Radeon Chill extends support to countless number of games, allowing you to take advantage of quiet, cool and responsive gaming in your favorite titles.
Radeon WattMan
With Radeon Software Adrenalin Edition, custom profiles can be saved on your PC, reloaded at a later point and shared with the Radeon user community. A user can also download others' profiles from the community and enable them on the user's PC to create a gaming experience that's uniquely tailored to enhance that machine's performance.
Radeon ReLive
Reliving the excitement of top gaming moments just got a lot simpler, seamless, and more engaging. Great new features include chat integration, transparent backgrounds, windowed mode capture, separate audio track capabilities and more.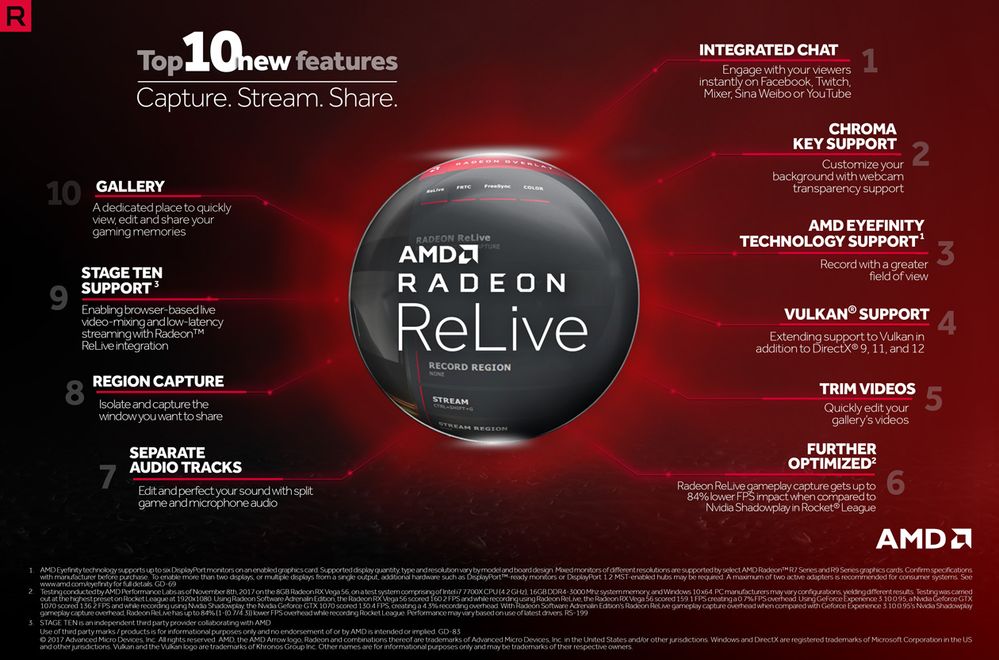 Enhanced Sync
Now available for games based on DirectX® 9, 11, 12 and Vulkan® APIs as well as on all Radeon GCN-based GPUs, GCN-based GPU combinations and AMD Eyefinity Technology3 display combinations.
So download Radeon Software Adrenalin Edition here— and experience heart-pounding action with Radeon graphics.
Sasa Marinkovic, Head of VR and Software Marketing for the Radeon Technologies Group at AMD. His postings are his own opinions and may not represent AMD's positions, strategies, or opinions. Links to third party sites and references to third party trademarks are provided for convenience and illustrative purposes only. Unless explicitly stated, AMD is not responsible for the contents of such links, and no third party endorsement of AMD or any of its products is implied.
Overclocking AMD processors, including without limitation, altering clock frequencies / multipliers or memory timing / voltage, to operate beyond their stock specifications will void any applicable AMD product warranty, even when such overclocking is enabled via AMD hardware and/or software. This may also void warranties offered by the system manufacturer or retailer. Users assume all risks and liabilities that may arise out of overclocking AMD processors, including, without limitation, failure of or damage to hardware, reduced system performance and/or data loss, corruption or vulnerability. GD-106
Requires a monitor and AMD Radeon™ graphics, both with FreeSync support. See www.amd.com/freesync for complete details. Confirm capability with your system manufacturer before purchase. GD-127
AMD Eyefinity technology supports up to six DisplayPort monitors on an enabled graphics card. Supported display quantity, type and resolution vary by model and board design; confirm specifications with manufacturer before purchase. To enable more than two displays, or multiple displays from a single output, additional hardware such as DisplayPort-ready monitors or DisplayPort 1.2 MST-enabled hubs may be required. A maximum of two active adapters is recommended for consumer systems. See amd.com/eyefinityfaq for full details.