Introducing: AMD Noise Suppression, New Performance Optimizations & Other AMD Software Updates


Isaak_Wong
Staff
One of the key pillars of AMD Software includes delivering great user experiences whether you are playing the latest games or focused in on your meetings at work. Features like as Radeon Boost(1) and Radeon Super Resolution(2) are amongst a suite of many within AMD Software that provide increased performance and responsiveness for various situations. In addition to features that increase framerates, are others that expand user experiences such as AMD Link(3) – allowing you to play local multiplayer games with up to 4 people, and AMD Privacy View – a software that helps keep prying eyes away from your sensitive content.​ We are excited to introduce yet another new feature today that can change the way you game and work – AMD Noise Suppression.
Clearer. Crisp. Communication.
AMD Noise Suppression reduces background audio noise from your surrounding environment, providing greater clarity and improved concentration whether you are focused on an important meeting or staying locked-in on a competitive game. By using a real-time, deep learning algorithm to reduce background audio noise, this new feature works for both your input and output devices across any AMD-powered system, removing unwanted background noise captured on your microphone or from someone else's device.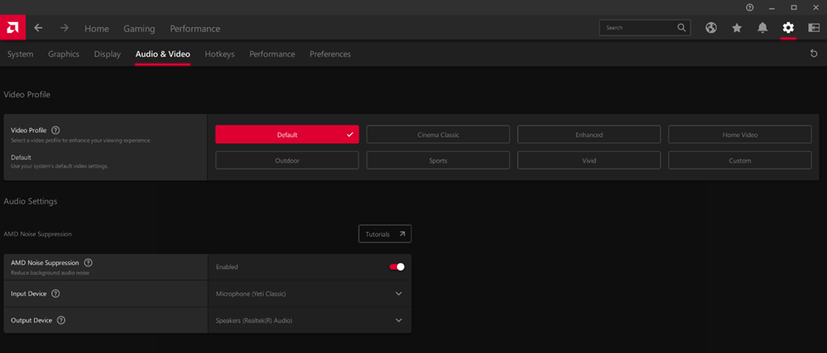 To find AMD Noise Suppression, make sure you are on the latest version of AMD Software, click the Settings icon, and navigate to the Audio & Video tab. Under Audio Settings, you will see AMD Noise Suppression; all you need to do then is to click the slider and then choose either your input/output device or both depending on which device you want the feature to be enabled. From there, open your games or communication apps such as Microsoft Teams, Discord, or Slack to name a few, and select 'AMD Streaming Audio Device' for your input/output to enjoy AMD Noise Suppression.
Please see below for the following hardware and OS requirements:
Hardware:

Works on AMD Ryzen 6000 Series processors with integrated graphics
Works on AMD Radeon RX 6000 Series desktop graphics and newer
Requires AMD Software: Adrenalin Edition 22.7.1 and newer
AMD Noise Suppression may not install on systems equipped with Realtek ACP-based ANR

OS:
OpenGL Performance Update
Starting today, for those who enjoy games that run on OpenGL, AMD Software now includes OpenGL optimizations, providing updated support where you can experience up to a whopping 85% increase in performance in titles such as Minecraft!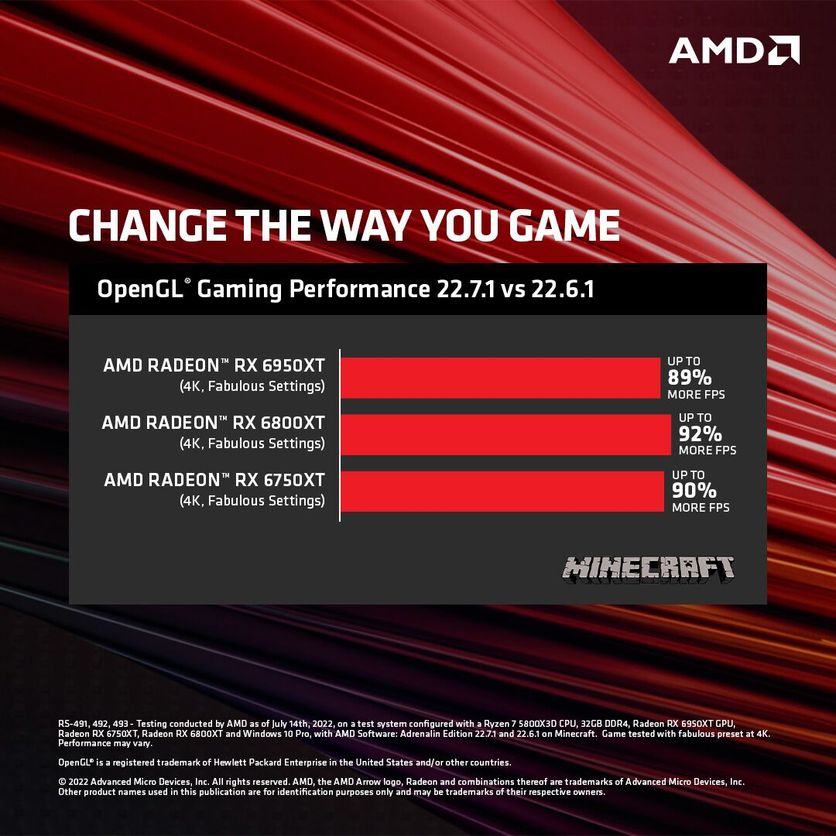 Performance Optimizations for Various Features
The teams at AMD continue to improve our existing features as well; in fact, as of today, Radeon™ Super Resolution will be expanding support for discrete Radeon RX 5000 and 6000 series GPUs on AMD Ryzen processor notebooks with hybrid graphics. In addition to this, RSR now works for borderless fullscreen games in a more seamless experience, allowing you to set the resolution from within AMD Software.

Radeon™ Boost VRS Support
Last but not least, we are excited to introduce an update in the latest version of AMD Software, with Radeon Boost(4) for some of today's most popular titles including VALORANT, Elden Ring, and Resident Evil Village, with many more to come with each new update of AMD Software. Now users will be able to experience higher frames when Radeon Boost is enabled, especially during tense in-game situations where you need to flick your mouse and require that pinpoint accuracy while maintaining your frames and keeping your performance.
Stay Informed
Download AMD Software: Adrenalin Edition™ to experience these latest optimizations and try AMD Noise Suppression TODAY. Subscribe to our newsletter to stay up to date on the latest news with AMD Software: Adrenalin Edition™. To learn more about additional features within AMD Software as well as helpful steps on how to enable various features, check out the official AMD YouTube channel or amd.com/adrenalin.
Isaak Wong is the Sr. Product Marketing Specialist for AMD Software at AMD. GD-5
Endnotes:
GD-15

8

: Radeon™ Boost is compatible with Windows 7/10/11 in select titles only. Hardware compatibility includes Radeon RX 400 and and newer consumer dGPUs, Ryzen 2000 Series and newer APUs, including hybrid and detachable graphics configurations. No mGPU support. Radeon™ Boost VRS compatible with AMD Radeon™ RX 6000 Series Graphics only. For a list of compatible titles see https://www.amd.com/en/technologies/radeon-boost. GD-158
GD-197: As of May 2022, Radeon Super Resolution (RSR) is compatible with AMD Radeon RX 5000 series graphics and newer, and AMD Ryzen 6000 series processors with integrated graphics. RSR works with games that support exclusive full-screen mode. AMD Software: Adrenalin Edition 22.5.2 or newer is required. GD-197

GD-159: AMD Link requires AMD Software: Adrenalin Edition 22.3.1. Game streaming on phone or tablet devices require Android 7.0 and greater or iOS 14 and greater, anywhere there is a high speed internet connection. For TV support, Apple TV 4K running tvOS 15.x and greater, or Android TV 7.0 and greater are required. Streaming at 4K requires 4K capable streaming hardware and is compatible with: AMD Polaris-based Radeon™ RX 400 series discrete graphics and newer. Graphics card must support hardware encoding for host capabilities to function. Supports Windows 10/11. Link Game requires an internet connection. Controllers must be compatible with selected game and headset, please consult vendor for compatibility information GD-159

GD-158: Radeon™ Boost is compatible with Windows 10 and 11 in select titles only. Hardware compatibility includes RX 400 and newer consumer dGPUs, Ryzen 2000 and newer APUs, including hybrid and detachable graphics configurations. No mGPU support. Radeon™ Boost VRS compatible with AMD Radeon™ RX 6000 Series Graphics exclusively. For a list of compatible titles & APIs see https://www.amd.com/en/technologies/radeon-boost. GD-158