Game Beyond 4GB

adit_bhutani
Staff
PC Gaming continues to push the limitations of PC hardware every year in the quest for improved visuals and framerates. One of the ways to enjoy the latest titles on your PC is to ensure your graphics card has enough Graphics Memory (VRAM).
A few of the newer AAA games benefit greatly from having more VRAM available to store assets needed, play at higher resolutions, and to enable the latest visual effects.
For those looking at making sure they have enough Graphics memory for games that are pushing the limits of 4GB, AMD RadeonTM RX graphics cards provide a wide set of solutions in 6GB or 8GB capabilities that include: RadeonTM RX 570, RX 580, RX 590, and RX 5000 Series GPUs.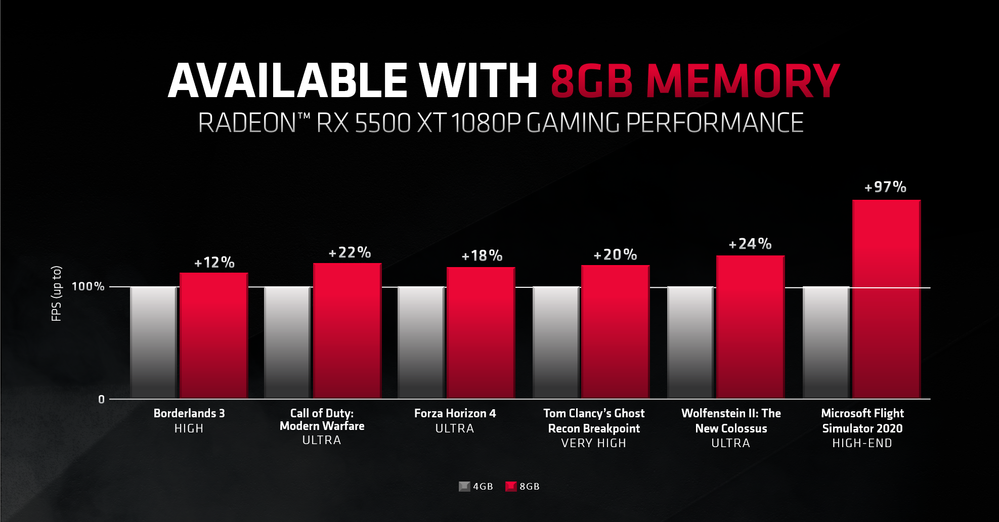 When gaming with insufficient levels of Graphics Memory, even at 1080p, gamers might expect several issues:
Error Messages and Warning Limits
Lower Framerates
Gameplay Stutter and Texture Pop-in Issues
Recent releases have shown marked performance increases when switching from a RadeonTM 5500 XT 4GB to a RadeonTM 5500 XT 8GB. In DOOM Eternal, the 8GB card runs the game at Ultra Nightmare settings at 75FPS (1080p), while the 4GB card can't apply the graphics settings with that level of VRAM1. Looking at titles such as Borderlands 3, Call of Duty Modern Warfare, Forza Horizon 4, Ghost Recon Breakpoint, and Wolfenstein 2: The New Colossus, there is a performance improvement on average of up to 19% across these games when using the same card and increasing the amount of VRAM from 4GB to 8GB2. Newer titles that rely heavily on rendering extremely detailed models such as Microsoft® Flight Simulator 2020 are seeing performance improvements of up to 97% when using a graphics card with more graphics memory3.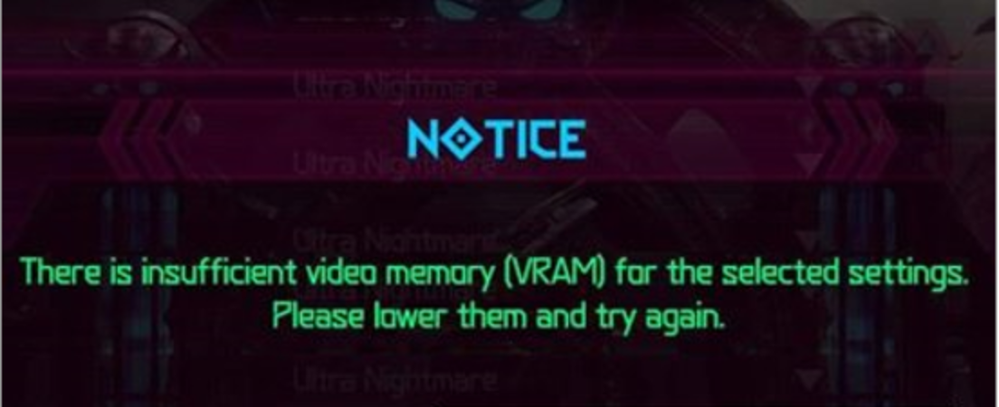 AMD is leading the industry at providing gamers with high VRAM graphics solutions across the entire product offering. Competitive products at a similar entry level price-point are offering up to a maximum of 4GB of VRAM, which is evidently not enough for todays games. Go Beyond 4GB of Video Memory to Crank Up your settings. Play on RadeonTM RX Series GPUs with 6GB or 8GB of VRAM and enjoy gaming at Max settings.
Get Yours Now at the AMD Shop
Adit Bhutani is the Product Marketing Specialist for Radeon and Gaming at AMD. His postings are his own opinions and may not represent AMD's positions, strategies or opinions. Links to third party sites are provided for convenience and unless explicitly stated, AMD is not responsible for the contents of such linked sites and no endorsement is implied. GD-5
Testing done by AMD performance labs 04/5/2020 on Radeon RX 5500XT (4GB vs. 8GB) (Driver: 20.2.2), Intel Core i9 9900K (3.6 Ghz), 16GB DDR4 3200MHz, Gigabyte Z390 Aorus Elite, F7 bios, Win10 Pro x64 18362. Performance may vary. RX-477

Testing done by AMD performance labs 11/29/2019 on Ryzen 5 3600X, 16GB DDR4-3200MHz, ASROCK X570 TAICHI, P1.70A, Win10 Pro x64 18362.175, AMD Driver 19.50. . Using Borderlands 3 @ DX12 High, Call of Duty: Modern Warfare @ DX12 Ultra, Forza Horizon 4 @ DX12 Ultra, Tom Clancy's Breakpoint @ DX11 Very High, Wolfenstein: The New Colossus @ Vulkan, Ultra. PC manufacturers may vary configurations yielding different results. Performance may vary. RX-411

Testing done by AMD performance labs 08/17/2020 on Radeon RX 5500 XT 8GB and 5500 XT 4GB GPUs (Driver: 20.8.2), with a Ryzen 7 3800XT processor (3.9 GHz), 16GB DDR4 3200MHz, Gigabyte X570 Aorus Master, F21 bios, Win10 Pro x64 18362. Game tested was Microsoft Flight Simulator 2020 (DX12). Performance may vary. RX-520
©2020 Advanced Micro Devices, Inc. All rights reserved. AMD, the AMD Arrow logo, Ryzen, Radeon, and combinations thereof are trademarks of Advanced Micro Devices, Inc. Microsoft is a registered trademark of Microsoft Corporation in the US and/or other countries. Other product names used in this publication are for identification purposes only and may be trademarks of their respective companies.