Featured Radeon™ Rig: This Exquisite Radeon-Powered PC is Made from a Ryzen™ Box

annie_lee
Staff
Bookmark

Subscribe

Email to a Friend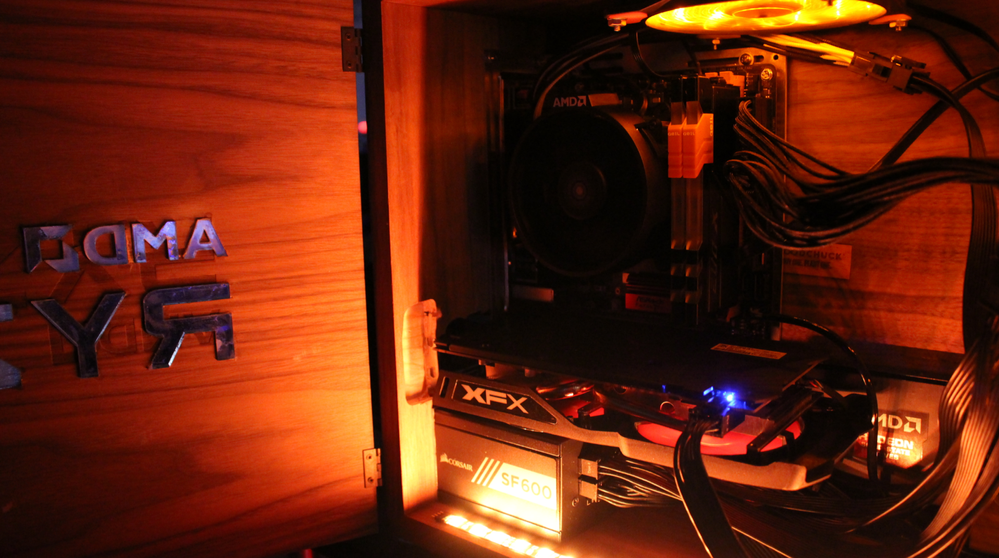 [Originally posted on 08/30/17.]
We were at QuakeCon last week and something caught our eye walking through the BYOC area: a wooden box, carved meticulously to let an orange glow seep into the dark convention center. A few people were standing around it and admiring the rig.
The PC belonged to John Lahtinen, a Red Team member. We asked him some questions about the build—check out the PC in more detail below and admire the stunning craftsmanship!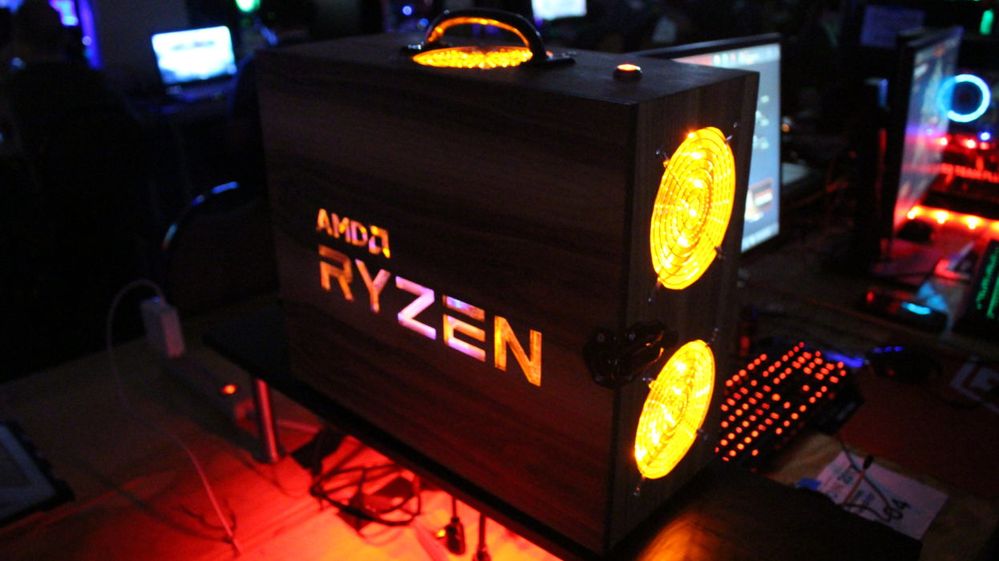 Specs:
CPU: Ryzen™ 5 1500X
GPU: XFX Radeon™ RX 570
Motherboard: ASRock AB350 Gaming-ITX/AC
RAM: 16 GB GeIL EVO X RGB DDR4
Storage: 480 GB Radeon R7 SSD
Power supply: Corsair SF600
Fans: APEVIA CF12SL-SOG 120mm Orange (x3)
What inspired you to create this build?
When Ryzen 7 launched back in March, AMD Red Team Plus members received a sample kit packaged inside a wood box with the Ryzen logo etched on the door. The dimensions, hardware, and logo were almost begging to be converted into an ITX build. Once the AM4 ITX motherboards arrived at retailers, I knew what I wanted to take with me to Quakecon.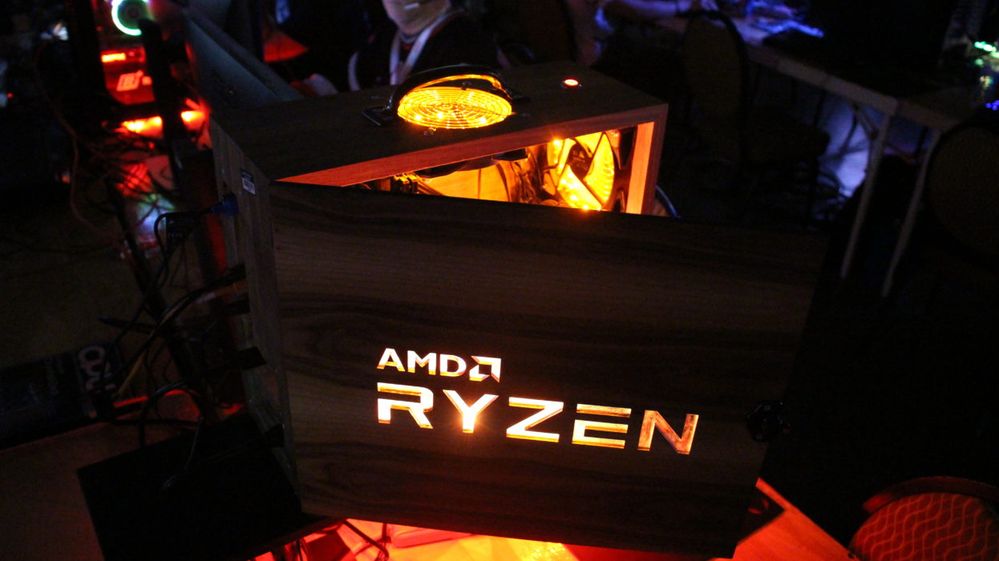 What was the most difficult part of the process?
Motherboard and GPU mounting were a challenge. Motherboard mounting hole dimensions are just too precise for me to be comfortable with attaching them directly to relatively soft wood. After some determined Google searching, I managed to find what seemed to be a rather ideal solution on the SFF Network forums (https://smallformfactor.net/). An enterprising fellow out of Finland had fabricated a brilliant little modular aluminum ITX frame. I'll be reviewing this frame (called the NATi Tray) soon, and will be using it again with future wood builds.
Unfortunately, it wasn't smooth-sailing from there. The thickness of the wood in the rear of the case obstructed video cable connection, so out came the dremel! Which was a bit painful when you think you're so close to completion. And then you discover it isn't just the wood causing the obstruction, but the thickness of the metal GPU bracket frame as well. Out came the GPU frame.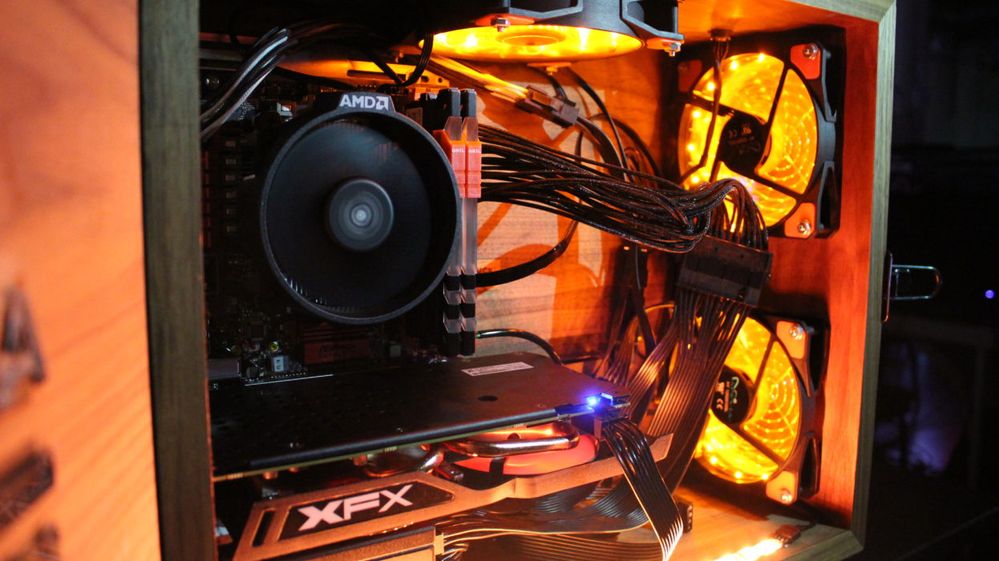 Where did you get help or what resources did you use?
The local Techshop was a fantastic resource for this project. I didn't have access to or experience with a laser cutter, so I enlisted help from one of the many craftsmen there. I found some truly remarkable projects in the works over there that have spawned ideas for future builds.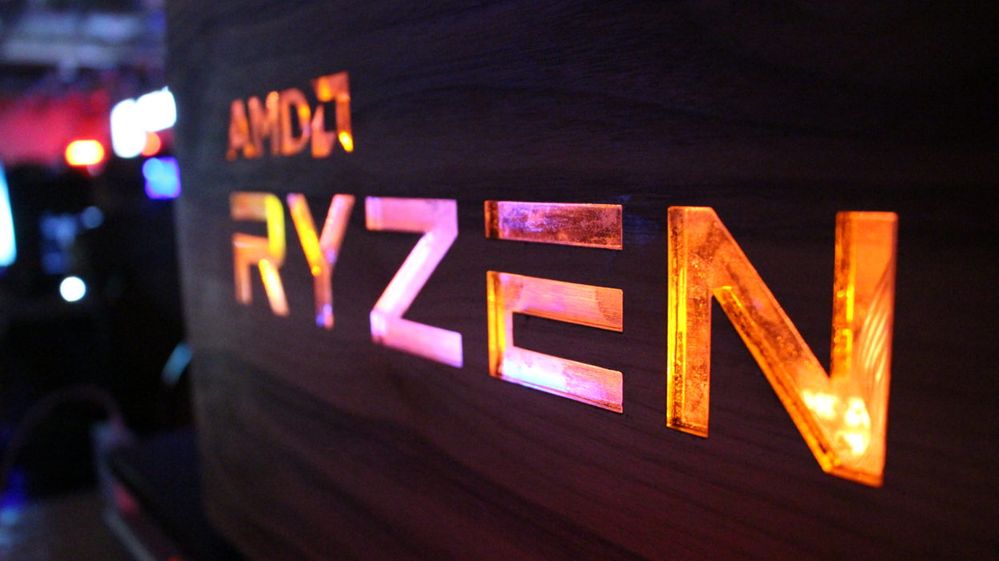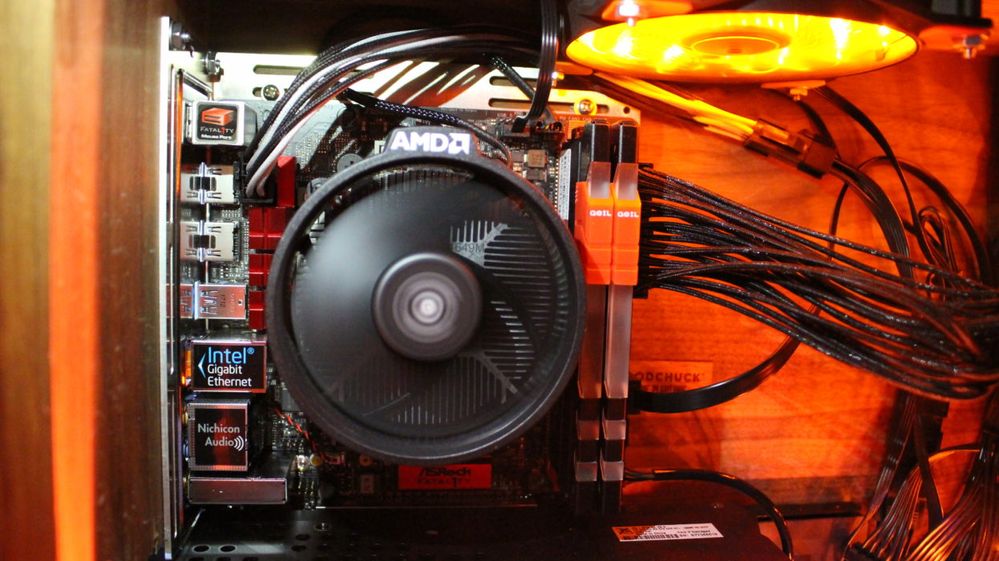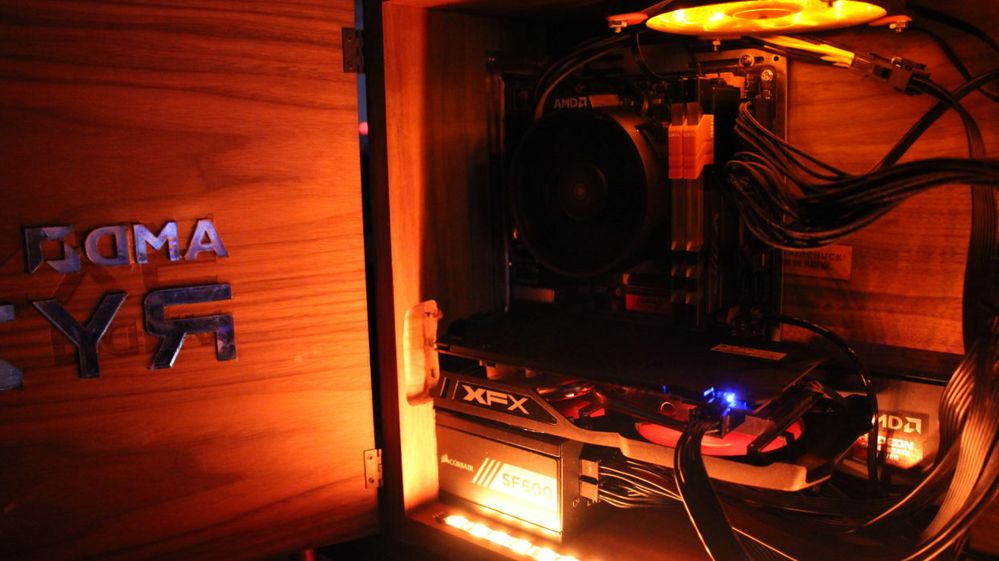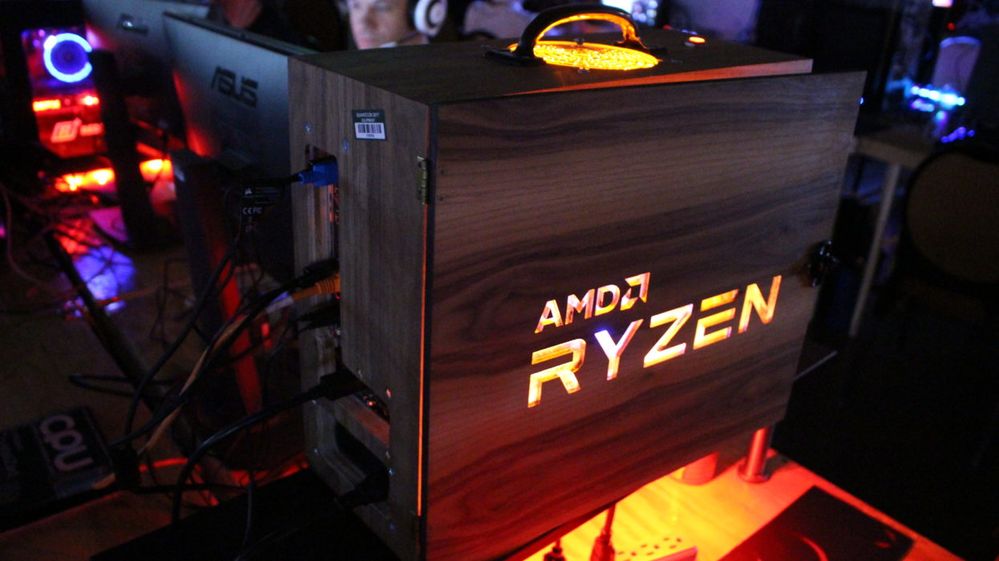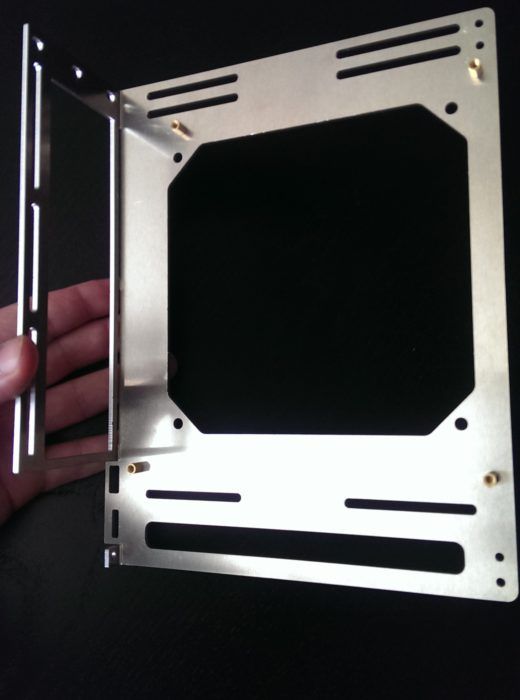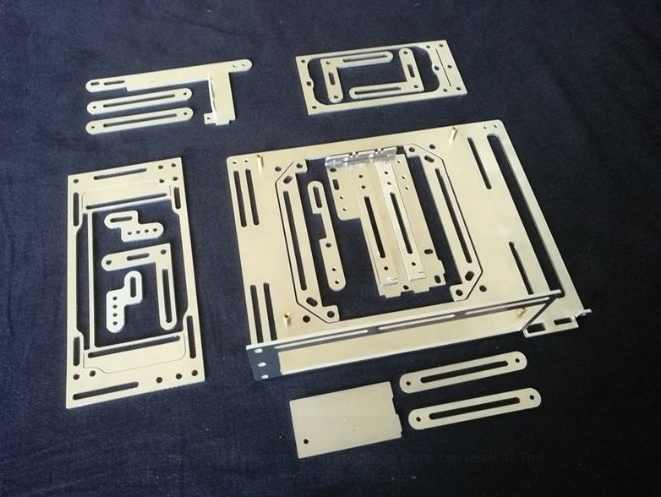 Do you remember your first rig? What made you want to put it together?
The first rig I built? That was a loooong time ago. It used an AMD K6-2 400 MHz and lasted me many years until I upgraded and passed it along to my sister. It was part desire to have a deeper understanding of the computer and part pragmatism (not wanting to pay someone to fix/upgrade it) that prompted me to go the DIY route. I've done DIY builds ever since.
What games are you playing on the rig right now? What games/franchises got you into PC gaming?
I'm a big FPS guy. The original Doom was the catalyst for my interest in PC gaming. Naturally my gaming last weekend at Quakecon was dominated by id Software games: Quake Champions, Doom, and even some good old Quake II. My obsessions have varied over time- Starcraft, Skyrim, Battlefield 4, and Fallout 4. But these days I typically play a lot of Overwatch and PUBG.
Why Radeon?
I've used so many Radeon GPUs over the years: HD 5770, HD 6950, R9 270X, R9 290, RX 480, and RX 570 – all of them have been outstanding. Supporting inclusive technologies like OpenCL, FreeSync, and Vulkan is important to me. They all equate to better experiences – playing Vulkan Doom on a Freesync monitor all last weekend is absolute proof of that. And of course top-notch Crimson Software with ReLive, which I use frequently for game recording/streaming.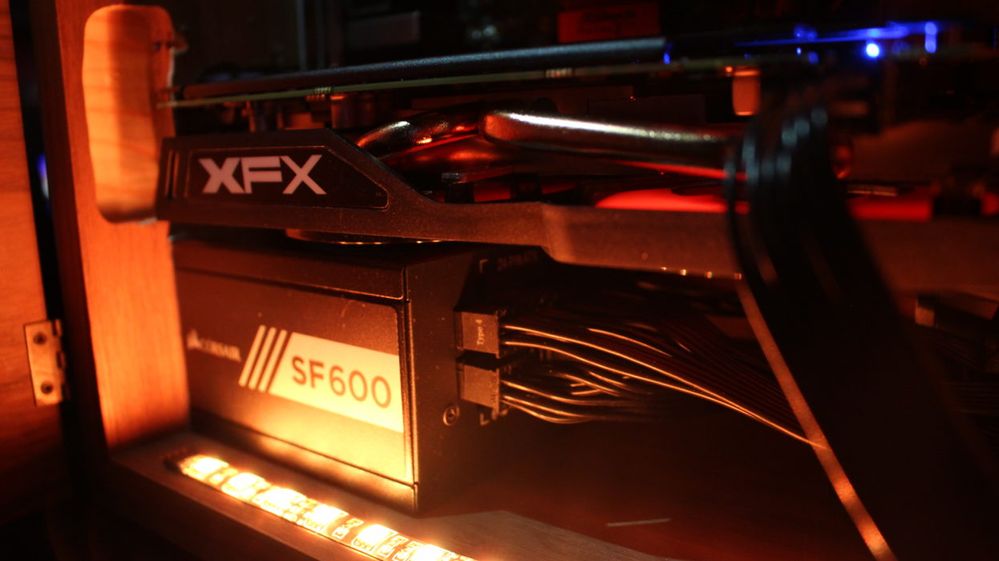 What upcoming PC games are you most excited for?
I'm really looking forward to a few that were showcased during this year's E3: Wolfenstein II, Beyond Good and Evil 2 (for its impressive engine with real-time scaling of multiple galaxies), and Sea of Thieves (how can shooting yourself out of a cannon not be fun?).
__________
Got a Radeon-powered rig you're proud of? Want to show off your modding skills? Tag us on social media to bring your rig to the spotlight!
Interested in joining the Red Team? Find out more about the Red Team community!
Annie Lee, Product & Content Marketing at AMD. Her postings are her own opinions and may not represent AMD's positions, strategies, or opinions. Links to third party sites and references to third party trademarks are provided for convenience and illustrative purposes only. Unless explicitly stated, AMD is not responsible for the contents of such links, and no third party endorsement of AMD or any of its products is implied.