Elevate Your AMD Ryzen™ with Radeon™ Vega Graphics Processor Experience to a Whole New Level with AMD Radeon™ Software

terry_makedon
Staff
AMD Radeon™ Software Adrenalin 2019 Edition launched a few months ago to great fanfare, with over 4.8 million downloads since launch. We've received a lot of awesome feedback from the community and are extremely pleased users are having such a positive experience with this release. We also kept an eye out for comments on how we can improve, and one of the biggest requests from the community was to have this amazing software made available for AMD Ryzen™ Processors with Radeon™ Vega Graphics. We've listened, and today we're proud to announce that all Radeon Software postings will support our AMD Ryzen CPUs with integrated Radeon graphics (APUs)!
What does this mean for our users? Simple. Whether you're running a desktop or notebook, new and upcoming titles will be supported by Game Day-0 upgrades, so you can always be at the top of your game. Radeon Software Adrenalin 2019 optimizes performance with a focus on fast, fluid, and responsive gaming, so you can get the most out of your hardware. Achieve up to 17% average performance gains in eSports titles vs. the 17.40 launch drivers1.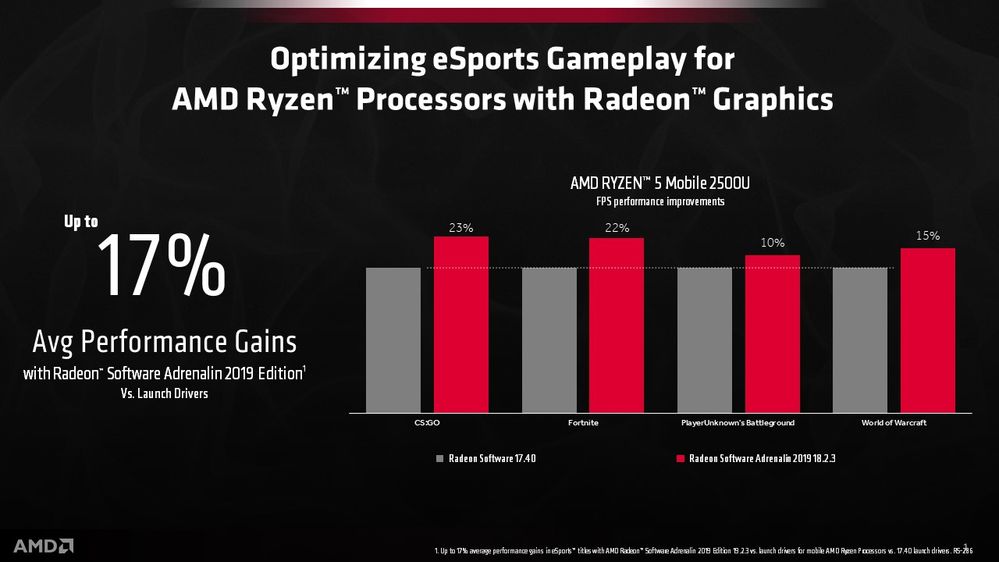 We also know speed isn't everything. We are constantly striving to provide you with stable and reliable experiences through extensive quality-assurance and third-party testing, so you can be assured you're getting great software right from the start.
In addition to Day-0 driver upgrades, Radeon™ software offers a robust and expanding suite of features to boost the visual experience. These features will allow you to customize image quality and other settings, so you can get the best immersive game play experience tailored for you. Radeon Software isn't all about gaming either; we have tools available to improve video playback including adaptive upscaling to provide the look-and-feel of 4K videos to 1080p content, or image stability using GPU compute.
This is just the beginning of our journey for APUs and Radeon Software support. Stay tuned as we continue to improve our features and deliver experiences that keep you fully immersed in your favorite games or media, with stunning visuals and features that you can take advantage of. Follow me on Twitter @catalystmaker for the latest Radeon Software news and updates!
and
Terry Makedon is the Sr. Director for Radeon Software at AMD. His postings are his own opinions and may not represent AMD's positions, strategies or opinions. Links to third party sites are provided for convenience and unless explicitly stated, AMD is not responsible for the contents of such linked sites and no endorsement is implied. GD-5
Footnote:
Testing conducted by AMD Performance Labs as of February 19, 2019 on the AMD Ryzen 5 2500U comprising of12GB DDR4-2400 and Windows 10x64.PC manufacturers may vary configurations, yielding different results. Counter Strike: Global Offensive, Fortnite, Player Unknown's Battleground, and World of Warcraft when running Radeon™ Software Adrenalin 2019 Edition 19.2.3 scored: 52, 30, 26, 43 FPS respectively. Radeon™ Software 17.40 scored 43, 25, 24,38 respectively. Therefore, in the above comparison, Radeon™ Software Adrenalin 2019 Edition 19.2.3 shows 23%, 22%, 10%, 15% greater performance. For an average of 17% performance gains across the titles. All scores are an average of 3 runs with the same settings. Performance may vary based on use of latest drivers. RS-286
1 Comment