Continuing Our Focus on Delivering the Best Driver Possible for 2020

warren_eng
Staff
Bookmark

Subscribe

Email to a Friend
Radeon™ Software had a very eventful 2019. We introduced 20 new or improved features including game changing technologies like Radeon™ Image Sharpening, Radeon™ Anti-Lag and Radeon™ Boost. We completely overhauled the way you interact with our software, making it much easier for you to find and adjust your settings, and we changed the way you're able to play games by allowing you to take your desktop PC games on the road and play them anywhere with your mobile phone or tablet using AMD Link.
With 2019 behind us, we want to enter this year with a renewed and sharpened focus on delivering the best and most stable driver possible to our users. That means listening to our community and addressing issues in a timely manner so all you have to worry about is the enemy around the corner instead of the graphics card in your PC.
We're starting off strong right out of the gate this month, addressing and fixing a number of issues that have come up. We will provide regular updates similar to this blog moving forward to keep you informed on what we're working on to make your experience even better. Here is a list of resolved issues from this past month.
The audible beeps at game startup from Radeon™ Chill, Radeon™ Boost, and Radeon™ Anti-Lag have been removed. These features now offer audible indicators only when activated or deactivated via hotkey.
The Radeon™ ReLive on screen timer indicator during recordings has been disabled by default but can be enabled in Radeon Software settings.
Controls for vertical sync may be hidden or disappear when Radeon™ Enhanced Sync is enabled.
Radeon™ ReLive may experience freezing or pausing issues during recordings when a high resolution camera is connected and in use.
CPU usage may sometimes remain high once Radeon™ Game Advisor has been invoked during a game.
Some users may experience an error message "Another instance is running" during download of a software update through the Radeon Software home screen.
The DuplicateDesktop process may sometimes cause high CPU usage while a game is running.
Radeon Software may close or may experience a crash upon resuming from sleep.
The toast message detailing the hotkey to open Radeon™ Software's Overlay may still show up in some games after Radeon™ Software Overlay has been disabled.
Lost Ark™ may experience stuttering intermittently during gameplay.
Using a custom stream key with Radeon ReLive may fail to stream your content.
The 'Stream' button may remain active when in the process of choosing a region to stream even when a region has not been selected or chosen.
Some Radeon™ R9 200, Radeon™ R9 300 and Radeon™ R9 Fury series graphics products may experience instability with a limited number of DirectX®9 or DirectX®11 games when using a high refresh rate 120hz+ display. A workaround if you are experiencing this issue is to lower your displays refresh rate.
Some mpeg clips may experience a green tint on Radeon™ RX 5700 series graphics products when using Windows® Media Player or the Movies & TV application.
MechWarrior 5: Mercenaries™ may experience a game crash and DXGI dialogue error when running the game using HDMI and Radeon™ FreeSync display configurations1.
Live streaming using the DouYu™ application with hardware acceleration enabled may cause video corruption on Radeon™ RX 5700 series graphics products.
Trials Rising™ may experience excessive fog/smoke in some areas of the game.
Missing text or corruption may be experienced in the right eye when playing the VR game Boneworks™.
Fixed result overflows that can be experienced with Radeon™ RX 5700 series when using SETI@Home.
The 'Shop AMD Products' button may open the AMD.com homepage instead of the proper shopping web link.
The scrolling arrow options may intermittently fail to work during Radeon Software installation.
Up and Down arrow keys don't work when using the search bar in Radeon Software.
Enabling HDR enabled displays in Windows® may cause colors to become washed out.
Radeon Software sidebar appears behind the Windows® taskbar when the taskbar is set to the same side of your display.
Playing Tom Clancy's: The Division 2™ with HDR enabled and performing a task switch may cause display color corruption that persists even once the game is exited.
Mixed Reality Portal™ may experience color corruption or distortion near the edge of viewing areas on some headsets.
Resident Evil™ 2 may experience screen flashing when launching the game using DirectX®12 API.
An intermittent black screen or loss of display may occur when performing parallel actions such as web browsing, gaming or watching video.
Some UE4 based titles such as KovaaK 2.0: The Meta™, Tetris Effect™ and Snooker 19™ may fail to launch with Adrenalin 2020 edition software.
Some single display Radeon RX 5700 series graphics product system configurations may experience intermittent reboots when the system is left idle on desktop.
A limited number of games such as Nioh™, Dragon Quest Builders 2™, WWE™2k20, Dead or Alive 6™ and Atelier Ryza™ may crash or fail to launch. Wolfenstein™ 2: The New Colossus is not detected in Radeon Software games manager.
Text overflow in some UI boxes or toast messages may be experienced in some language localizations.
Fan Tuning may change back to the default state when switching between available GPUs.
Copy text options are not available in the display specs table for Radeon Software.
An intermittent black screen or loss of display may occur when the system is left idle at desktop.
Factory Reset install may keep previously configured Radeon Software game profiles. This can cause mismatch between global graphics settings and per profile settings.
Here are some of the known issues we are currently working to address:
A loss of display with working audio may be experienced on a limited number of displays when performing a mode change on Radeon RX 5000 series graphics products.
A system crash or hang may occur when running the Final Fantasy XIV: Shadowbringers™ benchmark.
Integer Scaling may cause some video content to show flicker when the display resolution is set to less than native resolution.
Multiple games may have very dark or very bright graphics in game when HDR is enabled in Windows®.
Radeon Anti-Lag enable and disable beep notifications may be played in error when individually pressing keys assigned to the hotkey.
The Radeon Software Overlay hotkey notification may sometimes be displayed during video playback in web browsers or launching some video player applications.
Radeon Software may open with an inconsistent size or may not keep its previously set size when opened.
Some Radeon RX 5700 series graphics users may intermittently experience a black screen while gaming or on desktop. A potential temporary workaround is disabling hardware acceleration in applications running in the background such as web browsers or Discord.
FPS gets locked to 30 when HDMI Scaling slider is moved to 1% or higher.
If you're experiencing any issues on your system that aren't covered here, we kindly ask that you submit a bug report so we can get to work on fixing them.
Typically, many problems can be resolved with a clean installation of our driver. In order to perform a clean installation, you must select the "Factory Reset" option at the beginning of the installation process (see image below). Once this is selected, old instances of the driver will be removed and the uninstaller will restart your system before the new driver installation begins.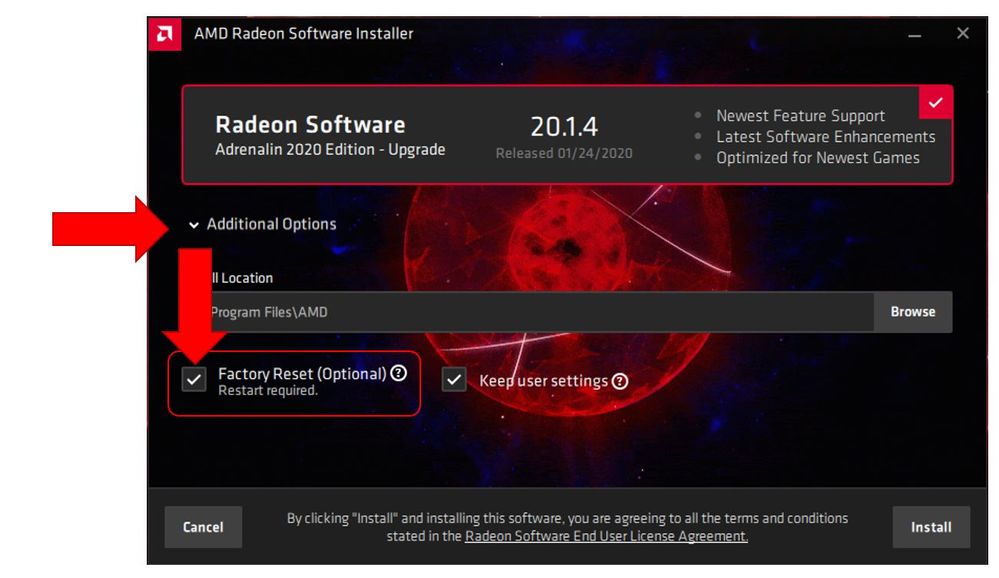 Please feel free to check out our online resource that goes through detailed steps on how to enable key features or address common issues with Radeon Software. If you're still having problems or would like to submit an issue in to our customer care team, you can enter your problem request here.
Warren Eng is the Product Marketing Manager for Radeon Software at AMD. His postings are his own opinions and may not represent AMD's positions, strategies or opinions. Links to third party sites are provided for convenience and unless explicitly stated, AMD is not responsible for the contents of such linked sites and no endorsement is implied. GD-5
Microsoft is a registered trademark of Microsoft Corporation in the US and/or other countries. DirectX is either registered trademark or trademark of Microsoft Corporation in the US and/or other countries.
Radeon FreeSync™ Requires a monitor and AMD Radeon™ graphics, both with FreeSync support. See www.amd.com/freesync for complete details. Confirm capability with your system manufacturer before purchase. GD-127
FreeSync 2 HDR does not require HDR capable monitors; driver can set monitor in native mode when FreeSync 2 HDR supported HDR content is detected. Otherwise, HDR content requires that the system be configured with a fully HDR-ready content chain, including: graphics card, graphics driver and application. Video content must be graded in HDR and viewed with an HDR-ready player. Windowed mode content requires operating system support. GD-105
Game streaming requires phone or tablet which supports Android 5.0 and greater or iOS 11 and greater. For TV support, Apple TV 4th and 5th generation running tvOS 12.x and greater, or Android TV 5.1 and greater are required. Streaming at 4K requires 4K capable streaming hardware and is compatible with: AMD Radeon™ GCN-based discrete graphics and newer. Supports Windows® 7 and 10. Game Streaming available anywhere there is a high speed internet connection. For local profiles, all devices must be on the same local network. For internet streaming to work, your router must allow port forwarding and your PC must not be behind a network configuration that hinders connectivity. Controllers must be compatible with selected game and headset, please consult vendor for compatibility information.
Radeon™ Anti-Lag is compatible with DirectX 9 and DirectX 11 APIs, Windows 7 and 10. Hardware compatibility includes GCN and newer consumer dGPUs Ryzen 2000 and newer APUs, including hybrid and detachable graphics configurations. No mGPU support.
Radeon™ Image Sharpening is compatible with DirectX 11, 12, & Vulkan APIs and DirectX 9 for RX 5000 Series only, and Windows 10. Hardware compatibility includes GCN and newer consumer dGPUs, Raven Ridge and newer APUs, including hybrid and detachable graphics configurations. No mGPU support.
Integer Scaling is compatible with Windows 10. Hardware compatibility includes GCN (2nd Gen) and newer consumer dGPUs, Ryzen 2000 and newer APUs, including hybrid and detachable graphics configurations.
Radeon™ Boost compatibility includes Windows 7 and 10. Hardware compatibility includes Polaris and newer consumer dGPUs, Ryzen 2000 and newer APUs, including hybrid and detachable graphics configurations. No mGPU support.