Build Great Things with the New GPUOpen

alexander_blake-davies
Moderator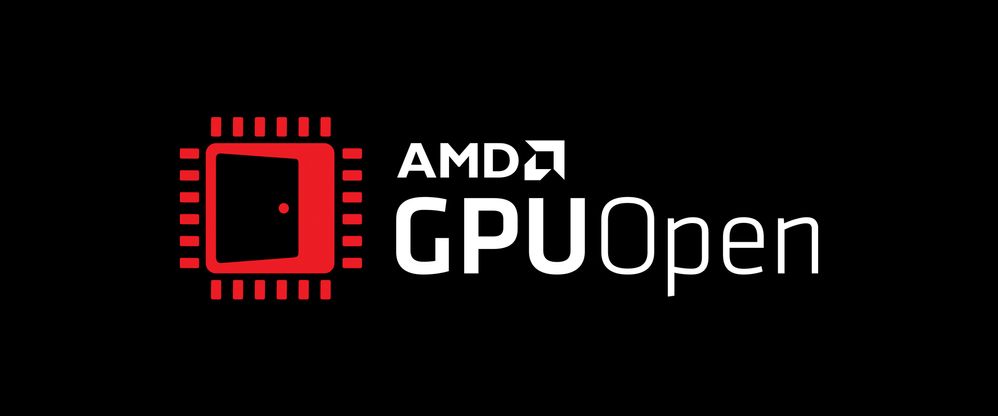 AMD's commitment to openness is the foundation upon which the GPUOpen initiative was built. We stand behind the belief that the freedom of open standards and being open about our hardware drives innovation forward faster and further than any proprietary technology can.
Since 2016, GPUOpen has been a vehicle for this vision, sharing our game development and content creation software tools and technologies, with a focus on solving developer problems.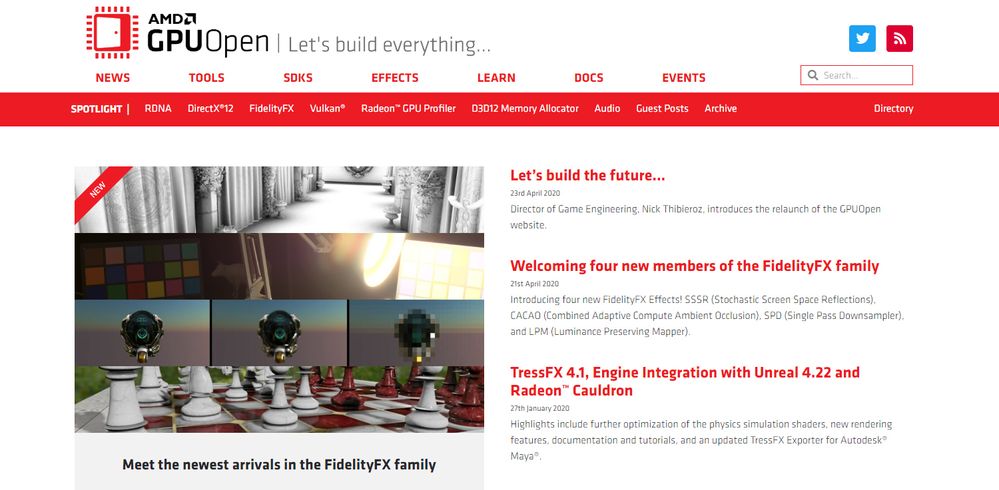 However, after four years, we realized that it was time to give the site a fresh coat of digital paint and we are pleased to announce that we have relaunched GPUOpen.com, building a brand-new website with a modern look and feel. You will find it straightforward to navigate the wealth of information available, including the latest news, detailed tutorials and samples, presentations, and guest blogs. Our tools and technologies are clearly presented to enable developers to easily access what they need to make their games even better.
"AMD has a rich tradition of supporting both open standards and open source. Today, I'm very excited to see our relaunched GPUOpen website, which marks AMD's continued commitment to openness and the enablement of innovation. Whether its fantastic developer tools, vibrant graphical effects, or our easy-to-use SDKs; GPUOpen puts developers at the heart of everything we do."
-- Andrej Zdravkovic, Senior Vice President of Software Development
This relaunch is our way of recommitting to the values GPUOpen stands for, and our new slogan, "Let's build everything", is to show that AMD is here to help you build great things with our technology.
To celebrate, in addition to the website relaunch we are releasing new GPUOpen tools and technologies every day this week, until Friday, when our "Let's Build…" virtual developer event takes place, where our talented engineers will be sharing their knowledge with you in a series of six recorded video presentations.
Read on to see what we are releasing today and check back on the GPUOpen website each day at 4 PM BST/11 AM EDT this week to see more exciting releases.
Achieve Maximum Fidelity with New AMD FidelityFX Effects
In 2019 we released our first AMD FidelityFX feature, Contrast Adaptive Sharpening (CAS). This effect is now used in over 15 games to enable better visual sharpness with minimal artifacts, restoring detail lost after Temporal Anti-Aliasing (TAA) is applied. Now we are expanding FidelityFX into an open-source image quality developer toolkit with four additional shader-based features aimed at improving rendering quality and performance.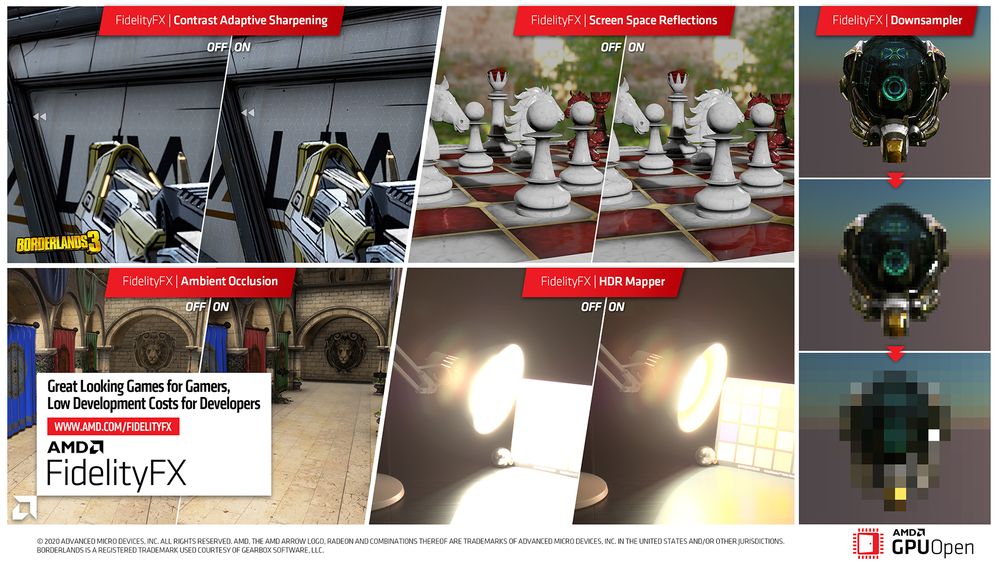 Click to enlarge image

The four new open-source FidelityFX features available today are:


FidelityFX Screen Space Reflections: Our implementation of Stochastic Screen Space Reflections (SSSR) delivers high-quality reflections with minimal overhead, via an optimized compute shader and RDNA architecture-optimized denoising.
FidelityFX Ambient Occlusion: Our RDNA architecture-optimized Combined Adaptive Compute Ambient Occlusion (CACAO) effect dynamically and efficiently helps improve the appearance of objects based their exposure to ambient light.
FidelityFX HDR Mapper: Optimized for use with AMD FreeSync Premium Pro1 displays, AMD's Luminance Preserving Mapper (LPM) delivers superior HDR and wide color gamut content for games.
FidelityFX Downsampler: Single-pass and optimized for RDNA architecture, AMD's compute shader-based Single Pass Downsampler (SPD) generates texture MIP levels using asynchronous compute for optimal performance.

With AMD FidelityFX, game developers can deliver high-quality visuals with minimal performance overhead, freeing up graphics cards to power the intense gaming experiences gamers demand.
Learn More About AMD FidelityFX

Learn More About AMD FidelityFX on GPUOpen


Next Level Physics and Hair Effects Demos
FEMFX is our open-source CPU library for deformable material physics, using the Finite Element Method (FEM) and is available as source code and as a plug-in for Unreal Engine.

Highly optimized to take advantage of the processing power today's modern multithreaded CPUs like AMD Ryzen series processors, FEMFX enables developers to add a whole new level of physics realism to their games.
TressFX is our GPU-accelerated realistic hair and fur rendering and simulation technology and the new version 4.1 offers improved performance and new features, including Unreal Engine integration.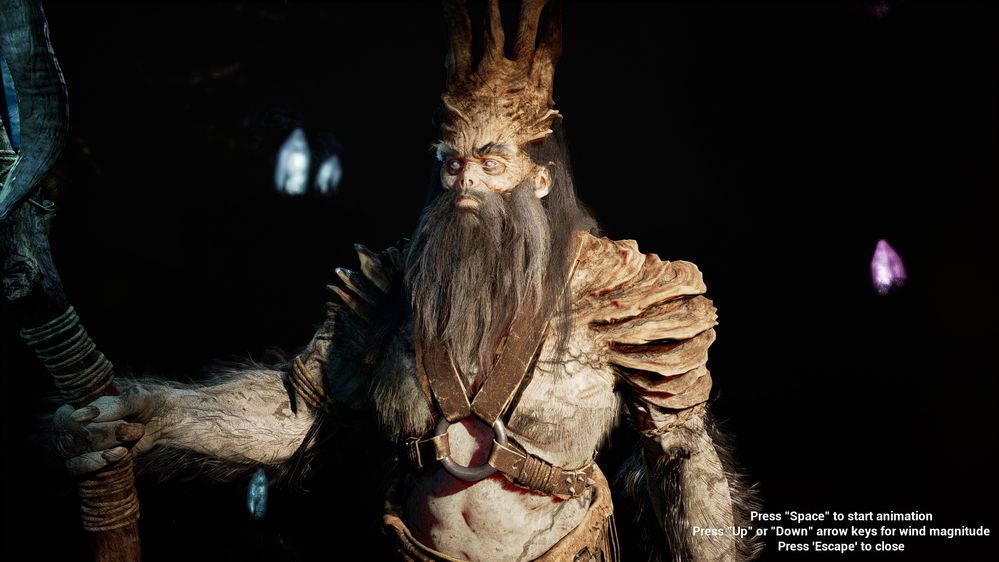 Click to enlarge image


To make it easier for developers to see FEMFX and TressFX in action, and for gamers to be able to check out some of the advanced effects they can expect to see in future game releases, we've put together some standalone demos that can be downloaded today.
For FEMFX, we have two demos – the "FEMFX Demo" is an interactive experience that shows off different FEM physics effects and the "Alien Pods" demo is an example of the gameplay puzzle mechanics that FEMFX could enable.
For TressFX, the "Old King" demo is a non-interactive real-time example of the kind of high-quality extremely realistic hair and fur effects our technology enables.
*This demo does not have audio

Learn More about FEMFX on GPUOpen
Learn More about TressFX on GPUOpen



"Let's Build…", Our Developer Event You Can Attend from Home
To finish up the GPUOpen relaunch week, we are bringing everything together into our first-ever developer event you can attend virtually. The "Let's build…" event includes many of the presentations we had planned for the now-postponed Game Developers Conference (GDC) 2020, giving everyone a chance to watch them.
Here is a preview of the video presentations you can watch starting 4 PM BST, 11 AM EDT this Friday:


AMD Ryzen Processor Software Optimization: An introduction to the AMD Ryzen family of processors followed by advanced optimization topics.
Optimizing for the Radeon RDNA Architecture: Join this session to learn about the details of RDNA and how it differs from GCN architecture.
From Source to ISA: A Trip Down the Shader Compiler Pipeline: Uncover the secrets of the shader compiler on a journey from the source code to the RDNA ISA.
A Review of GPUOpen Effects: This presentation will provide an overview of existing and new graphics effects available on GPUOpen, including FidelityFX.
Curing Amnesia and Other GPU Maladies with AMD Developer Tools: Meet the newest tool in AMD's Radeon tool suite - the Radeon Memory Visualizer.
Radeon ProRender Full Spectrum Rendering 2.0: The Universal Rendering API: An introduction to the upcoming Radeon ProRender 2.0, the universal rendering API.

Learn More About the "Let's Build…" Event



Alexander Blake-Davies is a Software Product Marketing Specialist for Radeon Software for Developers at AMD's Radeon Technology Group. His postings are his own opinions and may not represent AMD's positions, strategies or opinions. Links to third-party sites are provided for convenience and unless explicitly stated, AMD is not responsible for the contents of such linked sites and no endorsement is implied. GD-5


AMD FreeSync technology requires AMD Radeon graphics and a display that supports FreeSync technology as certified by AMD. AMD FreeSync Premium technology adds requirements of mandatory low framerate compensation and at least 120 Hz refresh rate at minimum FHD. AMD FreeSync Premium Pro technology adds requirements for the display to meet AMD FreeSync Premium Pro compliance tests. See www.amd.com/freesync for complete details. Confirm capability with your system manufacturer before purchase. GD-127


© 2020 Advanced Micro Devices, Inc. All rights reserved. AMD, the AMD Arrow logo, Radeon, and combinations thereof are trademarks of Advanced Micro Devices, Inc. Unreal and its logo are trademarks or registered trademarks of Epic Games, Inc. in the US and elsewhere. Other product names used in this publication are for identification purposes only and may be trademarks of their respective companies.