April Updates for Radeon™ Software Adrenalin 2020 Edition

warren_eng
Staff
We hope all of you are staying safe and doing well during this extraordinary time in our lives. Here at AMD, our team remains committed in delivering great drivers for you to use, and we have worked hard over the past month to deliver new game driver updates supporting three new game titles – Resident Evil 3, Predator Hunting Grounds and Gears of War Tactics. In addition to the game day 0 driver support, we have also been working at resolving issues that the community have been reporting back to us.

Here is a list of the top issues we have resolved this month:
Overwatch™ and Heroes of the Storm™ may experience a black screen or application hang while gaming for extended periods of time on some Radeon™ RX Vega series graphics product system configurations.

HDR may fail to enable or be detected in applications and games using the Vulkan® API.

Doom Eternal™ may fail to launch in some hybrid graphics system configurations.

Radeon™ ReLive streaming1 may fail to launch or may crash when a stream session is started with performance metrics overlay enabled.

Some clock values may fail to populate for a limited number of graphics products in the Radeon™ Settings Hardware information tab.

Hotkeys can no longer be assigned to a single digit or character as this has the ability to block or cause interference with some default Windows® functionality.

Some AMD FreeSync™ Premium2 supported displays may not list all supported refresh rate options in Windows® when Radeon FreeSync Premium is enabled in the displays OSD settings.
Radeon

™

RX Vega series graphics products may experience a system hang or black screen when running Folding@Home while also running an application using hardware acceleration of video content.

A system crash or hang may be experienced when using Edge browser to play Netflix™ content.

XSplit™ may experience an application hang or freeze when performing a scene switch.

Minor stuttering may occur when performing a task switch with performance metrics overlay open in some games.

Overwatch™ may experience an intermittent crash while entering a game or during extended gameplay sessions.

Radeon™ RX 5700 series graphics product system configurations may intermittently experience a display loss or black screen while gaming or on desktop.

Radeon™ Software may experience an application crash when playing games with non-alphanumeric characters in the game title.

Radeon™ RX Vega series graphics products may experience an application crash with Microsoft® Teams when hardware acceleration is enabled.

An 'Unable to get requirements' error message may intermittently occur when viewing the Upgrade Advisor tab in Radeon Software.

Radeon RX Vega series graphics products may experience a system crash or TDR when playing games with Instant Replay enabled.

Resolved an install issue where Error 1603 could occur when a registry key was not correctly read during installation.
We are also actively looking in to addressing the following outstanding issues:
Enhanced Sync may cause a black screen to occur when enabled on some games and system configurations. Any users who may be experiencing issues with Enhanced Sync enabled should disable it as a temporary workaround.

Using the Microsoft Edge™ web browser to playback video content with a multi display system configuration may cause a system hang or crash after extended periods of use.

Performance Metrics Overlay3 incorrectly report higher than expected idle clock speeds on Radeon RX 5700 series graphics products. Performance and power consumption are not impacted by this incorrect reporting.

Modifying the HDMI Scaling slider may cause FPS to become locked to 30.

Some games may exhibit stutter intermittently during gameplay on Radeon RX 5000 series graphics products.

Radeon RX Vega series graphics products may experience a system crash or TDR when performing multiple task switches using Alt+Tab.

Desktop or In-game corruption may occur intermittently when HDR is enabled.

Direct ML Media Filters are currently unavailable in Radeon Software Media gallery for video or image content.

Some users may still experience black screen or system hang issues during extended periods of gameplay. AMD will continue to monitor and investigate reports of these issues closely.

Some laptops may encounter a BSOD when installing Radeon™ Software Adrenalin 2020 Edition over an existing OEM graphics driver. To work around this issue, first uninstall the OEM graphics driver using Programs and Features within the Control Panel. Once complete, install the Radeon Software Adrenalin 2020 Edition package and select the Factory Reset option during setup.
If you're still experiencing any issues on your system, we kindly encourage you to submit a bug report so we can get to work on fixing them. Posting issues on Reddit and other community forums, although helpful, does not necessarily mean we'll be able to spot your post or get enough information from it, so the best way to get issues resolved quickly would be to submit your report directly to AMD.
Often, many problems can be resolved with a clean installation of our driver. In order to perform a clean installation, you must select the "Factory Reset" option at the beginning of the installation process. Once this is selected, old instances of the driver will be removed, and the uninstaller will restart your system before the new driver installation begins.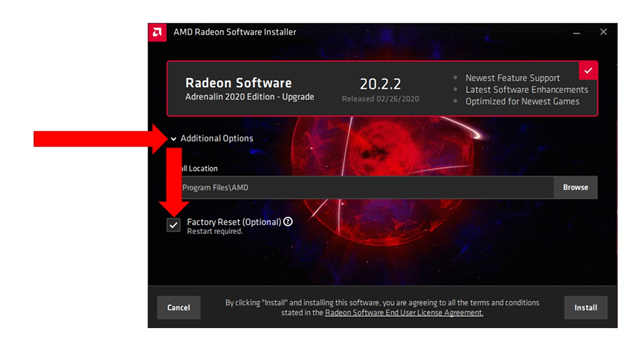 Please feel free to check out our online resource that goes through detailed steps on how to enable key features or address common issues with Radeon Software. If you're still having problems and would like to reach out to our customer care team, you can contact them here.
Warren Eng is the Product Marketing Manager for Radeon Software at AMD. His postings are his own opinions and may not represent AMD's positions, strategies or opinions. Links to third party sites are provided for convenience and unless explicitly stated, AMD is not responsible for the contents of such linked sites and no endorsement is implied. GD-5
Footnotes:
Game streaming requires phone or tablet which supports Android 0 and greater or iOS 11 and greater. For TV support, Apple TV 4th and 5th generation running tvOS 12.x and greater, or Android TV 5.1 and greater are required. Streaming at 4K requires 4K capable streaming hardware and is compatible with: AMD Radeon™ GCN-based discrete graphics and newer. Supports Windows® 7 and 10. Game Streaming available anywhere there is a high speed internet connection. For local profiles, all devices must be on the same local network. For internet streaming to work, your router must allow port forwarding and your PC must not be behind a network configuration that hinders connectivity. Controllers must be compatible with selected game and headset, please consult vendor for compatibility information. GD-159
AMD FreeSync™ technology requires AMD Radeon™ graphics and a display that supports FreeSync technology as certified by AMD. AMD FreeSync™ Premium technology adds requirements of mandatory low framerate compensation and at least 120 Hz refresh rate at minimum FHD. AMD FreeSync™ Premium Pro technology adds requirements for the display to meet AMD FreeSync Premium Pro compliance tests. See www.amd.com/freesync for complete details. Confirm capability with your system manufacturer before purchase. GD-127
Overclocking AMD processors, including without limitation, altering clock frequencies / multipliers or memory timing / voltage, to operate beyond their stock specifications will void any applicable AMD product warranty, even when such overclocking is enabled via AMD hardware and/or software. This may also void warranties offered by the system manufacturer or retailer. Users assume all risks and liabilities that may arise out of overclocking AMD processors, including, without limitation, failure of or damage to hardware, reduced system performance and/or data loss, corruption or vulnerability. GD-106