AMD Ryzen™ Processors with Radeon™ Graphics: Things Get Even Better with the New 3000 Series


don_woligroski
Staff
In 2018, AMD launched 2000 series Ryzen processors with Radeon graphics to critical acclaim. With the most powerful graphics performance on a desktop processor, the Ryzen 5 2400G delivers on the promise of both highly responsive processing and discrete-class gaming without the added expense of a separate graphics card. And at a $99 launch price, the Ryzen 3 2200G makes smooth, best-in-class esports gaming available at an even more accessible price point.
On July 7th, AMD will make the most powerful graphics on a desktop processor even better. Introducing the new Ryzen 5 3400G and the Ryzen 3 3200G processors with Radeon Graphics.
Processor
Cores / Threads
Boost/Base Clock

Graphics

(Graphics Clock)

Total Cache

(L2 + L3)

TDP
Cooler

Suggested

Price

Ryzen 5 3400G
4 / 8
4.2 / 3.7 GHz

Radeon RX Vega 11

(1400 MHz)

6MB
65W
Wraith Spire
$149
Ryzen 3 3200G
4 / 4
4.0 / 3.6 GHz

Radeon Vega 8

(1250 MHz)

6MB
65W
Wraith Stealth
$99

Armed with higher clock speeds, super-fast graphics, and new driver features, these new processors set a new benchmark for what users can expect from a desktop processor. The Ryzen 5 3400G earns the title of the world's most powerful graphics on a desktop processori, a title previously held by its predecessor the Ryzen 5 2400G.iii With 4 cores, and 8 processing threads, an impressive 4.2 GHz Max Boost clock speed, and a 1400 MHz graphics core speed, the Ryzen 5 3400G is armed with strong processing hardware, able to provide smooth gaming performance at high -definition 1080p resolution while its competition - the Core i5-9400 - stutters and fails to deliver a playable experience in many popular titlesiv: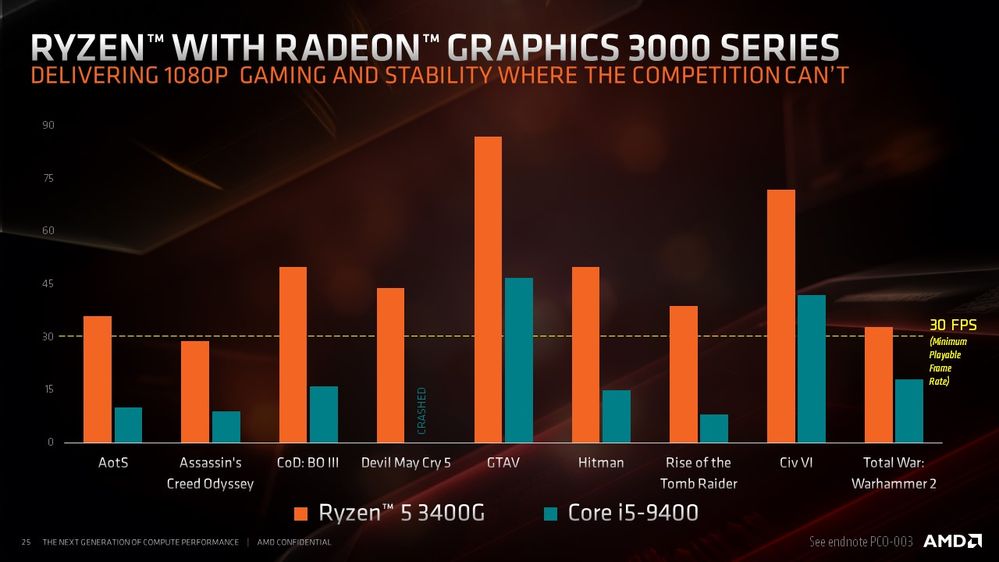 Similarly, with 4 processing cores, a max boost clock of 4.0 GHz, and a 1250 MHz graphics clock speed, the new Ryzen 3 3200G is quite capable of playing the most popular eSports games online at 1080p.

Of course, there's more to the Ryzen 5 3400G than just strong gaming chops. With powerful Radeon graphics on tap, your Windows computing experience can be truly enhanced and unleashed. From watching video and surfing the internet, to serious design and production work, this CPU is surprisingly capable, reliable, and efficient compared to the competition: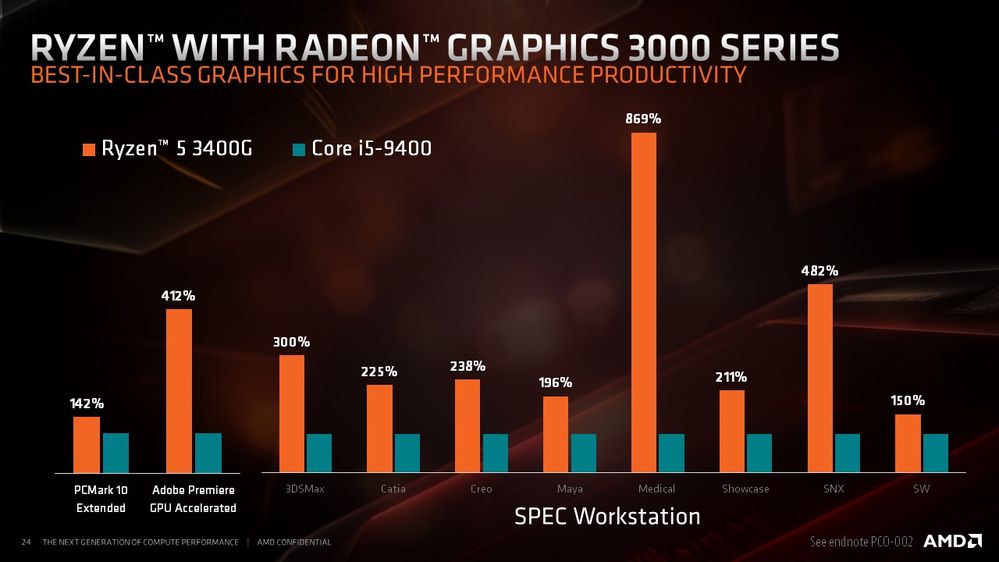 In addition to raw performance, 3000 series Ryzen processors with Radeon graphics boast some of the most stable graphics drivers in the business, with exciting new features included at launch that include new Radeon Anti-Lag technology - a feature that can give you a competitive edge when playing the most popular eSports games online.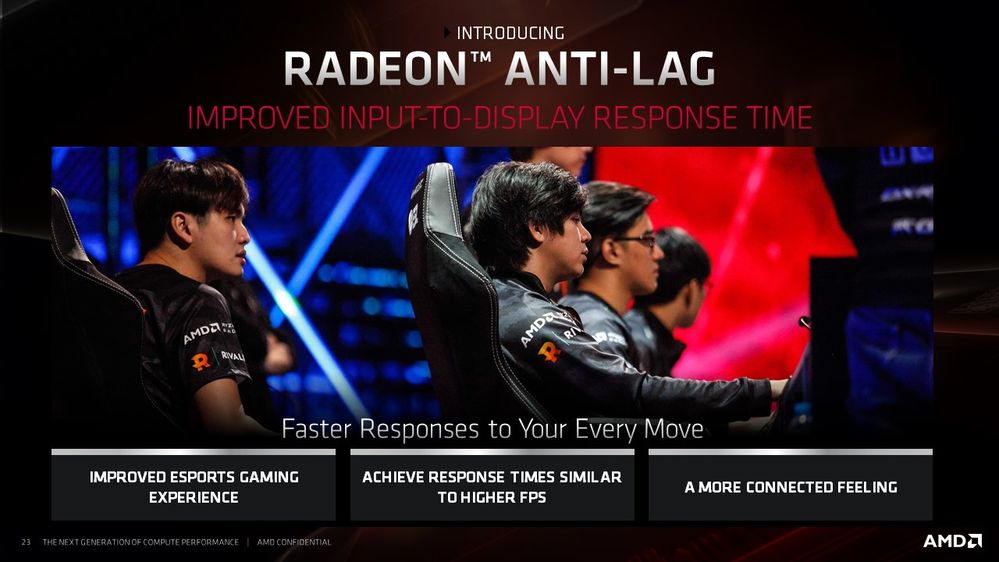 And AMD didn't stop there. We have looked for even more ways to add value to the Ryzen 3 3200G and Ryzen 5 3400G: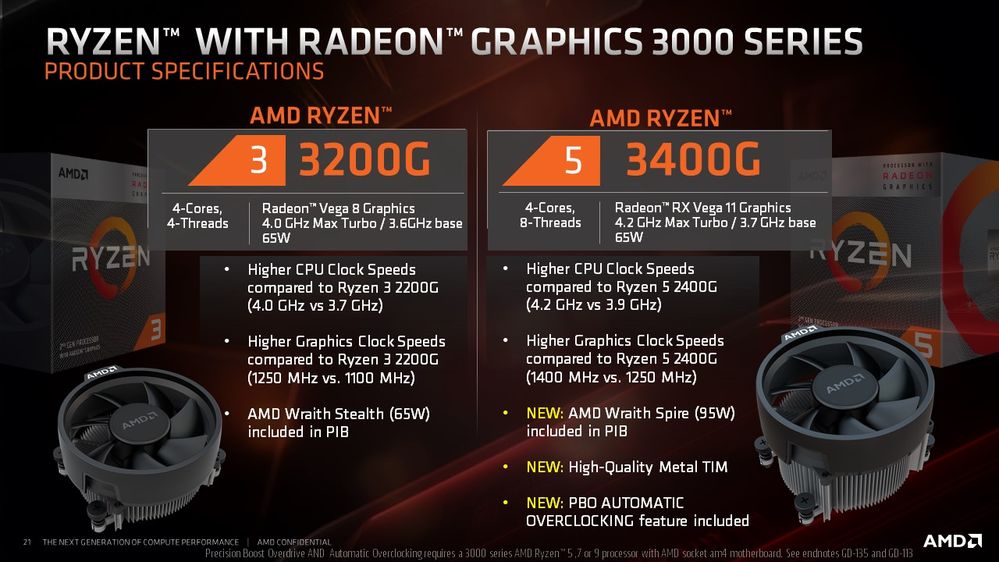 As touched on in the slide above:
- The Ryzen 5 3400G includes the robust Wraith Spire cooler, which has a higher cooling capacity than the Wraith Stealth cooler

- The Ryzen 5 3400G is also equipped with premium soldered thermal interface material, which helps keep the processor cooler and quieter during normal operation, and also when overclockingv

- The Ryzen 5 3400G can use the new PBO Automatic Overclockingvi feature to enable up to 200 MHz of easy overclocking at the touch of a button.

The new 3000-series Ryzen with Radeon graphics processors will be on shelf on July 7th, 2019. The Ryzen 3 3200G has a suggested etail price of $99 USD, while the Ryzen 5 3400G has a suggested etail price of $149 USD. AMD looks forward to pushing the boundaries of what you expect from a desktop processor with these new, powerful processing products.
_____________________________________________________________________________________________
Don Woligroski is the Desktop Technical Marketing Manager for AMD. His postings are his own opinions and may not represent AMD's positions, strategies or opinions. Links to third party sites are provided for convenience and unless explicitly stated, AMD is not responsible for the contents of such linked sites and no endorsement is implied. GD-5
_______________________________________________________________________________________________
i Testing as of 05/14/2019 by AMD Performance Labs using an AMD Ryzen™ 5 3400G Processor and Intel Core i5-9400 in 3DMark Time Spy. Results may vary with configuration. PCO-001
ii Testing as of 05/14/2019 by AMD Performance Labs using an AMD Ryzen™ 5 3400G Processor and Intel Core i5-9400 in PCMark 10, Adobe Premiere, Speedometer, and SPECviewperf. Results may vary with configuration. The class defined as graphics on a desktop processor. SPEC® and SPECviewperf® are registered trademarks of the Standard Performance Evaluation Corporation. See www.spec.org. PCO-002
iii Testing by AMD Performance labs as of 12/08/2017 for the Ryzen 5 2400G, and 09/04/2015 for the Core i7-5775c on the following systems. PC manufacturers may vary configurations yielding different results. Results may vary based on driver versions used. System Configs: All systems equipped with Samsung 850 PRO 512GB SSD, Windows 10 RS2 operating system. Socket AM4 System: Ryzen 52400G processor, 16B (2 x 8GB) DDR4-2667 RAM, Graphics Driver 1710181048-17.40-171018a-319170E 23.20.768.0 :: 12/08/2017. Socket LGA1150 System: Core i7-5775c processor, 8GB (2x4GB) DDR3-1867 MHz RAM, graphics driver 10.18.15.4256:: 09/04/2015. 3DMark 11 Performance benchmark used to represent graphics power. The following processors achieved the following scores in 3DMark 11 'performance' benchmark v1.0.132.0: The Ryzen 5 2400G: 5042. Also, in v1.0.132.0, The Core i7-5775c, the Intel desktop processor with the highest Intel desktop graphics performance, achieved 3094. RZG-01
iv Testing as of 05/14/2019 by AMD Performance Labs using an AMD Ryzen™ 5 3400G Processor and Intel Core i5-9400 in 9 game titles. Results may vary with configuration. PCO-003
V Overclocking AMD processors, including without limitation, altering clock frequencies / multipliers or memory timing / voltage, to operate beyond their stock specifications will void any applicable AMD product warranty, even when such overclocking is enabled via AMD hardware and/or software. This may also void warranties offered by the system manufacturer or retailer. Users assume all risks and liabilities that may arise out of overclocking AMD processors, including, without limitation, failure of or damage to hardware, reduced system performance and/or data loss, corruption or vulnerability. GD-106
vi GD-135 - Precision Boost Overdrive requires an AMD Ryzen Threadripper, AMD Ryzen 5 3000, AMD Ryzen 7 3000, or AMD Ryzen 9 3000 Series processor and a motherboard compatible with one or more of these processors. Because Precision Boost Overdrive enables operation of the processor outside of specifications and in excess of factory settings, use of the feature invalidates the AMD product warranty and may also void warranties offered by the system manufacturer or retailer. GD-135
2 Comments