A New Year Starts with New AM5 Options


Christian_Babcock
Staff
A New Year Starts with New AM5 Options
Last fall, we introduced the next-generation AM5 Ryzen™ desktop platform. Built for enthusiasts, AM5 features future-ready technologies like DDR5 memory and PCIe 5.0 connectivity for a PC build that will last for years to come. This year at CES, we announced a range of new options to expand the AM5 ecosystem in multiple dimensions:
New AMD Ryzen™ 7000 processors with 3D V-Cache™ technology

New Ryzen™ 7000 energy efficient 65W processors

A broader than-ever assortment of AM5 motherboards, including new lower-priced B650 motherboard options
This expanded range of options makes AM5 the perfect choice for any enthusiast looking to upgrade their build.
Ryzen™ 7000 Series with AMD 3D V-Cache™ technology
AMD has led the industry with the use of AMD 3D V-Cache™ technology to bring incredible gains to gaming performance. With the Ryzen™ 7000 Series processors, we are expanding this 'game-changing' technology to include both Ryzen™ 7 and Ryzen™ 9 processors. Using chiplet technology, we can construct Ryzen™ 9 processors that offer high-frequency performance, and the gaming performance boost AMD 3D V-Cache™ technology is known for. That means enthusiasts can harness the ultimate gaming performance and creator performance in one processor. No workload is off-limits!
At the time of launch, the suggested pricing of these processors is as follows:
Ryzen™ 9 7950X3D for $699 USD

Ryzen™ 9 7900X3D for $599 USD

Ryzen™ 7 7800X3D for $449 USD
Best of all, these parts will be available in the market very soon. The Ryzen™ 9 7950X3D and Ryzen™ 9 7900X3D processors will be on sale beginning February 28th, and the Ryzen™ 7 7800X3D will be available on April 6th.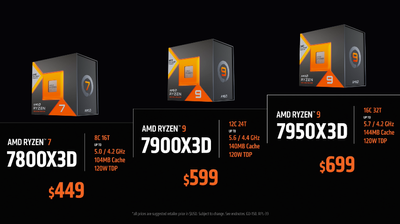 Energy efficient 65W Ryzen™ 7000 Series processors
Ryzen™ processors have always been known for their leadership in energy efficiency, and the 7000 Series Ryzen™ processors are no exception. At CES, we also introduced three new ultra-energy-efficient processors compatible with all AM5 motherboards. These processors deliver both incredible performance and unbelievable efficiency. All three 65W processors come fully unlocked for users who demand even more performance through overclocking. Each 65W processor also comes with a bundled AMD Wraith Prism cooler with RGB-led illumination or a low-profile AMD Wraith Stealth cooler for even more value. They're the perfect choice for someone who is building a smaller form factor system or looking to get the greatest value out of their AM5 build. All of these products are in-market today and available from your favorite retailer.
Getting ready for your new AM5 build
Whether you're upgrading or building your first AM5 system, you can rest assured that we've taken steps to ensure that the process is as smooth as possible. You can install your new processor, update the BIOS and chipset driver, and you're ready to go. All of our AM5 motherboards support an easy BIOS flash feature; you don't need to worry about BIOS compatibility.
For processors without a cooler in the box, like our Ryzen 7000 Series processors with AMD 3D V-Cache™ technology, we recommend a 280mm AIO liquid cooler for the best performance. A range of cooler options for the Ryzen 7000 Series processors is listed on AMD's website.
Expanding B650 motherboard options
Not only is AM5 a platform that AMD has committed to supporting through 2025, but it is also a platform built on next-generation technology to keep your build performing for years to come. In the first quarter of 2023, our partners will bring an ever-expanding range of B650 motherboards to address a broader range of price points. Best of all, those B650 motherboards include many next-generation technologies and offer full support for overclocking any Ryzen™ 7000 Series processor. Look for those new boards to enter the market in the coming months to provide even more options to create the perfect Ryzen™ AM5 build.
Get STAR WARS Jedi: Survivor™ when you buy select AMD Ryzen™ 7000 Series processors*
Another exciting promotion for AM5 users is the new STAR WARS Jedi Survivor™ game bundle. The bundle details are simple, when customers purchase one of the select Ryzen™ 7000 Series processors listed below from a participating retailer, they will receive a unique coupon code valid for a download of STAR WARS Jedi Survivor™.
ELIGIBLE AMD RYZEN PRODUCTS:
STAR WARS Jedi: Survivor™
AMD Ryzen 9 7950X
AMD Ryzen 9 7900X
AMD Ryzen 9 7900
AMD Ryzen 7 7700X
AMD Ryzen 7 7700
AMD Ryzen 5 7600X
AMD Ryzen 5 7600
Promotion Live Dates: January 24 – April 1, 2023
Redemption Deadline: May 6, 2023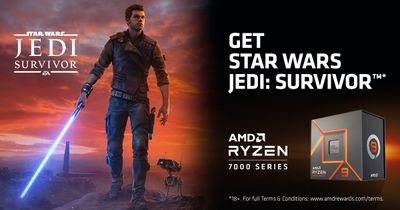 Learn More: https://www.amd.com/en/gaming/star-wars-bundle
For more terms and conditions, visit: Terms and Conditions - AMD Rewards
It all comes together with Ryzen™ 7000 Series Processors
We are excited to power an incredible ecosystem of high-performance processors and next-gen technologies. If you're a gamer or creator looking to invest in a desktop PC platform, look no further than Ryzen 7000 Series processors and the AM5 ecosystem. We look forward to seeing what you do with all that processing power in new gaming and creator rigs powered by AMD!