2nd Gen AMD Ryzen: The Ultimate CPU for Gamers, Creators, and Enthusiasts

rhallock
Staff
Bookmark

Subscribe

Email to a Friend
As an enthusiast, I keep a shortlist of must-haves when it's time to buy a new processor.
I want exceptional gaming performance with my 1440p monitors
I don't want a processor that's only good at gaming: video encoding, streaming, and number crunching (SimC, for example) are important to me
And I want a fully-featured platform that feels thoughtfully designed for people like me
The list is short and sweet, but few processors in PC history have risen to the occasion. I upgrade to the ones that do! As I sit here and consider my next upgrade, I'm lucky to have an inside scoop: the 2nd Gen AMD Ryzen™ Processors—especially the AMD Ryzen 7 2700X—easily ticks all the boxes.
I've seen that with my own eyes over the last few months, and I want to share my experiences with you.
Gaming Performance
At home, I have two rigs:
A Radeon™ Vega64 GPU with a Nixeus NX-EDG27 (2560x1440 + 144Hz Radeon FreeSync™)
A GeForce GTX 1080 with an Alienware AW3418DW (3440x1440 + 120Hz G-SYNC)
That kind of hardware shows you that gaming performance is what matters most to me. So, when I objectively consider the results from an AMD Ryzen 7 2700X versus the Core i7-8700K on a system like mine, the performance is virtually identical. In fact, across the 12 games you see below, the average difference is only 1%.1 I play Overwatch regularly, and I just (finally!) started Rise of the Tomb Raider, so I know the Ryzen 7 2700X will enable the gaming performance I want on the high-end hardware that I already have.

Click to enlarge image. Results may vary with system configuration.
Non-Gaming Performance
However, gaming is not the only type of performance that matters to me. I occasionally (and badly) try my hand at 3D rendering, I do some streaming for Sea of Thieves and Rocket League, and I run gear combo simulations for World of Warcraft with the Simulationcraft tool. These tasks benefit from cores and threads, and oftentimes they take a long time to run, so every second saved can really add up over the course of a week.
The Ryzen 7 2700X shines with this kind of work, dominating the 8700K by an average of 21%.2 That adds up to a lot of seconds.

Click to enlarge image. Results may vary with system configuration.
A Thoughtful Platform
A PC is so much more than the processor, though! The drivers, the motherboard, the chipset, overclocking, and cooling all play a hugely influential role in my overall satisfaction with the PC. Here are a few of the things that make me especially happy about the 2nd Gen Ryzen CPUs: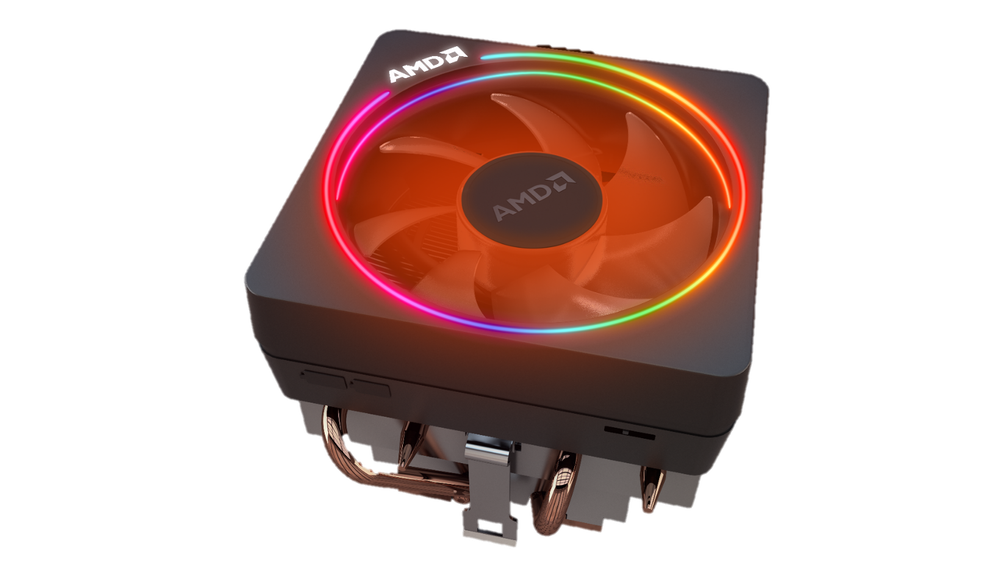 Every 2nd Gen Ryzen processor comes with a nice cooler in the box, and the Ryzen 7 2700X includes with the new Wraith Prism. The Prism is quiet, has three different RGB lighting areas, and has healthy overclocking headroom. The 8700K doesn't come with a cooler at all.


The heatspreader is soldered to the processor die with an indium alloy. This reduces CPU temps by 10-15°C, which enables a cooler and quieter PC, if not more overclocking headroom—great for an enthusiast chip. The 8700K still uses an inferior thermal paste.


Socket AM4, used by Ryzen CPUs, is now compatible with four entirely different AMD processor families, plus a plan for forward compatibility until 2020! That gives me a clear and confident upgrade path that doesn't include being forced to buy a new motherboard if I don't want to. That makes my life easier: I'll upgrade one of my PCs to a new mobo based on the new AMD X470 chipset, and the other PC will re-use the fantastic ASUS ROG Crosshair VI HERO I bought last year—there's already a BIOS for 2nd Gen Ryzen CPUs! There's zero evidence right now that Socket 1151 for the Core i7-8700K will be so upgradeable.


Every Ryzen processor is unlocked for overclocking.3 Though the 8700K is unlocked as well, most of the 8th Gen Core processors are not, and that's not a business practice I want to reward with my hard-earned money.


I have a large Steam®/Origin™ library that, due to its size, must be stored on a hard drive. With AMD StoreMI technology, I can fuse that hard drive to a 256GB SSD to get my HDD's capacity running at SSD-like speed. Very large SSDs are still expensive, so now I can get capacity and performance at a much more reasonable price.
The Ultimate Processor for Enthusiasts Like Me
As I said at the beginning of this blog, I am an enthusiast with three simple criteria: great gaming performance, great everything-else performance, and a helpful platform. My time with the Ryzen 7 2700X processor made it crystal clear that it's the enthusiast processor in the market that checks every box.
And for the surprising price of $329 US SEP, the deal is sealed. The Ryzen 7 2700X is the next CPU for my PCs. Will you join me?
​
---
Robert Hallock is a technical marketing guy for AMD's CPU division. His postings are his own opinions and may not represent AMD's positions, strategies or opinions. Links to third party sites are provided for convenience and unless explicitly stated, AMD is not responsible for the contents of such linked sites and no endorsement is implied.
Footnotes:
As measured by AMD Performance Labs on 03/14/2018. All games tested at 2560x1440 resolution with the in-game "High" image quality presets. Results ordered in AMD vs. Intel (Relative%): Grand Theft Auto™ V: 98 vs. 104 (-5%); Metro: Last Light™ Redux: 161 vs. 142 (+13%); Ashes of the Singularity™: 87 vs. 89 (-2%); Deus Ex: Mankind Divided™: 72 vs. 72 (Tie); Sid Meier's Civilization® VI: 89 vs. 98 (-9%); F1® 2017: 127 vs. 137 (-7%); Middle-earth™: Shadow of War™: 84 vs. 85 (-1%); HITMAN® (2016): 89 vs. 90 (-2%); Overwatch™: 130 vs. 134 (-3%); The Witcher™ 3: 83 vs. 85 (-2%); Tom Clancy's The Division™: 95.5 vs. 95 (Tie); Rise of the Tomb Raider™: 113 vs. 113 (Tie); Average of all percentages: -1%. Test configuration: Reference Motherboard + AMD Ryzen™ 7 2700X, Gigabyte AORUS Z370 + Core i7-8700K, GeForce GTX 1080 (driver 390.77), 2x8 GB DDR4-3200 (14-14-14-36), Windows 10 x64 Pro (RS3), Samsung 850 Pro SSD. Performance may vary with different drivers and system configurations. RZ2-8

As measured by AMD Performance Labs on 03/12/2018. Application Scores (AMD vs. Intel): Cinebench R15 ("video editing"): 1373 v. 1020 or 26% faster; Blender 2.79 ("3D rendering"): 29.40 seconds vs. 35.28 seconds or 17% faster; Handbrake 1.0.7 ("video encoding"): 662 seconds vs. 785 seconds or 16% faster; TrueCrypt 1GB AES ("file encryption"): 8.3 vs. 5.5 or 34% faster; POVRay 3.7 nT ("raytracing"): 2799 vs. 2506 or 10% faster. Average of all percentages ("content creation"): 20% more for AMD Ryzen™ 5 2600X. Test configuration: Reference Motherboard + AMD Ryzen™ 5 2600X, Gigabyte AORUS Z370 + Core i5-8600K, GeForce GTX 1080 (driver 390.77), 2x8 GB DDR4-3200 (14-14-14-36), Windows 10 x64 Pro (RS3), Samsung 850 Pro SSD. Performance may vary with different drivers and system configurations. RZ2-5

AMD product warranty does not cover damages caused by overclocking, even when overclocking is enabled via AMD hardware. Overclocking requires motherboard support.
6 Comments