Making Telecoms EPYC at Mobile World Congress

olivier_suinat
Staff
The telecommunications world is starting its annual pilgrimage to Barcelona for Mobile World Congress. At the show, you can imagine that we'll once again hear about the latest and greatest smartphones, the progress being made by operators around the world to bring consumers high-speed 5G networks and other buzzwords dominating the mobile and telecoms world.
But a new story will arrive at this year's show, and it will be…well, EPYC.
The AMD EPYC™ processor has won over customers in numerous industries like public cloud providers AWS and Microsoft Azure, high-performance computing centers and enterprise IT customers, but one of the more unique opportunities and storylines for the EPYC brand is in telecoms.
Not only is the AMD EPYC™ 7000 series a fantastic processor for telecoms companies building out datacenters to handle the exponential growth occurring in mobile traffic; the AMD EPYC™ Embedded 3000 processor is a fantastic embedded system on a chip that takes a lot of the features of the AMD EPYC 7000 and puts it into an embedded form factor.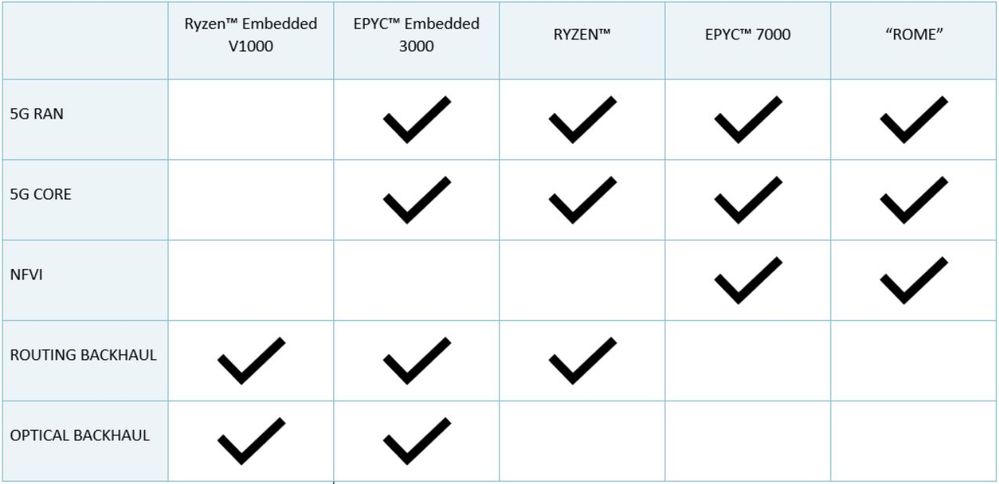 Potential telecoms applications for AMD processors
High Performance, Embedded Computing for Telecoms
Featuring up to 16 cores, up to 1TB of memory support, up to eight 10GbE ethernet ports, integrated security features, and up to 64 lanes of PCIe®, the AMD EPYC Embedded 3000 is a perfect embedded processor for things like edge devices, networking boxes housed in remote buildings, security appliances, 5G equipment and more.
IEI and Ibase are two companies that have launched network appliances for telecoms operators around the world using the AMD EPYC Embedded 3000 processor.
The IEI PUZZLE series uses the AMD EPYC Embedded 3000 processor's high core count and expansive I/O to handle proprietary network and Universal Customer Premise Equipment and offer real-time software-defined wide-area network services with any additional virtual network functions services.
The Ibase FWA8800 is the world's first network appliance based on the AMD EPYC Embedded 3000 Series processors. The FWA8800 is optimized for throughput performance and high-density deployments in applications such as network security, VPN/SDN/NFV/SD-WAN, and more. It also provides network vendors a great processor, a flexible system configuration and reliable system operation.
Expanding the EPYC 7000 Ecosystem
We're also seeing our major server partners take advantage of the AMD EPYC 7000 series for telecoms applications. Whether a telecoms operator is looking to build a 5G network, or future-ready their existing infrastructure with network functions virtualization, the AMD EPYC 7000 series processor with the HPE ProLiant DL325 Gen10 or the HPE ProLiant DL385 Gen10 is a great solution for the future of telecoms.
As well, for those environmental moments or natural disasters when a network has to continue functioning, HPE has certified both the DL325 and DL385 for NEBS level 3. This means an HPE DL325 or DL385 with an AMD EPYC processor is not only going to provide telecoms operators high core counts, incredible memory bandwidth and PCIe capabilities, but it's certified to the highest standards to work in a common set of safety, spatial and environmental guidelines.
Telecommunications services are critical to today's connected world, and anything that keeps services up and running, no matter the location or environmental factors, is essential. With NEBS level 3 certified servers, AMD EPYC and HPE are working to make this a reality.
Helping keep things Secure
As with any industry, security is a critical requirement for telecoms, and the AMD EPYC family provides a true leap forward in security features for processors. With a dedicated security processor built into the EPYC SoC architecture, customers can minimize potential attack surfaces and help protect software and data as it is booted, as it runs, and as it moves from server to server.
We're excited for the show and the chance to talk to telecoms operators about the benefits of AMD EPYC whether in a server or in an embedded application. If you're interested in learning more, come by meeting room 2D10MR at the show for a deeper dive into our innovative technologies and solution demos.
Olivier Suinat is the CVP of sales for commercial and datacenter at AMD. His postings are his own opinions and may not represent AMD's positions, strategies or opinions. Links to third party sites are provided for convenience and unless explicitly stated, AMD is not responsible for the contents of such linked sites and no endorsement is implied. GD-5