An Update On The HPC Software Ecosystem for AMD EPYC


raghu_nambiar
Staff
We are excited to be at SC'19 with our friends and family of ecosystem partners. I'd like to share my thoughts on how AMD has unleashed the EPYC revolution for HPC. AMD is all about innovation and our mission is to deliver products that help to solve the world's toughest challenges – in life sciences, earth science, energy, manufacturing, fundamental research, oil and gas, machine intelligence and many more. We celebrated our 50th anniversary milestone this year with what analysts called the '7nm storm'. The 7nm EPYC, Radeon and Ryzen processors bring new possibilities to the new era of computing with ground-breaking performance and outstanding power efficiency driving lower TCO.
Creating an inflection point with trailblazing performance and unprecedented scalability for today's HPC workloads, AMD EPYC processors mark the next milestone in "exascale computing" characterized by compute power in exaFLOPS, or a quintillion floating-point calculations per second. AMD is uniquely positioned to lead the exascale era with CPU and GPU technologies. We are collaborating with the US Dept of Energy, Cray and Oak Ridge National Laboratory to build the world's fastest supercomputer named Frontier, expected to hit 1.5 exaflops. This will be five times faster than today's top supercomputers. Powered by AMD CPUs and GPUs, Frontier will help model the entire lifespan of a nuclear reactor, uncover disease genetics, and build on recent developments in science and technology to further integrate artificial intelligence with data analytics and modeling and simulation.
HPC touches every aspects of lives. HPC in the enterprise segment also is being accelerated as many industries are looking for faster and safer solutions for real world problems, challenging the status quo to find breakthrough innovations in fields such as weather modeling and simulation, materials and manufacturing industries, oil and gas, healthcare and medicine, to name a few. HPC requires high performance CPUs.
HPC is all about high performance CPUs. AMD EPYC offers a range of processor options for HPC. Let me highlight two specific CPUs from our broad portfolio of processors. EPYC 7542, with 32 cores (2.9GHz base, up to 3.4GHz boost, 225W TDP) and 128MB of L3 cache, has been a popular option in the middle of the market, while EPYC 7742, with 64 cores (2.25GHz base, up to 3.4GHz boost, 225W) and 256MB of L3 cache, has been a popular choice at the high end. New addition to our innovative portfolio is the EPYC 7H12 which packs 64 cores (2.6GHz base, up to 3.3GHz boost, 280W TDP) specifically built for extreme performance. Here are some examples of how AMD EPYC steps up the game, yet again. Our ecosystem partners have announced highly optimized server platform for HPC to address the performance and scalability needs of emerging demands.
Faster Weather Forecasting
We are reminded of the importance of weather forecasting every day. AMD EPYC empowers solutions to more efficiently predict weather, including weather-related natural disasters, which helps reduce the enormity of losses caused by these disasters.
The Weather Research and Forecasting (WRF) Model is a popular application for predicting weather. It is used for both atmospheric research and operational weather forecasting applications. It's data assimilation system and parallel compute capability allows WRF to server a wide range of meteorological applications.
AMD EPYC demonstrates exceptional performance and scalability running WRF and AMD EPYC 7742 has been a popular choice for it. With 128 cores and 256 threads in dual CPU configurations EPYC 7742 powered servers have demonstrated approximately twice the performance of our previous generation of EPYC processors. Since WRF is open source, there are no software license costs to consider in choosing the number of cores that you run.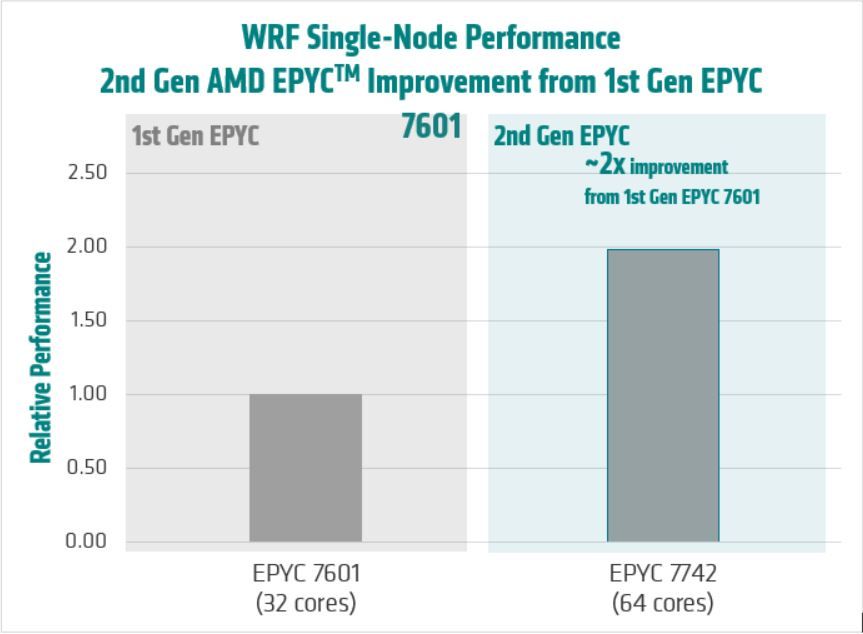 See additional 2nd Gen AMD EPYC performance test reports running WRF use cases here.
Building Faster Physical Models through Computational Fluid Dynamics
Computational Fluid Dynamics (CFD) is another critical workload for solving today's engineering challenges. We have tested several CFD codes and demonstrated industry leading performance on AMD EPYC 7002 series of processors. I want to highlight ANSYS CFX, a popular application which has a long history and is best known for its ability to simulate turbomachinery accurately and quickly. Let us look at a performance of ANSYS CFX running on two mid-range SKUs – Intel Xeon Gold 6248 processor with 20 cores, 2.5GHz base frequency and 27.5MB cache, and, AMD 2nd Gen EPYC 7542 with 32 cores, 2.5GHX base frequency and 128MB of cache.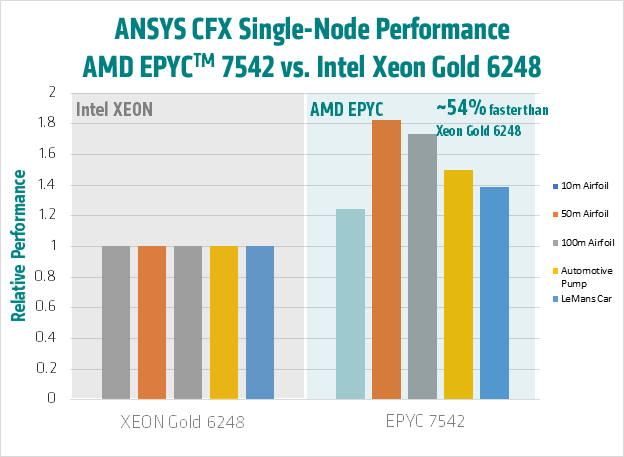 On five standard ANSYS CFX benchmark models, the 2nd Gen AMD EPYC 7542 significantly outperforms the Xeon Gold 6248. Efficiently running this many cores per CPU with stellar results allows for much denser solutions. More density with better performance allows reductions in total systems required resulting in, lower power, and a smaller footprint in the data center.
Automotive Safety is Top of Mind
Driving a safe car is one of the highest priorities for consumers. Designing a safe car quickly is one of the highest priorities for automotive manufacturers. Designing better and safer products requires the engineers to predict the consequence of any design changes on the real-world performance of their product. 2nd Gen AMD EPYC allows car makers to analyze the safety of their designs faster, leading to safer cars and faster time to market.
Altair Radioss is a leading structural analysis solver and has established itself as a leader and an industry standard for automotive crash, drop & impact analysis, terminal ballistic, blast and explosion effects and high velocity impacts.
Altair Radioss was used to compare the performance of the highest core-count 2nd Gen EPYC processor (AMD EPYC 7742) vs. the highest core-count industry-standard pin-based (LGA) competitive processor (Intel Xeon Platinum 8280). We ran 2 standard benchmarks on both systems. The results are summarized below.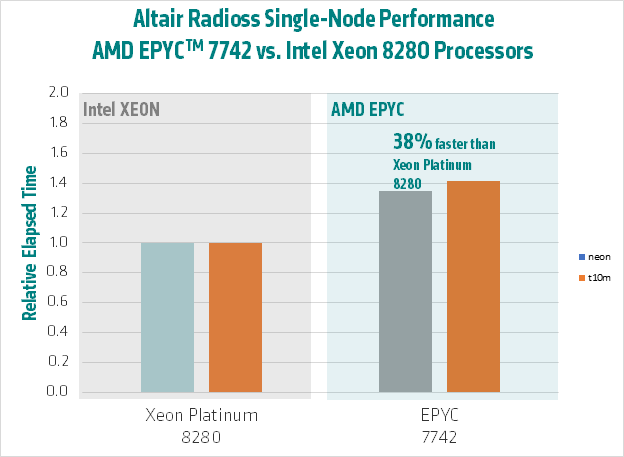 Comparing the top of the product stack of 2nd Gen EPYC processors and Intel Xeon Platinum processors, once again demonstrates the dominant performance of the 2nd Gen EPYC processors. The 7742 is 38% faster on average than the Intel Platinum 8280 across these two benchmark models.
See how AMD EPYC supports real world simulation for safety from the performance test results on Radioss.
2nd Generation EPYC processors are truly changing the game in HPC, delivering exceptional performance on real-world workloads. Talk to your AMD sales team, your software partner, or your server partner to find out which AMD EPYC processor best fits your workload's demands. Innovation is in our DNA. We are just getting started on the EPYC journey to revolutionize HPC!
We are grateful to our technology partners who have collaborated with our engineers in creating a wide range of datacenter application use cases: Altair, Ansys, Atos, Broadcom, Cadence, Cray, Dassault Systems, Dell EMC, Docker, ESI Group, Gigabyte, HPE, LSTC, Mellanox, Mentor Graphics, Microsoft, Micron, Mentor Graphics, Microsoft, Oracle, Red Hat, Samsung, ScaleMP, Siemens PLM, Supermicro, SUSE, Synopsys, WekaIO, Xilinx and others.
Raghu Nambiar is the CVP & CTO of Datacenter Ecosystems & Application Engineering for AMD. His postings are his own opinions and may not represent AMD's positions, strategies or opinions. Links to third party sites are provided for convenience and unless explicitly stated, AMD is not responsible for the contents of such linked sites and no endorsement is implied.