Mark as New

Bookmark

Subscribe

Mute
My system specification:
AMD Graphics Card

SAPPHIRE NITRO+ RX 5700XT 8G GDDR6 (no overclocking, Adrenalin's tuning settings are set to "Automatic")

Desktop

Operating System

Windows 10 Pro 64bit (v2004 build 19041.208)

Driver version installed

Adrenalin 2020 Edition 20.4.2

Display Devices

Samsung Curved C32HG70 (LC32HG70QQIXCI) 2560x1440 @144Hz DP (the same issue happens on HDMI)

Motherboard + Bios Revision

Gigabyte Z170-HD3 DDR3 (F21f BIOS, latest)

CPU/APU

Intel Core i5-6500 @3.20 GHz (no overclocking)

Power Supply Unit Make, Model & Wattage

Chieftec Chieftronic Powerplay Gold GPU-750FC 750W (GPU is connected by 2 separate 6+2 pin cables, the same issue occurs with a single cable connected)

RAM

DIMM1: Kingston HyperX KHX1866C10D3/4G
DIMM2: Kingston HyperX KHX1866C10D3/4G
DIMM3: Kingston HyperX KHX1866C10D3/4G
DIMM4: Kingston HyperX KHX1866C10D3/4G
Total RAM: 16GB
Issue description:
I truly hope AMD team will spot this thread (contacting support directly doesn't work, they say black screens are fixed and it is my issue). So, starting from Adrenalin 20 I have black screens on first Windows boot in 95% cases. If there is no black screen, it will occur if I run Chrome for example (hardware acceleration is disabled, but even if I enable it the same thing will happen). Consequently, I have to reset PC and the 2nd boot takes 2-3 minutes, then everything works whole day. I don't play at this time, it's mostly work (Chrome/Skype/Slack/Zoom/OBS Studio 1440p demo recordings etc.).
I did not have similar issues with Adrenalin 19 but I don't want to revert since those random black screens make me crazy. I'm very happy with 20.4.2 driver, it's definitely a small win but it doesn't help with Windows first boot issue.
I'm very certain it is driver issue. Why? Because in the morning (~7:30am) I have uninstalled driver completelely using DDU. I have turned on PC in 8 hours and it has simply turned on and I'm writing this question. Basic driver is used currently (sorry, it's Ukrainian):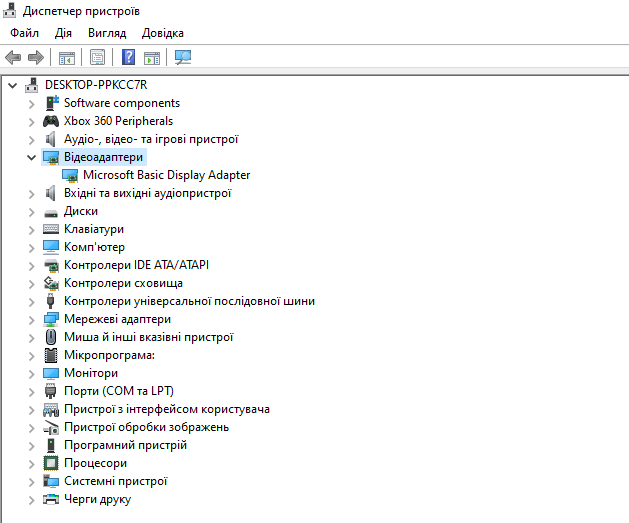 Because of GPU, I have already replaced PSU (I was using pretty good Aerocool VX-750, it's not the cheapest one), so it's definitely not a hardware issue and I truly believe (and hope
) my GPU doesn't have defects + again, no black screens on the first Windows boot on Adrenalin 19 (e.g 19.12.1).
My mobo is not very fresh so probably it's somehow linked with UEFI (I do have and use it) but it's not that easy to replace it as you may know, since I need to have new CPU + DDR4 RAM too

Am I the only person experiencing this issue? I was on Windows 10 (1909) but swtiched to 2004 to see whether it makes any difference. But no, black screen on boot is here too.
Will gladly answer any questions
1 Solution
Mark as New

Bookmark

Subscribe

Mute
Clearly your RX5700XT GPU choice was an easy upgrade and proved cheaper than just buying a 2070 Super.
25 Replies