Consumer and Commercial PCs: Two Sides of a Valuable Coin

rick_bergman
Staff
In early March, I shared my thoughts for AMD's future in PC and gaming during our Financial Analyst Day.
I wanted to follow up on what I shared, specifically when it comes to consumer and commercial PCs. I would be remiss to not acknowledge the shift the coronavirus pandemic has brought, including a change in how many people view the PC. While smart phones have seen impressive advances over the past few years, the need for PCs to work, learn and play is not going away.
Previously, having a PC at home was considered a one-per-family need. Now, with requirements around online schooling, working remotely and wanting to have an outlet for downtime while staying home, the trend seems to be shifting to a one-per-person PC demand. According to NRF's annual back to school survey, they expect American families to spend $11.8 billion USD in 2020 on electronics or computer-related equipment, a record sum. In fact, nearly two-thirds (63%) of families with K-12 kids say they will buy a computer and 60% of college shoppers say they'll buy one.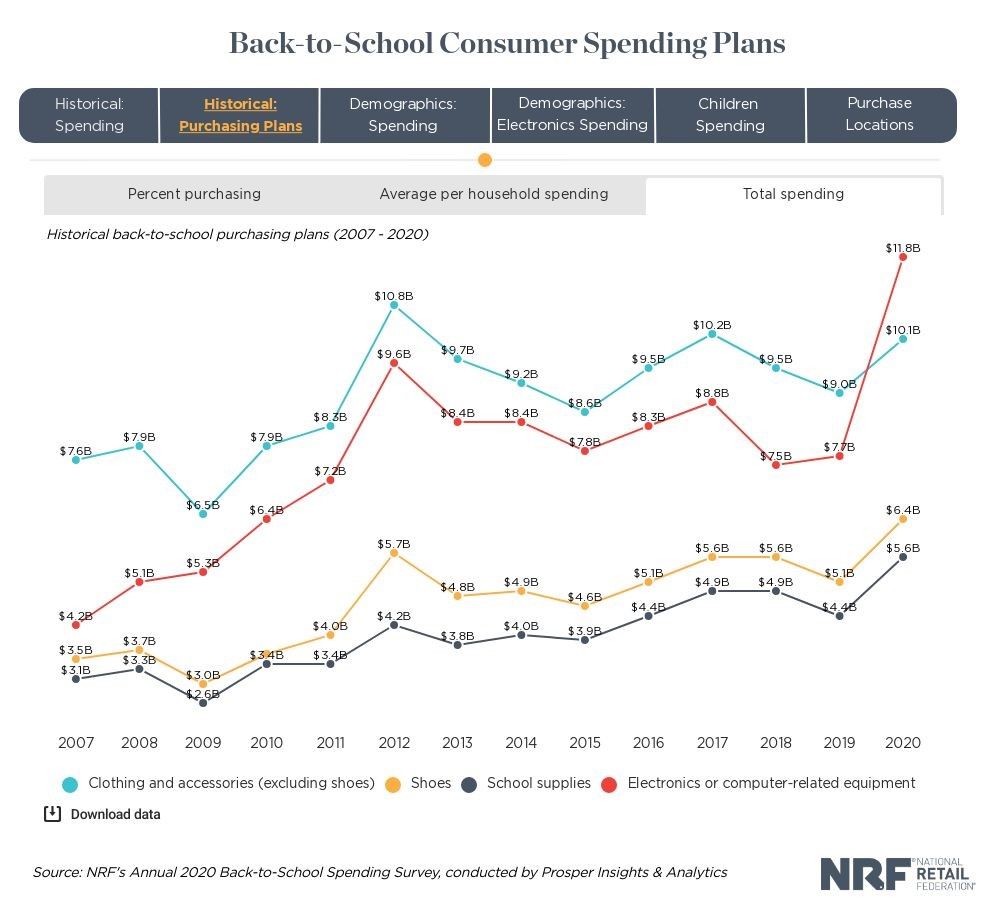 One key area of focus for both the PC industry, and us at AMD, is notebooks. At AMD, we saw record quarterly notebook revenue in Q1 2020. Our AMD Ryzen 4000 Series Mobile Processors have received rave reviews, with PC World saying, "Ryzen 4000 is without a doubt the most game-changing performance laptop CPU we've seen in years." Even with the increase in notebooks being purchased, desktops are still a significant opportunity for AMD. In fact, according to Mercury Research, the total addressable market (TAM) of desktop PCs across commercial and consumer is over $11 billion USD.
In AMD's latest Ryzen product launch, we have brought the best of both worlds - notebook and desktop - together through our innovative "Zen 2" 7nm APU. Truly one processor that does it all, with the AMD Ryzen 4000 Series we have taken the processors with built-in graphics we perfected for notebooks and optimized for a desktop environment. With this product, initially we are partnering with leading system integrators and some of the biggest PC makers in the industry, including Lenovo and HP. With this processor, users can expect better performance, double the core count and best-in-class integrated graphics in everything from powerful tower desktops to ultra-compact form factors, across consumer and commercial PCs.
For commercial desktop users, we are bringing security features including AMD Memory Guard and AMD Secure Processor with seamless manageability to ensure any AMD-powered system provides security and is easy to administer on an enterprise-level scale. And best of all, we continue to deliver the leadership performance AMD is known for. The Ryzen PRO 4000 Series Desktop Processors deliver:
Up to 31% faster performance than the competition

Up to 43% more performance per watt than the competition
For consumers, the AMD Ryzen 4700G Desktop Processor delivers flawless visuals, stellar gaming and content creation abilities and:
Up to 5% greater single-thread performance than the competition

Up to 31% greater multi-threaded performance than the competition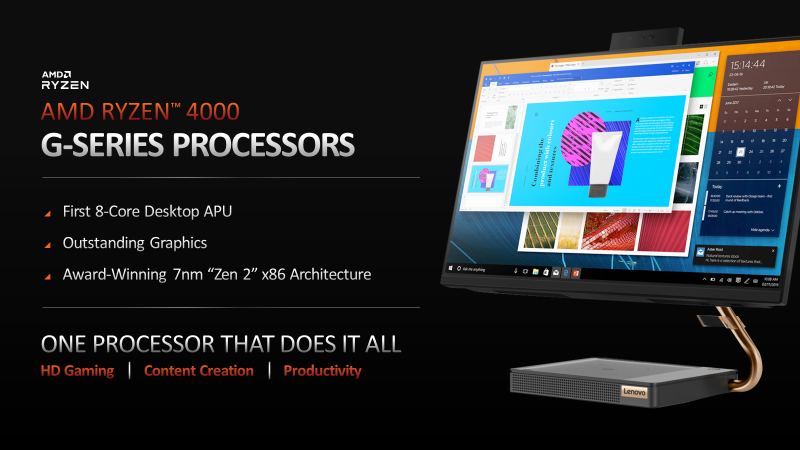 With the simultaneous launch of AMD Ryzen 4000 G-Series Desktop Processors for consumers and AMD Ryzen 4000 Series Desktop Processors with PRO Technologies for businesses, AMD has built out the "Zen 2" PC product portfolio. It is incredible to think how far we have come from our initial "Zen 2" PC product launch in July 2019, with the 3rd Gen Ryzen Desktop Processors.
So, what's next for AMD in the PC space? Well, I cannot share too much, but I can say our high-performance journey continues with our first "Zen 3" Client processor on-track to launch later this year. I will wrap by saying you haven't seen the best of us yet…

Rick Bergman is Executive Vice President of Computing & Graphics at AMD.
Cautionary Statement
This blog contains forward-looking statements concerning Advanced Micro Devices, Inc. (AMD) including, but not limited to the expected timing, availability, features, functionality and benefits of AMD's "Zen 3" architecture, which are made pursuant to the Safe Harbor provisions of the Private Securities Litigation Reform Act of 1995. Forward-looking statements are commonly identified by words such as "would," "may," "expects," "believes," "plans," "intends," "projects" and other terms with similar meaning. Investors are cautioned that the forward-looking statements in this blog are based on current beliefs, assumptions and expectations, speak only as of the date of this blog and involve risks and uncertainties that could cause actual results to differ materially from current expectations. Such statements are subject to certain known and unknown risks and uncertainties, many of which are difficult to predict and generally beyond AMD's control, that could cause actual results and other future events to differ materially from those expressed in, or implied or projected by, the forward-looking information and statements. Investors are urged to review in detail the risks and uncertainties in AMD's Securities and Exchange Commission filings, including but not limited to AMD's Quarterly Report on Form 10-Q for the quarter ended March 28, 2020.