AMD to Integrate Microsoft Pluton Security Processor to Future Ryzen Products


amd_corporate
Staff
Bookmark

Subscribe

Email to a Friend
Remote working was already on pace to become the new norm, however recent events across the globe have certainly accelerated that transition. Whether it is employees working from home, students engaging in distance learning, or family and friends catching up using web and video conferencing, there is in fact a new normal emerging: remote connectivity and collaboration.
This cultural shift where people are connected all the time and working from anywhere has made computers an attractive target for cybercriminals as more personal and confidential data is being stored on computer systems. AMD security technologies and AMD based Secured-Core PCs provide security solutions for today's attacks, but in the constantly evolving world of cyberattacks there is a need for an innovative security solution spanning across hardware and software.
As part of that solution, AMD and Microsoft have partnered to introduce the Microsoft Pluton security processor which will be tightly integrated into future AMD Client APUs and CPUs.
The AMD and Microsoft partnership on hardware security started with the introduction of Pluton as integrated hardware and OS capabilities in the Xbox One console and now, this same partnership has been extended to Windows PCs by integrating Microsoft Pluton IP into AMD client silicon.
The AMD Security Processor (ASP) and the Microsoft Pluton security processor co-exist on AMD client silicon and are in communication with each other to help protect the integrity of the device. Pluton helps provide security to Windows PC systems by acting as an integrated hardware root of trust for the Windows ecosystem while ASP acts as the silicon hardware root of trust which helps provide integrity by authenticating initial firmware loaded on the platforms.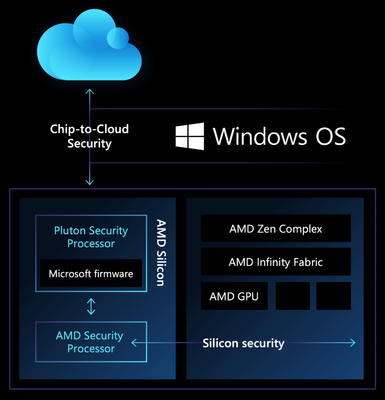 ASP and Microsoft Pluton help protect users' confidential and personal data whether they are on the move or connected to a business network, even if their laptop has been lost or stolen. The integrated design provides improved protection against attackers attempting to hide malicious code in the system or trying to steal credentials or encryption keys using sophisticated physical attacks.
"At AMD, we're constantly improving our security features with innovative solutions that put our customers at the core of every decision," said Jason Thomas, head of product security, AMD. "Working with partners like Microsoft allows us to make an even bigger impact and we're proud to be an integral part of the Microsoft Pluton security processor, an innovative security solution that we plan to incorporate into future AMD CPUs specifically designed to cover both hardware and software, helping keep sensitive information safe from potential cyberattacks."
The Microsoft Pluton security processor on AMD silicon is the beginning of a new era in security solutions. We believe that in the future, AMD silicon with Pluton will be able to help mitigate security challenges in the fields of supply chain, serviceability, device attestation, and others.
"Microsoft is proud to have worked across the ecosystem to re-envision security at the deepest layers of computing. The Microsoft Pluton design will create a much tighter integration between the hardware and the Windows operating system at the CPU that will reduce the available attack surface. This is a significant step forward to deliver the best possible security for Windows customers. Our history with AMD in Xbox has laid a strong security foundation to build on our chip-to-cloud security approach and we are looking forward to bringing this security innovation to the PC ecosystem." – David Weston, director of Enterprise and OS Security, Microsoft.
As a leading high-performance computing provider, AMD takes a leadership role in introducing first of its kind silicon-based security features designed to mitigate real world security challenges. Our vision is to protect customer data whether it is via AMD Memory Guard or AMD Secure Encrypted Virtualization (SEV) in servers protecting virtual machines from bad hypervisors.
We aim to continue our security leadership by being the first x86 silicon provider to offer Microsoft Pluton security processor on future AMD Client APUs and CPUs.
Learn more about Microsoft Pluton security processor here.