The Modern Data Center is Hyperconverged

dan_mcnamara
Staff
New Dell Technologies HCI systems are the latest to tap AMD EPYC™processors to deliver efficient infrastructure and simplified management for the enterprise
Editor's Note: We invite you to join Greg Gibby, AMD data center expert, on Thursday, July 16, 2020 at 11am CDT as he provides insights on how to deliver the most from your HCI deployment. Please register for the webinar here.
The IT landscape is in a state of evolution. Leaders are reconfiguring their infrastructure to support the new "work from anywhere" environment while continuing to support a transition to digital business, and ensuring they are doing all of this while driving value. It is a big task for the modern-day IT leader. One of the ways to help succeed in this new normal is by creating an IT infrastructure that is flexible, powerful, efficient, secure, and simple to manage.
This is why Hyperconverged Infrastructure (HCI) is a fantastic option for enterprises. It takes all the elements of a traditional "hardware-defined" IT infrastructure and evolves it into a "software-defined" virtualized environment that is simpler to manage and operate. HCI provides the scalability and simplicity of the cloud with the performance of on-premise infrastructure.
In a "traditional infrastructure" featuring hardware-based solutions, compute servers, networking, storage and fiber channel are independent systems managed separately. HCI consolidates these disparate systems into one or two solutions to increase efficiency and flexibility, while simplifying management.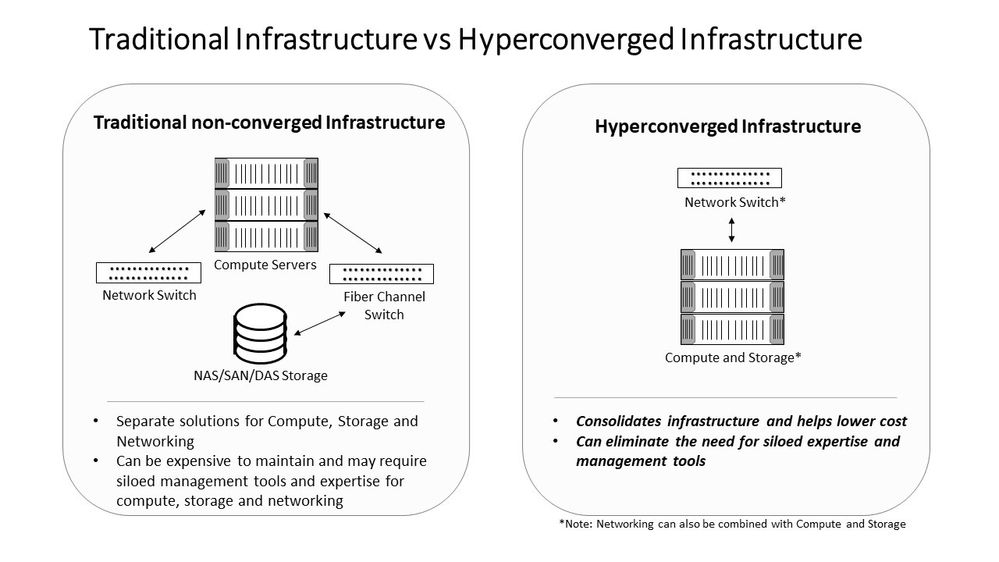 Modern HCI Data Centers, Powered by AMD EPYC
When enterprises are considering an HCI environment, they look at appliances and solutions that are powered by computing processors that deliver three things:
Support for a densely virtualized environment, as this is the underpinning of HCI. More virtual machines equal more capabilities.
Peace of mind in moving to a software-defined virtualized environment protected by advanced security features.
Performance and efficiency that reduces overhead and operations costs, improving overall TCO.
With HCI environments powered by 2nd Gen AMD EPYC processors, customers get a flexible, powerful, efficient, and simple to manage IT infrastructure with robust security capabilities. This is done with the industry's first "no compromise" single socket processor with up to 64 processing cores, and advanced security features like Secure Encrypted Virtualization (SEV). SEV aids in protecting confidentiality of data even if a malicious virtual machine finds a way into a virtual machine's memory, or a compromised hypervisor reaches into a guest virtual machine.
All of this enables IT decision makers to build a powerful and secure-minded HCI environment that can provide exceptional TCO advantages for the customer, allowing them to free up valuable resources to be applied elsewhere in a business.
Dell Technologies Expands Support of AMD EPYC Processors
Dell Technologies today announced the addition of AMD EPYC processor support to its new Dell EMC VxRail
E Series hyperconverged systems. This latest addition further expands the portfolio of HCI solutions and appliances powered by AMD EPYC processors.
The new Dell EMC VxRail
E665, E665F, and E665N hyperconverged systems take advantage of the powerful performance capabilities, high core counts, and class leading memory bandwidth of 2nd Gen AMD EPYC processors.
The only fully integrated, pre-configured, and pre-tested VMware
hyperconverged system powered with VMware HCI software, these new VxRail systems with 2nd Gen AMD EPYC processors deliver a turnkey experience with full stack lifecycle management, enabling customers to accelerate their adoption of a modern HCI data center environment.
AMD EPYC and VMware
Software is critical to running a high-performance HCI environment. As the leading provider of HCI software[ii], VMware has a robust set of HCI software offerings, including vSphere® and vSAN, that support AMD EPYC processors and can help an IT leader make the switch to an HCI environment. 2nd Gen AMD EPYC processors can provide unmatched performance capabilities for VMware software, as shown by a world record VMmark® 3.1 score (using vSAN™ as the storage tier in a 4-node cluster).[iii]
"The performance and density innovation in AMD 2nd Gen EPYC processors is lighting up our mutual customers who are bringing the most performant use cases to the VMware Cloud Foundation with Tanzu," said Lee Caswell, VP Marketing, Cloud Platform Business Unit, VMware. "VMware and AMD are working together to help customers reinvent the data center based on server-based, scale-out architectures that flex to the pace and economic realities of today's modern application developer environments."
The Dell EMC VxRail E Series systems use VMware vSphere and vSAN for virtualization and storage management, and 2nd Gen AMD EPYC processors provide VMware customers with the performance and security features to modernize their data center infrastructure with HCI.
Your Best Computing Engine for Modern HCI
If you are looking to move to an HCI environment with your IT infrastructure to manage overhead, provide high-performance services to your business and keep up with the evolution into a digital workspace, AMD EPYC processors are the clear choice for modern HCI.
The new Dell EMC VxRail E Series systems with 2nd Gen AMD EPYC processors continue the technical collaboration between AMD, Dell Technologies and VMware to provide customers with performance, scalability, and advanced security features for all their HCI needs. The VxRail portfolio is now available and customers can learn more here.
Dan McNamara is the SVP and GM of the server business at AMD. His postings are his own opinions and may not represent AMD's positions, strategies or opinions. Links to third party sites or use of third-party names/marks are provided for convenience and unless explicitly stated, AMD is not responsible for the contents of such linked sites and no endorsement is implied.
EPYC™ 7002 series has 8 memory channels, supporting 3200 MHz DIMMs yielding 204.8 GB/s of bandwidth vs. the same class of Intel Scalable Gen 2 processors with only 6 memory channels and supporting 2933 MHz DIMMs yielding 140.8 GB/s of bandwidth. 204.8 / 140.8 = 1.454545 - 1.0 = .45 or 45% more. AMD EPYC has 45% more bandwidth. Class based on industry-standard pin-based (LGA) X86 processors. ROM-11
[ii] According to IDC data https://www.idc.com/getdoc.jsp?containerId=prUS46148920
[iii] 47% higher score amd 56% more tiles (VMs) based on VMmark® 3.1 vSAN™ comparing 2x EPYC 7F72 scoring 13.27 @ 14 tiles (266 VMs), https://www.vmware.com/content/dam/digitalmarketing/vmware/en/pdf/vmmark/2020-04-14-DellEMC-PowerEdg... compared to the next highest competitive result on 2x Intel® Xeon® Platinum 8276L scoring 9.00 @ 9 tiles (171 VMs), https://www.vmware.com/content/dam/digitalmarketing/vmware/en/pdf/vmmark/2019-08-12-Hitachi-UCPHC-V1...). 47% higher score = 13.27/9 = 1.474x the score and 56% more tiles (VMs) = 14/9=1.555x the tiles (VMs) as of 4/14/20. VMmark® is a product of VMware, Inc. ROM-639