New AMD EPYC™ Processor Family Delivers Power to Embedded Applications

scott_aylor
Staff
Bookmark

Subscribe

Email to a Friend
On June 20, 2017, AMD disrupted the server space in a big way with the announcement of our EPYC™ 7000 series processors, including support from a global ecosystem of customers and partners. Fast forward to the new year and AMD is celebrating the rejuvenation of its embedded solutions by welcoming a new processor to the family.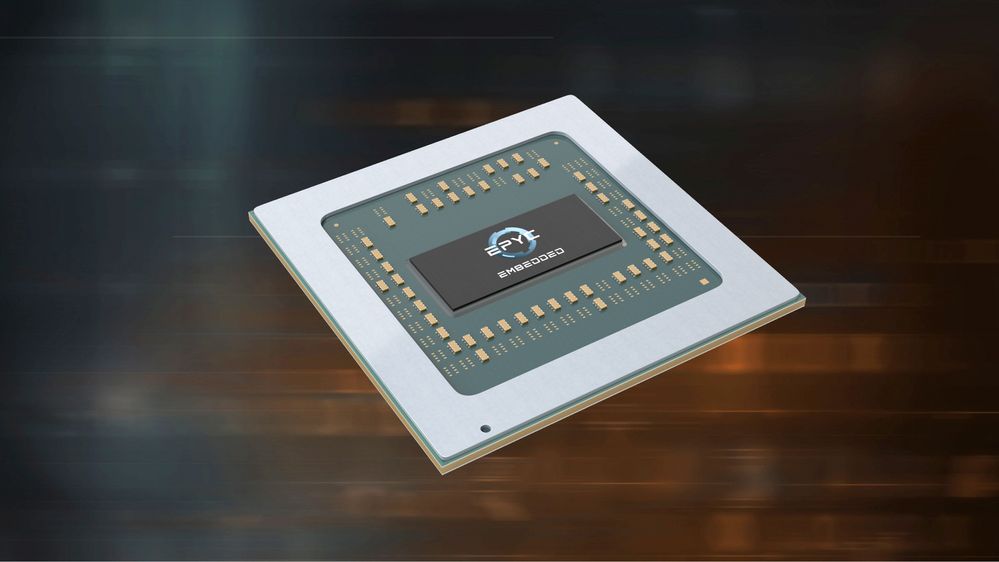 The performance of the "Zen" architecture and datacenter insight from EPYC are infused in the make-up of the company's next-generation embedded CPU – the AMD EPYC Embedded 3000 processor family. These two distinct and important qualities, architecture and insight, position AMD to help partners and customers take a sophisticated approach to navigating and exploring the shift in computing from the server to the edge.
As a result, workloads no longer need to be solely dependent on the core of a network to process and complete intensive tasks. The AMD EPYC Embedded 3000 processor family meets the stringent requirements for the majority of embedded processors, including power management and dependability, while delivering on major advancements in I/O integration, flexibility and security. This advanced processor is ready to support network function virtualization (NFV), software-defined networking (SDN), industrial system applications and more. Additionally, the AMD EPYC Embedded 3000 processor family delivers up to 2.7X more performance-per-dollar and up to 2X more connectivity[ii] than competitive solutions on the market today.
At a Glance: EPYC Embedded 3000 Processor Family
The AMD EPYC Embedded 3000 processor family is based on the 'Zen' architecture and a 14nm FinTET process
A wide range of core counts, including options for 16, 12, 8 and 4 cores per socket
Up to 64 PCIe Gen 3 lanes
High-performance single and multithreaded processing
Up to 8 channels of 10GbE Ethernet
Up to 32MB shared L3 cache with options for 4 independent memory channels
TDPs ranging from 30W to 50W (for 1 die and up to 8 cores) and 60W to 100W (for 2 dies and up to 16 cores)
Unparalleled enterprise-grade reliability, availability and serviceability (RAS) features
Product availability for up to 10 years, offering customers a long lifecycle support roadmap
The Ecosystem Perspective: Networking and Communications with Seagate
Well-positioned to tackle storage applications in dynamic new ways, Seagate, a world leader in storage solutions, is evaluating the AMD EPYC Embedded 3000 to support the company's intelligent storage array technologies. With a growing abundance of storage information populated daily, Seagate customers are frequently searching for ways to break down dependability and performance challenges.
Seagate is particularly interested in next-generation performance and enterprise-class RAS features to push for an up to 40 percent performance improvement over prior generations of product architectures. The performance gains are no small feat, and Seagate is working to help ensure that customers get the performance they need at an improved total cost of ownership.
In addition, AMD continues to work with a variety of customers and partners to deliver processing excellency and impact to workloads across other key industries including networking and industrial applications.
Concluding the First Zen-to-Zen Journey
The AMD EPYC Embedded 3000 product family is a nice capstone on the first generation of 'Zen'-based products, including Ryzen™, EPYC, and now Ryzen™ Embedded and EPYC Embedded. However, this processor is also unique in the 'Zen'-to-'Zen' experience delivered from a family of products that span from the server and the edge. As industries move toward enabling machine learning, AI and internet of things at the edge, the AMD EPYC Embedded 3000 is ready to shape advanced embedded capabilities today and into the future.
Cautionary Statement
This blog contains forward-looking statements concerning Advanced Micro Devices, Inc. (AMD) including the features, functionality, availability, timing, deployment, and expected benefits of the Ryzen™ Embedded V1000 processor and the products being developed by customers based on Ryzen™ Embedded V1000 processor as well as the expected support from major ecosystem partners, which are made pursuant to the Safe Harbor provisions of the Private Securities Litigation Reform Act of 1995. Forward-looking statements are commonly identified by words such as "would," "intends," "believes," "expects," "may," "will," "should," "seeks," "intends," "plans," "pro forma," "estimates," "anticipates," or the negative of these words and phrases, other variations of these words and phrases or comparable terminology. Investors are cautioned that the forward-looking statements in this document are based on current beliefs, assumptions and expectations, speak only as of the date of this document and involve risks and uncertainties that could cause actual results to differ materially from current expectations. Such statements are subject to certain known and unknown risks and uncertainties, many of which are difficult to predict and generally beyond AMD's control, that could cause actual results and other future events to differ materially from those expressed in, or implied or projected by, the forward-looking information and statements. Investors are urged to review in detail the risks and uncertainties in AMD's Securities and Exchange Commission filings, including but not limited to AMD's Annual Report on Form 10-K for the year ended December 30, 2017.
---
Estimates based on SPECint®_rate_base2017 using the GCC-02 v6.1 compiler. AMD-based system scored 24.2 in tests conducted in AMD labs as of 12 January, 2018, configured with 1 x EPYC 3251 SOC ($315 per processor at AMD 1ku pricing), 32GB memory (2 x 16GB 2Rx4 PC4-2666 running at 2666), 1x 250 GB SSD, AMD Wallaby Rev C, RHEL 7.4. Intel Xeon D 1540 scored 16.1. based on tests conducted in AMD labs as of 12 January, 2018 using Supermicro Server System X10SDV-8C-TN4F, configured with 1 x Xeon D 1540 ($581 each processor per ark.intel/com), 32GB memory (2 x 16GB 2Rx4 PC4-2666 running at 2133), 1x 250 GB SSD, RHEL 7.4.EMB-152.
[ii] AMD EPYC™ Embedded 3451 supports up to 64 PCI Express high spend I/O lanes, 8 10 GbE, 16 SATA, and 4 memory channels versus Xeon D 1587 supports 32 PCIe lanes, 4 10GbE, 6 SATA, 2 memory channels. EMB-153.