Microsoft Takes Pole Position in Laptops based on AMD Technology

jack_huynh
Staff
Bookmark

Subscribe

Email to a Friend
Introducing the AMD Ryzen 5 and AMD Ryzen 7 Microsoft Surface Edition Processors: A New Level of Responsiveness and Speed in an Ultra-Slim Design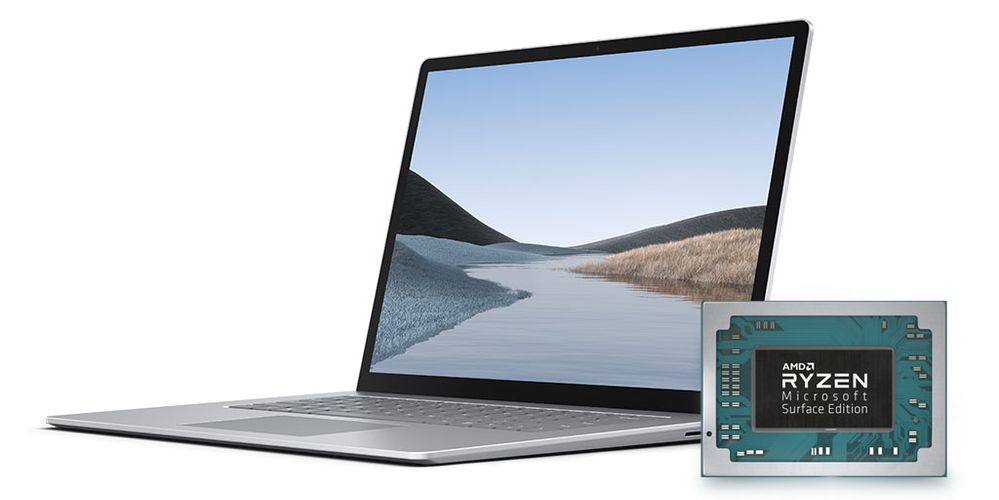 We are thrilled to announce the new AMD Ryzen™ Surface Edition processors built exclusively for Microsoft® Surface® Laptop 3. This is the first-ever 15" Surface laptop from Microsoft, with AMD computing and graphics technology under the hood.
The new Microsoft Surface Laptop 3 extends the long-standing collaboration between Microsoft and AMD from the world of Xbox console gaming to the PC. Just as we have done with our Xbox collaboration, AMD and Microsoft set out several years ago with a shared vision to bring the best of both companies together to revolutionize the laptop. Thanks to the tens of thousands of hours of co-development work to combine the fastest AMD mobile processor for ultrathin laptops with significant software and system optimizations from Microsoft, the Microsoft Surface Laptop 3 delivers the best user experience in an ultra-slim laptop. The co-engineering behind the Surface simultaneously provides unprecedented performance and all-day battery life in a sleek, lightweight design at only 3.4 lbs. Like an expertly crafted and finely tuned racecar, Microsoft Surface Laptop 3 offers a unique user experience through several key performance features.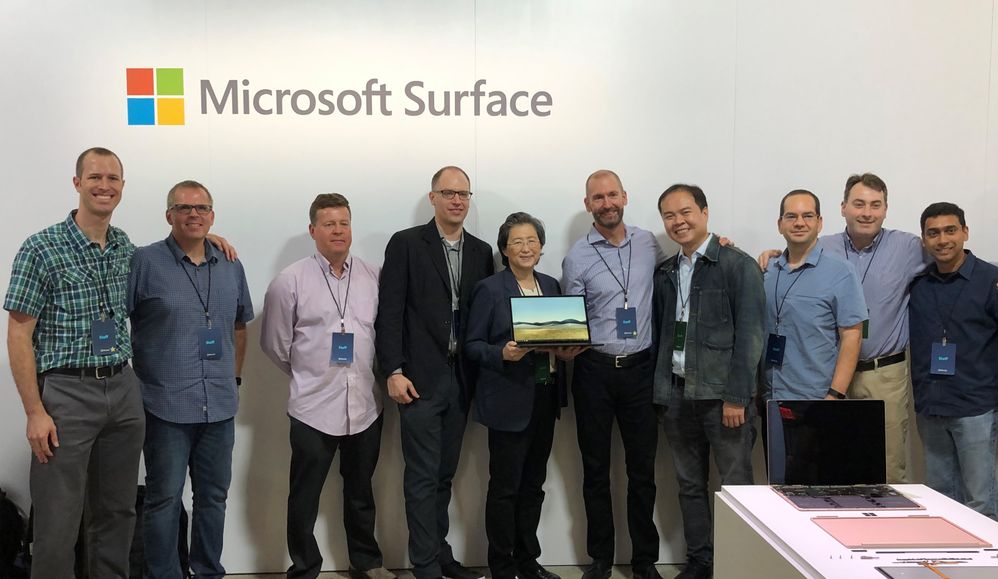 Photo: With Brett Ostrum, CVP, Microsoft Surface and Microsoft Surface Design Team
Key performance features to unlock while "driving" Microsoft Surface Laptop 3:
Go from idle to full boost in the blink of an eye: We challenged ourselves to improve Smart Performance Shift with enhanced highly tuned predictive algorithms that adapt to the end-user workload on-demand, delivering a perfect balance of battery life and peak performance under virtually any situation. This re-engineered approach provides a hybrid-turbo-like capacity for bursts up to 4 GHz of "Zen+" CPU performance or take what is already the

world's fastest performing graphics for ultrathin laptops

to new heights when needed.

Effortless acceleration

when needed: The specifically customized AMD Ryzen Microsoft Surface Edition processor inherits from the graphics core architecture of Xbox One and includes one additional compute unit more than any other AMD Ryzen mobile processor for an extra boost of graphics horsepower. Complex content creation and machine learning workloads seamlessly offload to the massive parallel-processing GPU engine through AMD Radeon™ OpenCL® and WinML drivers. Microsoft Surface Laptop 3 harnesses the power of its compute and graphics resources to drive demanding content creation and gaming workloads in an ultrathin laptop.
Crystal clear, vivid display: Connected to a world-class GPU engine with AMD FreeSync™technology controlling a high resolution (200 DPI) display. Lean back and enjoy movies or games smoothly on-the-go, building upon the same leadership Radeon GPU technology found in the Xbox One X. AMD's wide color gamut and display color calibration enable vivid on-screen colors in games and videos that better match real life.

Dynamic responsiveness: A fully optimized pen interface delivers unparalleled precision through the revolutionary on-die pen controller. The fully optimized pen software stack takes up to 200 measurements per second. Paired with the optimized Bluetooth® stack, Windows scheduling priority, and foreground application boost – the pen has never been more powerful.

Roadside assistance: Re-architected system software from firmware capsule storage to recovery of critical system functions gives peace of mind that the system is stable, robust, and protected from failures.

Be heard even in a crowded arena: Next-level voice detection optimized to perform even in noisy or echo-filled environments powered by a superior DSP algorithm – the Microsoft Surface Laptop 3 voice assistant is always on, always ready for the next spoken request.

A quick start is everything: Fast storage access delivers the highest performance from the internal SSD, dramatically reducing application start, system boot, and file copy times.

No need for pit-stops: The system constantly monitors vital processor and skin temperatures to deliver the highest performance possible while keeping Microsoft Surface Laptop 3 cool to the touch. A new Windows system management framework enables the processor to directly negotiate the power policy with the OS. Microsoft added specific optimizations for the first time in the Windows OS to ensure that all the applications have the best environment to shine.

Always connected: Power and performance-optimized WiFi stack with Modern Standby delivers super-fast transfer speeds when needed most and always stays connected on-the-go.

Stay cool while in the driver's seat: Microsoft Surface Laptop 3 is performance-modeled for maximum thermal management headroom through thousands of hours of thermal simulations. The ultimate combination of processor thermal calibration and containment, and system thermal dissipation sustains those demanding content creation and gaming workloads.
This is just the beginning of an exciting relationship and co-engineering with the Surface team, and we look forward to continued collaboration that pushes the boundaries of what is possible in technology and gaming.
We can't wait for users to take Microsoft Surface Laptop 3 for a spin. This amazing new, ultra-slim laptop will truly satisfy their need for speed.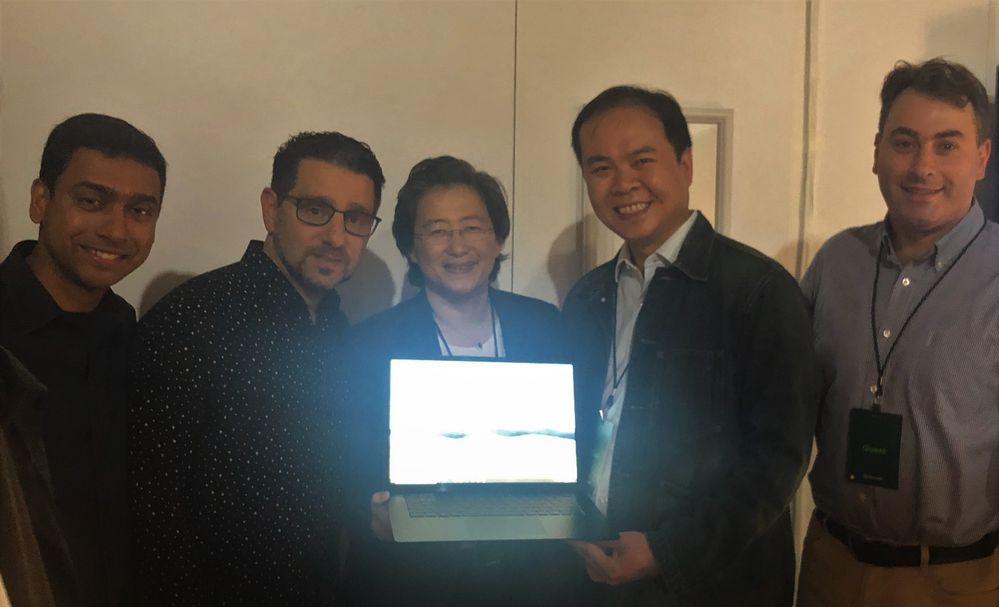 Photo: Pavan Davuluri, Distinguished Engineer, Microsoft Surface; Panos Panay, Chief Product Officer, Microsoft Surface; Lisa Su, AMD CEO; Jack Huynh, CVP & GM, Semi-Custom, AMD; Sebastien Nussbaum, CVP, Engineering, Semi-Custom, AMD
Jack Huynh is Corporate Vice President and General Manager for AMD's Semi-Custom Group.
6 Comments