Get More Productivity, Professional and Protection features with AMD Ryzen™ PRO and Athlon™ PRO Mobile Processors


dtjong
Staff
We understand your business. You need fast devices to keep up with your business, security features to help keep your data safe and manageability to keep your fleet organized and up to date. Upgrade Your Experience and Get more from your notebook with 2nd Gen AMD Ryzen™ PRO and Athlon™ PRO processors.
Get More Productive
No one likes dealing with slow and unresponsive notebooks. With all those tasks running in the background from virus scanners to OS updates, a system can start to feel a little sluggish.
Our latest Ryzen™ 7 PRO 3700U processor with up to 4 cores and 8 threads is up to 2.8 times faster than our older AMD PRO A12-9800B APUs.1 Ryzen™ PRO processors represent AMD's next generation of performance, which means less waiting and more doing at the workplace.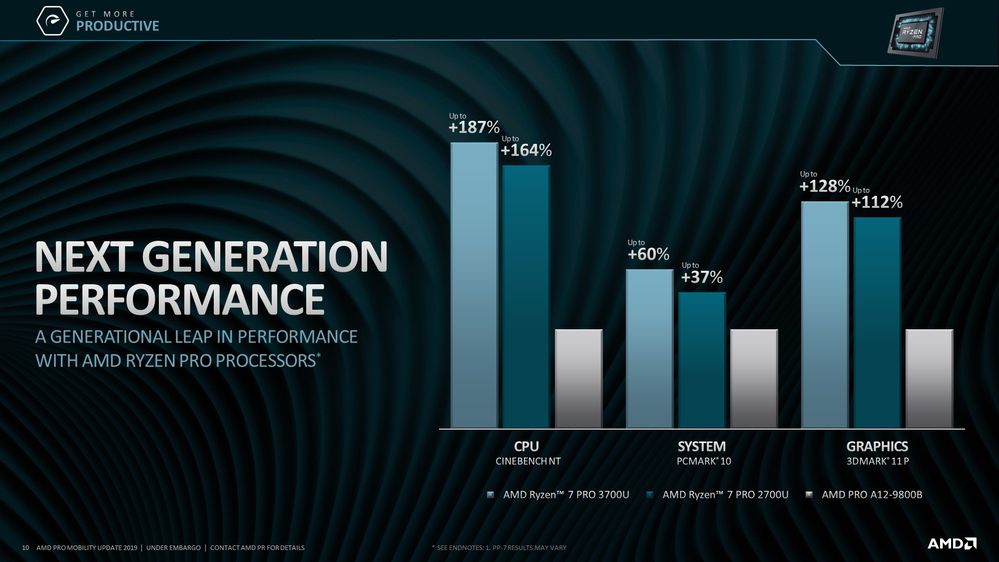 Get More Creative
Radeon™ Vega Graphics is not just for gaming but also helps accelerate the workplace. Premium graphics helps employees drive 4K displays for additional screen real estate, accelerate media playback for smooth video and speeds up creative tasks. With a Ryzen™ PRO mobile processor with Radeon™ Vega Graphics experience up to 36% faster photo editing, 64% faster 3D modeling and 258% faster medical visualization over the competition.2,3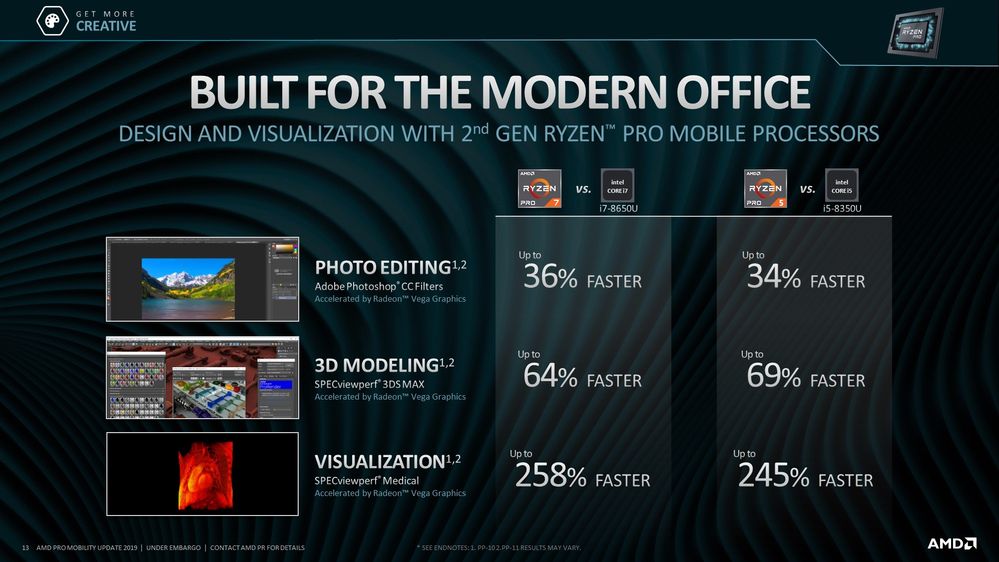 Get More Portable
No power outlets available? No Problem. Notebooks powered by Ryzen™ PRO and Athlon™ PRO processors are designed for the 9-5 workday. Get up to 12 hours of general office use or up to 10 hours of video playback with the AMD Ryzen™ PRO 7 3700U processor. 4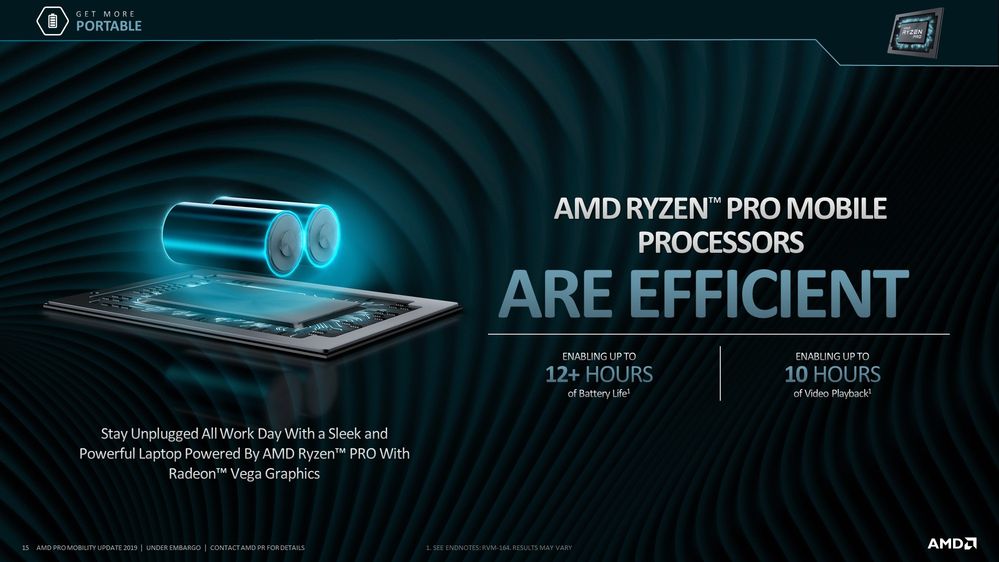 Get More Security Features
The global average cost of a data device breach is $3.86 Million.5 Ryzen™ PRO processors help protect against malicious data attacks from the moment of power-on with Secure Boot, lock down Windows 10 enterprise systems with Microsoft Device Guard enhanced with AMD GuardMI technology and help defend against attack to your system RAM (aka Cold Boot Attacks) with memory encryption. AMD Ryzen™ PRO and Athlon™ PRO processors is the only processor family with full memory encryption as a standard security feature. 6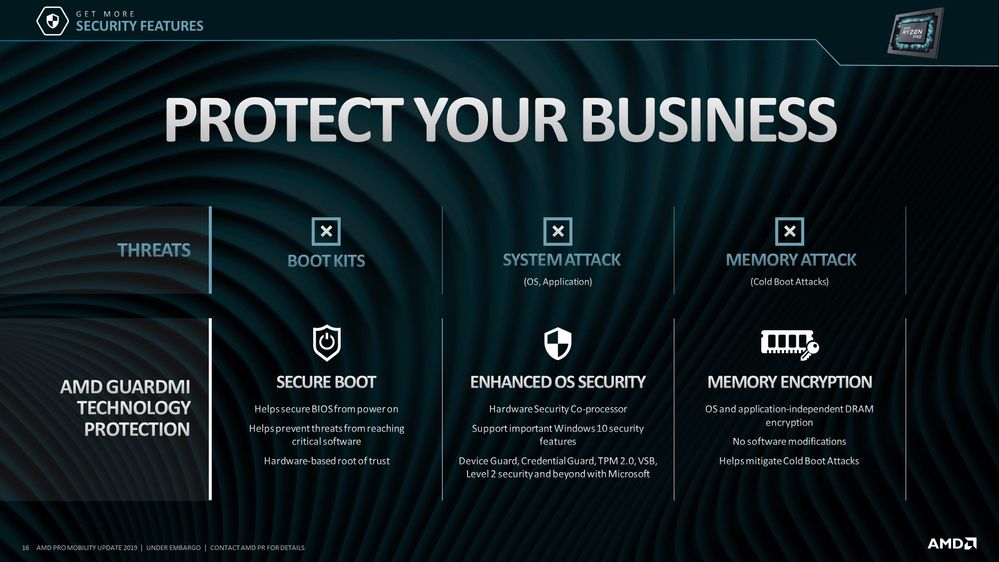 Get More Pro Options
With AMD PRO processors we don't force you to purchase premium more expensive solutions to get the security and professional features that enterprises need. So whether you want a Ryzen PRO 7, 5, 3 or Athlon Pro processors, you can choose the right performance level you need for your business without sacrificing on enterprise security and manageability features.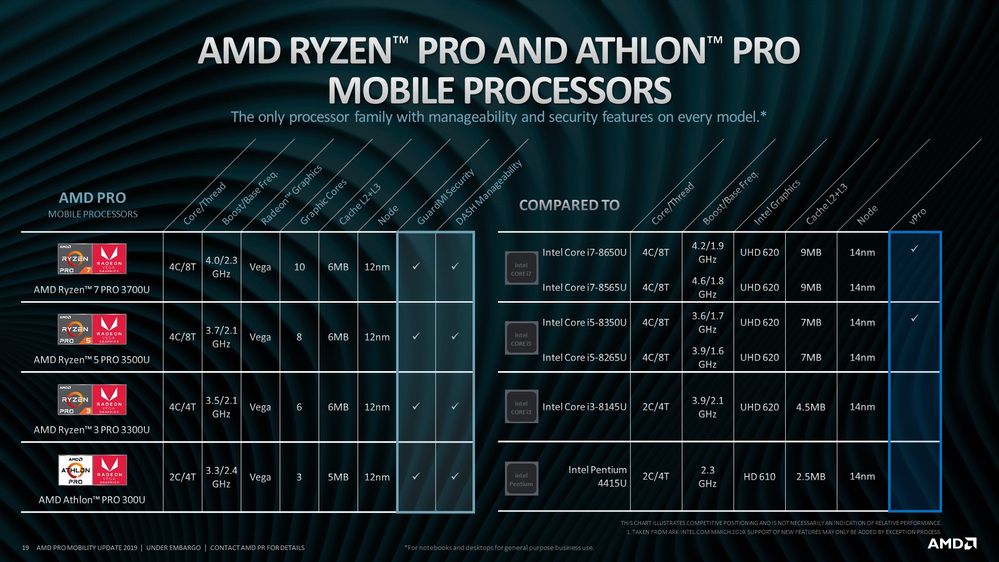 Click Here to learn more about the new 2nd Gen Ryzen™ PRO and Athlon™ PRO processors.
David Tjong, Product Marketing Manager for AMD. His postings are his own opinions and may not represent AMD's positions, strategies or opinions. Links to third party sites are provided for convenience and unless explicitly stated, AMD is not responsible for the contents of such linked sites and no endorsement is implied. GD-5
1. Testing conducted by AMD Performance Labs as of January 10, 2019. Cinebench 1T used to measure CPU Single Thread Performance. Performance presented in A12-9800B (100%) vs Ryzen 7 PRO 3700U scored a 152.0475, Ryzen 7 PRO 2700U scored a 140.1425 while the A12-9800B scored a 84.75 for a comparison of 152.0475/84.75=1.79 and 140.1425/84.75=1.65 respectively. Cinebench nT used to measure CPU Multi Thread Performance. Performance presented in A12-9800B (100%) vs Ryzen 7 PRO 3700U scored a 688.4775, Ryzen 7 PRO 2700U scored a 634.345 while the A12-9800B scored a 240 for a comparison of 688.4775/240=2.87 and 634.345/240=2.64 respectively. PCMark 10 used to measure System Performance. Performance presented in A12-9800B (100%) vs Ryzen 7 PRO 3700U scored a 4075.5, Ryzen 7 PRO 2700U scored a 3494 while the A12-9800B scored a 2547.33 for a comparison of 4075.5/2547.33=1.60 and 3494/2547.33=1.37 respectively. 3DMark 11 Performance used to measure Graphics Performance. Performance presented in A12-9800B (100%) vs Ryzen 7 PRO 3700U scored a 4432.25, Ryzen 7 PRO 2700U scored a 4125 while the A12-9800B scored a 1947 for a comparison of 4432.25/1947=2.28 and 4125/1947=2.12 respectively. System Configurations: AMD Ryzen™ 7 PRO 3700U, 2x4GB DDR4, Radeon™ Vega 10 Graphics (driver 25.20.14102.16), Samsung 850 Pro SSD, Windows® 10 Pro x64 AMD Ryzen™ 7 PRO 2700U, 2x4GB DDR4, Radeon™ Vega 10 Graphics (driver 25.20.14102.16), Samsung 850 Pro SSD, Windows® 10 Pro x64 AMD PRO A12-9800B, 2x4GB DDR4, Radeon™ R7 Graphics (driver 22.19.662.4), Samsung 850 Pro SSD, Windows® 10 Pro x64 PCMark and 3DMark are registered trademarks of Futuremark Corporation. PC manufacturers may vary configurations yielding different results. All scores in are an average of 3 runs with the same settings. Performance may vary based on use of latest drivers. PP-7
2. Testing conducted by AMD Performance Labs as of January 10, 2019 "Photo Editing defined as a scripted series of photo filters in Photoshop presented in i7-8650U (Dell Latitude 7490) (100%) vs Ryzen 7 PRO 3700U took 52.9 seconds to complete, while the i7-8650U took 71.9 seconds for a comparison of (71.9-52.9)/52.9=1.36 | SPECView Perf 13 3DSMax used to measure 3D Modeling Performance. Performance presented in i7-8650U (Dell Latitude 7490) (100%) vs Ryzen 7 PRO 3700U scored a 24.265 while the i7-8650U scored a 14.7525 for a comparison of 24.265/14.7525=1.64 | SPECView Perf 13 Medical used to measure Medical Viewset Performance. Performance presented in i7-8650U (Dell Latitude 7490) (100%) vs Ryzen 7 PRO 3700U scored a 7.84 while the i7-8650U scored a 2.19 for a comparison of 7.84/2.1875=3.58 | PCMark 10 DCC Subtest used to measure Content Creation Performance. Performance presented in i7-8650U (Dell Latitude 7490) (100%) vs Ryzen 7 PRO 3700U scored a 3595.25 while the i7-8650U scored a 3162 for a comparison of 3595.25/3162=1.14 | System Configurations: AMD Ryzen™ 7 PRO 3700U, 2x4GB DDR4, Radeon™ Vega 10 Graphics (driver 25.20.14102.16), Samsung 850 Pro SSD, Windows® 10 Pro x64 | Intel i7-8650U, Dell Latitude 7490, 2x4GB DDR4, Intel UHD 620 Graphics (driver 22.20.16.4799), Samsung 850 Pro SSD, Windows® 10 Pro x64 PC manufacturers may vary configurations yielding different results. All scores in are an average of 3 runs with the same settings. Performance may vary based on use of latest drivers. PP-10
3. Testing conducted by AMD Performance Labs as of January 10, 2019 Photo Editing defined as a scripted series of photo filters in Photoshop presented in i5-8350U (Dell Latitude 7490) (100%) vs Ryzen 5 PRO 3500U took 56.1 seconds to complete, while the i5-8350U took 75.4 seconds for a comparison of (75.4-56.1)/56.1=1.34 | SPECView Perf 13 3DSMax used to measure 3D Modeling Performance. Performance presented in i5-8350U (Dell Latitude 7490) (100%) vs Ryzen 5 PRO 3500U scored a 23.8125 while the i5-8350U (Dell Latitude 7490) scored a 14.06 for a comparison of 23.8125/14.06=1.69 | SPECView Perf 13 Medical used to measure Medical Viewset Performance. Performance presented in i5-8350U (Dell Latitude 7490) (100%) vs Ryzen 5 PRO 3500U scored a 7.2825 while the i5-8350U (Dell Latitude 7490) scored a 2.1125 for a comparison of 7.2825/2.1125=3.45 | PCMark 10 DCC Subtest used to measure Content Creation Performance. Performance presented in i5-8350U (Dell Latitude 7490) (100%) vs Ryzen 5 PRO 3500U scored a 3404.25 while the i5-8350U (Dell Latitude 7490) scored a 2977.5 for a comparison of 3404.25/2977.5=1.14 | System Configurations: AMD Ryzen™ 5 PRO 3500U, 2x4GB DDR4, Radeon™ Vega 8 Graphics (driver 25.20.14102.16), Samsung 850 Pro SSD, Windows® 10 Pro x64 | Intel i5-8350U, Dell Latitude 7490, 2x4GB DDR4, Intel UHD 620 Graphics (driver 22.20.16.4799), Samsung 850 Pro SSD, Windows® 10 Pro x64 | PC manufacturers may vary configurations yielding different results. All scores in are an average of 3 runs with the same settings. Performance may vary based on use of latest drivers. PP-11
4. Testing by AMD performance labs as of 12/4/2018. "Battery life" defined as hours of continuous usage before the system automatically shuts down due to depleted battery. Video playback tested according to Microsoft WER methodology, while "general usage" is tested via MobileMark® 2014 1.5. Results presented in minutes, in order of: 1st Gen AMD Ryzen™ 7 2700U Mobile Processor (100%) vs. 2nd Gen AMD Ryzen™ 7 3700U Mobile Processor. General Usage: Ryzen™ 7 2700U: 8.1 hours vs. Ryzen™ 7 3700U: 12.3 hours (51% longer). Video Playback: Ryzen™ 7 2700U: 6.9 hours vs. Ryzen™ 7 3700U: 10 hours (40% longer). Ryzen™ 7 2700U Test System: Lenovo IdeaPad 530s, Ryzen™ 7 2700U, 2x4GB DDR4-2400, Radeon™ Vega10 Graphics (driver 23.20.768.0), 1920x1080 AUO 403D 13.9" panel, 512GB Toshiba KBG30ZMT512G SSD, 45Whr battery, 150 nits brightness, Windows® 10 x64 RS4. Ryzen™ 7 3700U Test System: AMD Reference Motherboard, AMD Ryzen™ 7 3700U, 2x4GB DDR4-2400, Radeon™ Vega10 Graphics (driver 23.20.768.0), AUO B140HAN05.4 14" panel, 256GB WD Black WD256G1XOC SSD, 50Whr battery, 150 nits brightness, Windows® 10 x64 RS5. Results may vary with drivers and configuration. RVM-164
5. According to IBM research, for details refer to: https://www.ibm.com/security/data-breach
6. For general business laptops and desktops the AMD Transparent Secure Memory Encryption feature is included in AMD Ryzen PRO and Athlon PRO processors. PP-3
1 Comment