Hi,
First post here so be gentle
AMD Graphics Card = Gigabyte VEGA 64 AIO (GV-RXVEGA64X W-8GD-B)
Desktop or Laptop System = Desktop
Operating System = Win 10 Version 1709
Driver version installed = 17.11.1
Display Devices = Acer XR341CK Displayport 3440 x 1440
Motherboard = GA-X99-Designare EX F4 BIOS
CPU = Intel Core i7 5930K
Power Supply Unit  Make, Model & Wattage = EVGA Supernova g2 1600w
RAM = 16 GB Crucial BLE4G4D26AFEA, 8FAD
I have an ACER XR341CK and VEGA 64, when it wakes from sleep I often get link failure error (used to happen with my Fury X as well)?
Currently running 17.11.1 but issue has spanned multiple driver versions (with Fury X), I've submitted a report but annoyingly you don't get any way to track, you get a an email saying "Your feedback is extremely important to us and we review all submissions received" but nothing else!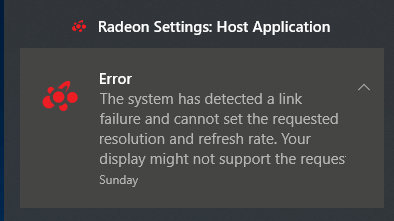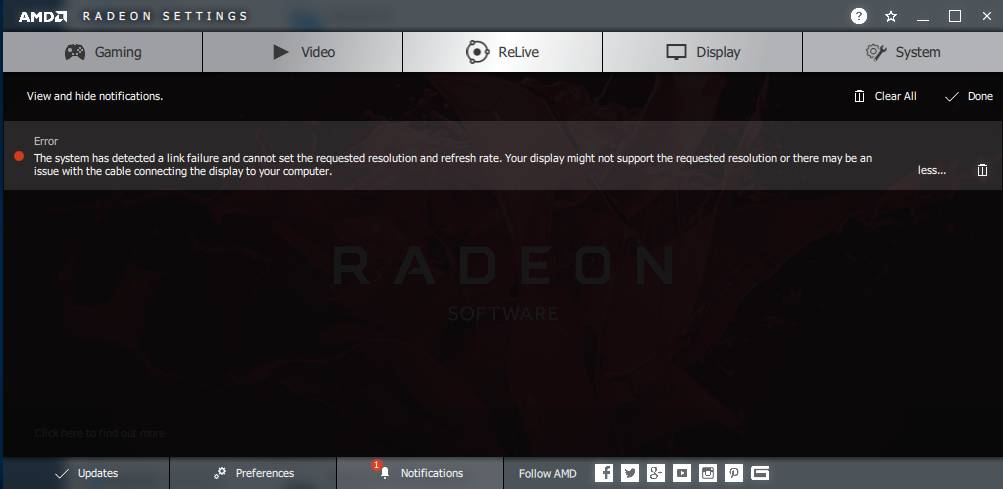 Sometimes it cuts the available resolutions down to 800 x 600, I have to reboot to resolve, other times it will remain at 3440 x 1440 but refresh rate will only by 30hz (reported by monitor).

Thanks in advance for your help.
Cheers
HEADRAT